Location
Alpharetta Branch Library
10 Park Plaza
Alpharetta, GA 30009
Author CAROLYN NEWTON CURRY celebrates her new book SUDDEN DEATH. Carolyn will be interviewed by her husband, football legend BILL CURRY.
About this event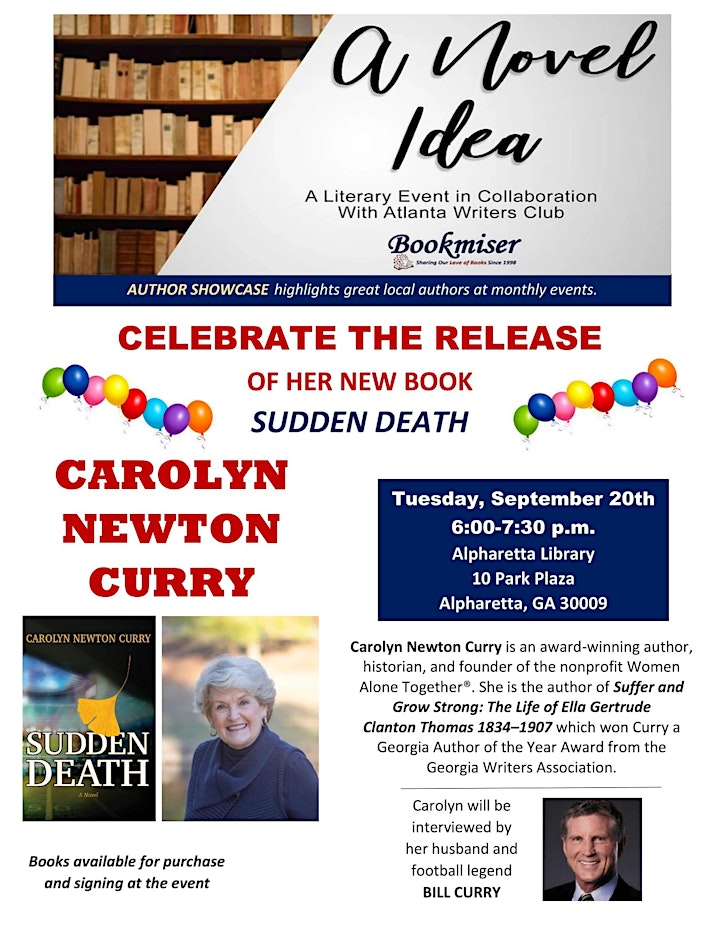 ABOUT THE BOOK
SUDDEN DEATH is a murder mystery set in the world of football. More than a whodunit, the novel spans roughly thirty years from 1966 to 1997 in the life of one couple, who grew up half the world apart. Kendall Harris, a brilliant law student from Georgia, and Duke Astin, a star quarterback from Hawaii, meet at UCLA, fall in love, and marry soon after graduation. Kendall practices law and Duke plays for a decade in the NFL, then becomes a college coach. Juggling two careers and moving from state to state puts pressure on their relationship. But through the joys and stresses of life, they stay loyal to one another.
Things take a troubling turn when Coach Astin is hired by a football powerhouse in the South. Immediately, an influential group unhappy Duke was hired begins to undermine everything he tries to accomplish. The coach and his wife both receive death threats as they work to keep focus on their careers and activities in the community. But when the murder occurs, the story becomes a search for joy and goodness in life, and ultimately the triumph of the human spirit over unspeakable odds. Written by a woman who has spent her entire life married to a football player and coach, SUDDEN DEATH also explores serious themes of sports gambling, alcoholism, and spousal abuse within the varied cast of characters.
Review by: Cassandra King Conroy, author of TELL ME A STORY: MY LIFE WITH PAT CONROY - May 17, 2022
"Kendall Astin is a dedicated women's rights activist married to the love of her life, legendary football coach Duke Astin. When Duke's career takes them to the deep South, where football is more religion than sport, their very existence is thrown into turmoil. Suddenly the battle on the field becomes metaphor for the battle of good vs. evil, resulting in tragedy and heartbreak. Carolyn Curry, the wife of a former football coach, tells a story she knows only too well, a story about much more than football. SUDDEN DEATH is a stunning debut novel of love, sports, and obsession, which kept me riveted to the very end, turning pages as fast as I could. This one is not to be missed!"
Review by: Tony Barnhart, author, journalist, and television broadcaster, The SEC Network - May 17, 2022
"When it comes to the triumphs and tragedies of being the wife of a football coach, no one has lived it more than Carolyn Curry. In SUDDEN DEATH, she takes us inside the sometimes glamorous, sometimes ruthless world of college football as seen through the eyes of Duke and Kendall Astin. He is a handsome, talented football player from Hawaii. She is a well-educated, independent woman from Atlanta who wants to go to law school. They meet and fall in love at UCLA and away we go. This isn't a men's book. It isn't a women's book. It is a tightly written page-turner that deals with important themes and keeps us hooked until the very end. Well done, Dr. Curry!"
Review by: Chuck Culpepper, author and sportswriter for national and international sports, The Washington Post - May 17, 2022
"With a gripping first novel, Carolyn Curry has probed a possibility of American life both unthinkable and plausible: a mass intersection of football, passion, and violence. She has forged an enthralling plot that doubles as a reflection about the terrain into which she has ventured. This is a bold, imaginative turn of work."
Review by: Ann Hite, award-winning author of GHOSTS ON BLACK MOUNTAIN - May 17, 2022
"SUDDEN DEATH, Carolyn Curry's debut novel, has something for all readers. Her characters walk off the page in this intriguing read. Doesn't get much better than Saturday afternoon college football. This story is much more than a mystery, but it has plenty of riddles to solve. Curry's passion for women's rights shines through in this story of Kendall, a wife of a university football coach. The author pulls you in for the ride of your life. Hold on!"
ABOUT THE AUTHOR
Carolyn Newton Curry is an award-winning author, historian, and founder of the nonprofit Women Alone Together®. She is the author of SUFFER AND GROW STRONG which won Curry a Georgia Author of the Year Award from the Georgia Writers Association. The biography was named One of the Books All Georgians Should Read by the Georgia Center for the Book.