| | |
| --- | --- |
| Author BARBARA ROSE BROOKER at BOOK SOUP, W. Hollywood this Fri., July 12th | |
Event Details
Book Soup, Los Angeles book singing with author Barbara Rose Brooker this July 12, 2013 at 7pm.

Hope you can make it out.  You can pick up the just released novel, The Viagra Diaries at Book Soup now!  The Viagra Diaries published by Simon & Schuster, AudioGo and 13 Foreign Countries!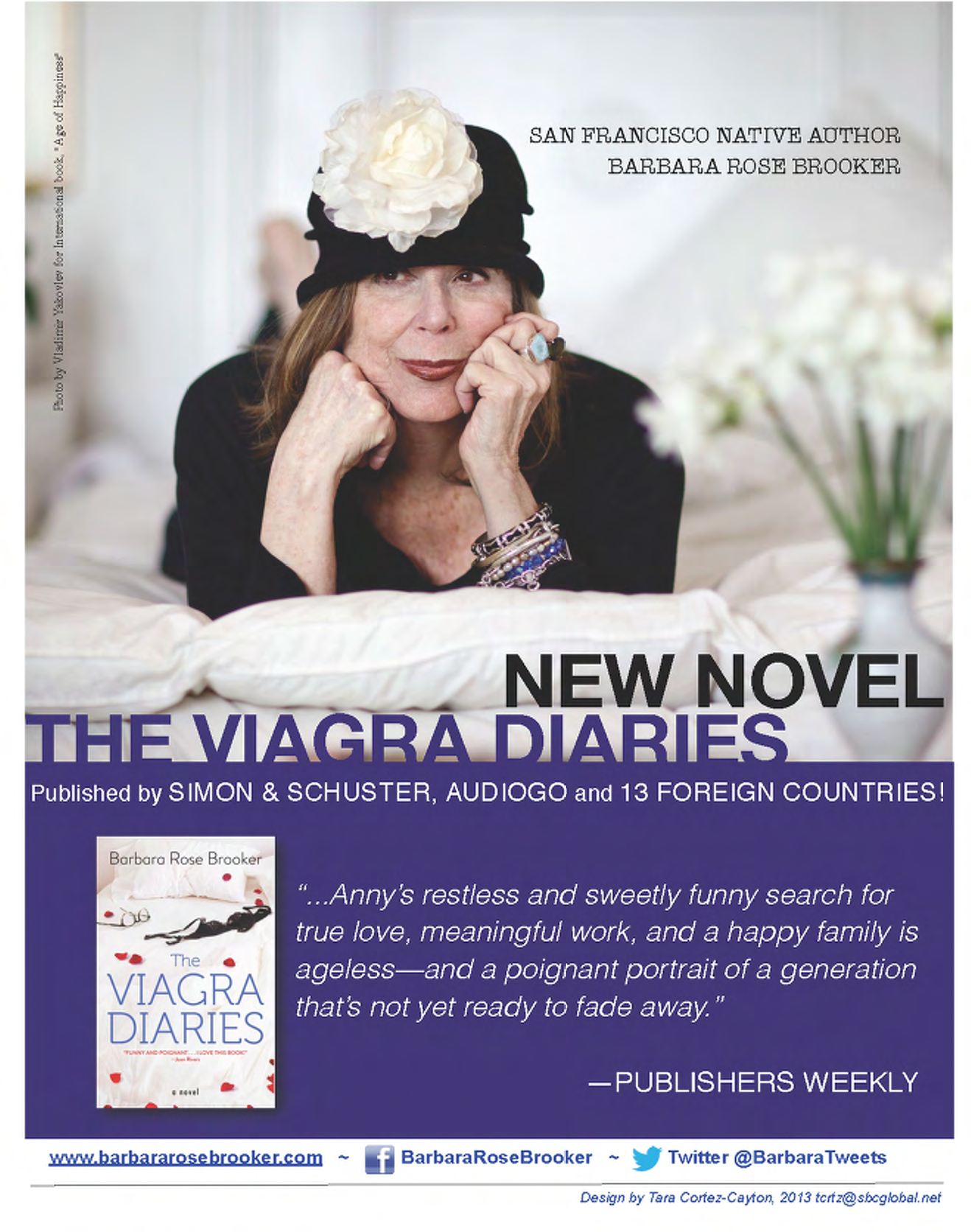 The Viagra Diaries
Anny Applebaum is sixty-five and she wants fame, fortune, sex and undying love. She writes "The Viagra Diaries," a San Francisco weekly column researching love after sixty. She places ads on Internet singles sites and interviews men over sixty. Is love possible in the Viagra generation?
Publishers Weekly - "...Anny's restless and sweetly funny search for true love, meaningful work, and a happy family is ageless--and a poignant portrait of a generation that's not yet ready to fade away."
Kirkus Review - "A smart, witty, sometimes hilarious coming-of-age novel for and about the boomer generation. This realistic and funny novel will appeal to women of all ages, while men should find it attractively controversial."
Booklist Review -  "While most contemporary women's fiction focuses on the plight of the twentysomething, Brooker's novel is a refreshing glimpse at love after 60... a nontraditional-dating story, The Viagra Diaries is frank, open, and fun.
Barbara Rose Brooker, author of The Viagra Diaries is a native San Francisco author, journalist and performer. She writes a column, Boomer In The City, about love after sixty for The Huffington Post and the SFJWeekly.

Her latest novel, "The Viagra Diaries" released April 30th, 2013, published by Simon & Schuster, thirteen foreign countries (Holland, Spain, Italy, Russia, Turkey, Brazil, Poland, Taiwan, Czechoslovakia, Hungary, Portugal and more) and Audio Go Publishing.

Upcoming novels, "Should I Sleep In His Dead Wife's Bed," and "Love, Sometimes," the sequel to "The Viagra Diaries," will be published 2013.

She has published fiction with Morro and other presses. Brooker has a Masters in creative writing and teaches at San Francisco State University OLLI. She is the founder of the first ever Age March in history to celebrate our real age and protest ageism.

Brooker is preparing to perform a one woman show in Los Angeles.

Keep up with all the latest on author Barbara Rose Brooker
Where

Book Soup, West Hollywood
8818 West Sunset Boulevard
West Hollywood, CA 90069


Organizer
Published by Simon & Schuster, AudioGo and 13 Foreign Countries.
Follow Barbara on Facebook and Twitter at
Facebook.com/BarbaraRoseBrooker
Twitter @BarbaraTweets
www.barbararosebrooker.com