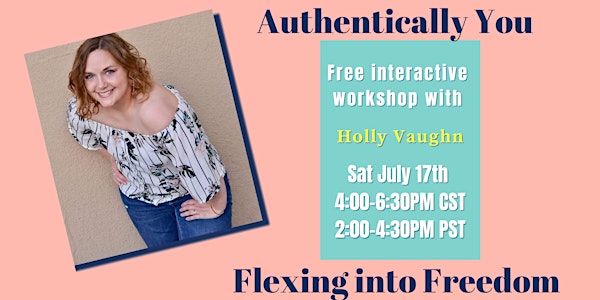 Authentically You: Flexing into Freedom
Discover freedom through expression of your true self. https://us02web.zoom.us/j/6886859802
About this event
Have you ever asked yourself "What happened to ME?" Somewhere along the way we lose our sense of self and begin to wear a mask to fit in with the rest of the world. Take back your freedom, peel back your mask, and show the world who you REALLY are with this 2.5 hour interactive, experiential workshop.
How would it feel to...
Let go of other people's expectations?
Remove the mask and just BE YOURSELF?!
It gets to be EASY!! 🌞
I can't wait to see you there, register today!
July 17th, 2-4:30PM PST/ 4-6:30PM CST/ 5-7:30PM EST
About your host...
Holly graduated from the University of Missouri with a Master's degree in Physical Therapy in 2003. She has worked in physical therapy for 18 years, specializing in orthopedics, pediatrics, and aquatics. In 2005 she was given her favorite title, "Mom", to her son, Derek. She opened her Rodan + Fields skincare business in 2014 and enjoys helping people find confidence through premium skincare and creating their own businesses. Holly began her process of transformation in 2018 through HeartCore Leadership. Through this process she discovered an innate ability to see the blind spots that block people from achieving their dreams. Over the last year, she has opened her coaching business, serving people in search of a transformed, vibrant life. Her workshop, Authentically You: Flexing into Freedom, is intended to help you discover the freedom you can experience when you show the world your true self, every day.