Description
Most training on public speaking is terribly boring. And since speaking is scary for many of us, the result is bored and scared people. How sad! No one wants this, certainly not Berkun. He's spent years developing this workshop to be fun, safe and practice centric. It's better than anything you'd imagine a speaking course be like.
This one day experience will boost your confidence in speaking to groups of all sizes and in many different situations, from speaking at events. to work meetings to pitching ideas to coworkers and friends.
Your teacher & coach is Scott Berkun, bestselling author of 7 books, who is one of the most experienced coaches in the Seattle area (He's the MC and speaker coach for Ignite Seattle). He gives 20 to 30 keynote presentations annually in the U.S. and around the world, so he practices everything he preaches.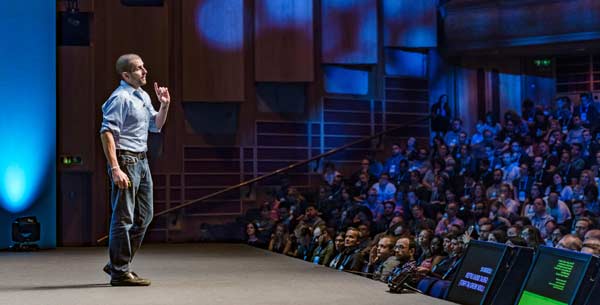 In two recent private offerings at a Fortune 50 company, the workshop scored a value of 9.5 out of 10 and a Net Promoter Score of 100 out of 100. And here are the full scores from a recent workshop of 16 people:

This full-day experience is for beginners to lower-intermediates. It's based on a supremely popular and irreverent book called Confessions of a Public Speaker, which you'll get a signed copy of at the workshop.

This full-day workshop is:
Fast-paced, fun and funny

Highly participatory and exercise-centric

Safe and supportive / Extremely practical

Inspired by the style and attitude of the bestselling book, Confessions Of A Public Speaker
The day consists of:
Expert critique from Berkun, with personalized advice for each student

Mini-lessons on managing fear, reading a room, storytelling, handling Q&A, preparing a presentation and more

A morning and afternoon performance of your talk to a live audience

Mid-day speed rounds of practice and feedback

Time for Q&A to get your biggest concerns and questions answered
Who should attend?
Beginner to intermediate speakers (all speakers can benefit from critique and are welcome at any level, but most attendees typically have low to medium speaking experience/confidence)

People who like small workshops (20-25 people)

Anyone who is a fan of Scott Berkun and his honest, direct and entertaining style
Agenda & Details:
You will develop skills to: control your fears, tell better stories, structure and write better talks, and present with higher confidence and control

Prep: bring 2 minutes of a presentation, short talk or story you want to work on (it's fine if it's just a sketch or something you are mostly improvising)
Lunch not provided - there is a lunch break, and many great restaurants nearby

Recommended: bring your phone with a video camera (only you will see the recordings)

You will get a signed copy of Confessions of a Public Speaker, used for exercises and reference during the workshop
About Scott Berkun
Berkun is a bestselling author and popular speaker on creativity, philosophy, culture, business and many other subjects. He's the author of six books, including The Myths of Innovation, Confessions of a Public Speaker and The Year Without Pants. His work has appeared, or been mentioned, in The New York Times, The Washington Post, Forbes, The Wall Street Journal, The Economist, The Guardian, Wired magazine, Forbes, USA Today, Wired, Fast Company, National Public Radio, The Huffington Post and other media. He was a co-host of CNBC's The Business of Innovation TV show, and has appeared as an expert on various subjects on CNN, CNBC, NPR and MSNBC. He's given hundreds of lectures on dozens of subjects and has faced and overcome nearly every public speaking challenge imaginable. He blogs regularly at his popular website scottberkun.com and can be found on twitter @berkun.


Want this workshop at your organization? Get in touch.