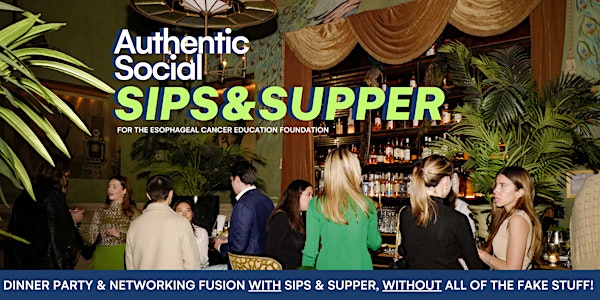 Authentic Social SIPS & SUPPER at Gilligan's
SIPS & SUPPER at Gilligan's - May 10th 8-10 PM - to benefit the Esophageal Cancer Education Foundation
When and where
Location
Gilligan's 310 West Broadway New York, NY 10013
About this event
SIPS & SUPPER is a vibrant weeknight dinner series with a diverse group of founders, foodies, fashionistas, financiers, forward-thinking content creators, and beyond. SIPS & SUPPER is meant to spark authentic conversations.
The idea for SIPS & SUPPER derives from the 2022 desire for more authentic in-person interactions. Many professional networking events are largely homogenous and/or influencer-only. We want to change that.
For more info, go to sipsandsupper.com.
Authentic Social is covering the cost of your food and two drink tickets at SIPS & SUPPER. At the event, there will be an opportunity for an optional donation to Esophageal Cancer Education Foundation (ECEF), for which Caity Begg serves on the Executive Committee. She lost her grandfather to esophageal cancer, which is one of the fastest growing types of cancers in the United States. There were more than 19,260 new cases last year, and more than 15,530 deaths the same year.
Esophageal cancer is treatable, but inaction can kill. ECEF focuses on patient education, through books, resource guides, and patient and caregiver Zoom support group meetings(through the Medical Advisory Committee comprised of Thoracic Surgeon, Medical Oncologists and Gastroenterologists). ECEF has also provided more than one million dollars to Memorial Sloan Kettering to aid in investigating and incorporating immunotherapies in the treatment of EC patients.