Description
Creating the authentic learning experience is about making learning real - making it relevant and meaningful for all students to better prepare them for college, career and effective global citizenship.
We're looking for 25 of the best 6-12 educators to join us for this unique professional development opportunity. This is NOT a sit-and-get sort of event; it's a hands-on, minds-on experience that will keep you engaged from the moment you sign up.
During this workshop, you'll learn about best practices and tools for creating authentic learning experiences, collaborate with your peers, and design new authentic learning experiences for your students. Join us to Discover & Engage, Make Connections, Apply Understanding, Share Knowledge and Playback & Reflect during this intimate hands-on workshop.
FEATURED SPEAKERS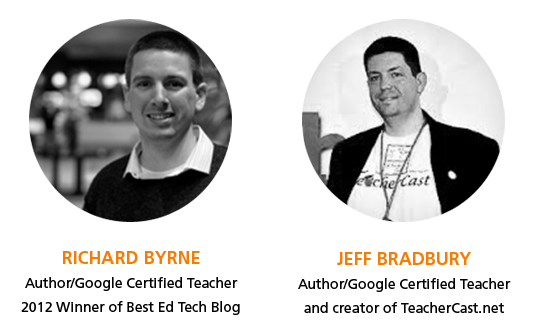 Why you should come:
Meet and collaborate with other passionate educators like yourself who could become lifelong collaborators
Learn about new tools and best practices for creating authentic learning experiences
Participate in hands-on lesson building
Learn how to paint like the pros and bring home your personal masterpiece from Art of Merlot
Enjoy the many local attractions including world-class shopping, art museums, and dining located in Scottsdale, AZ, in the heart of the Sonoran desert
Receive a free 1-year subscription to Online Learning Exchange
Opportunities to win great door prizes, including two $100 Amazon giftcards and an iPad
Go home with:
Multiple authentic learning lesson plans ready to use in your classroom
Access to expert resources and downloads
One year access to OLE for your classroom and premium discounts for your entire school
Connections with some of the country's finest educators
Convince your boss to fund this exclusive professional development event
You'll work on epic lesson plans for the upcoming school year
You'll become a local authentic learning and OLE expert who can share key tools and strategies with your colleagues
You'll save your school money with a free 1 year subscription to OLE for your classroom and discounts on OLE subscriptions for your entire school
You'll receive access to all resources, downloads, videos, and slides from presentations to share with your colleagues
You'll receive 16 hours worth of professional development hours
Registration Includes
Tuesday
Dinner and Painting event at Art of Merlot in downtown Scottsdale
Wednesday
Breakfast, Lunch, and Snacks throughout the day
Dinner event in Old Town Scottsdale
Thursday
Breakfast, Lunch, and Snacks throughout the day
You are responsible for...
Air Travel & Transportation
Firesky Resort is approximately 30 minutes from the Phoenix Sky Harbor airport. You can easily catch a cab at the airport or you can book a shared ride with SuperShuttle for around $40 round trip. Be sure that your travel plans ensure that you are ready to go on Tuesday by 5:00pm and can stick around until 4:30 on Thursday.
Lodging
The workshop will be help at FireSky Resort & Spa. They have arranged special room rates for Authentic Learning Workshop 2013 attendees: just $99/night plus free internet for the duration of your stay. Call (480) 945-7666 and request the "Authentic Learning Workshop special rate." Limited rooms are available at this rate, so don't delay.
FireSky Resort & Spa artfully blends the upscale appeal of a downtown Scottsdale location with the casual elegance of a lush desert retreat, making it unique among luxury hotels. This AAA Four Diamond Award winning hotel features a beautiful lagoon & pool, hosted wine reception, and complimentary onsite fitness center. Best of all, it's the site of the conference. You can walk out of your room and into the show!
What to Bring
This is a hands on event so you'll need to bring your own laptop in order to participate in many of the workshop activities.
Take a look at last year's workshop and what people have to say

"Any young teacher or old teacher can benefit from this kind of a workshop." - Billie Jean Smith
"Arizona is beautiful!" - Frances Tolley
"It's a place to go where you know you are going to leave inspired, [...]
- Anna Johnson

"I have throughly enjoyed this workshop. I'm going to be honest, I go to a lot of workshops. I present at a lot of workshops and the biggest challenge is to make it engaging for participants. I have thoroughly been engaged in everything that has occurred here."
- Sheila Graham
"We got some really good in depth information during the sessions that compared to some of the conferences that I have been to, that would be something that I would be paying as a teacher three or 400 dollars for, for a part day session that may only cover one of those classes and not get it in the detail that I was able to get it during this." – Kyle Miller
Workshop Schedule
Tuesday July 16
Pre Event Meet & Greet
Please join the OLE team and mingle with your peers at Art of Merlot. Let your Inner artist shine and take home your very own masterpiece!
Wednesday July 17
Morning
How Am I Going to Help Change the World Today?
Marc Nelson
The Truth About the Power of Technology
Richard Byrne
Unlock the Secrets to Authentic Learning
Lindsay Bellino
Afternoon
Interactive Workshops: Engage & Discover, Make Connections, Apply Understanding
Closing Keynote
Dinner's on us!
Come join your fellow attendees, speakers and the OLE team for a night out in Old Town Scottsdale.
Thursday July 18
Morning
Beyond the Classroom Walls: Sharing Knowledge with the World
Jeff Bradbury
Digital Citizenship - It's Critical, Expected, and Here to Stay
If at first you don't succeed...
Richard Byrne
Afternoon
Interactive Workshops:Share Knowledge, Playback
Closing Roundtable