Description
AUTHENTIC DESIGN ALLIANCE Melbourne launch - hosted by OWN WORLD
Join us for an end of year celebration at the new OWN WORLD Showroom.
AUTHENTIC DESIGN ALLIANCE // THEY STOLE MY DESIGN
Moderated panel discussion followed by drinks
VENUE // generously hosted byOWN WORLD
11 Stanley Street, Collingwood
FREE TO ATTEND // RSVP ESSENTIAL
WHO TURNED THE LIGHTS OUT?
This panel discussion focusses on lighting design theft!
With design theft and knock-offs now affecting Australian designers and design brands, learn what can be done to protect original designs, and how to contribute to our campaign for improved design education and better design laws in Australia.
Hear from award-winning designers about how they tackle this growing industry problem; and our legal expert Marina Olsen will share the legal implications. and what recourse designers and specifiers have with counterfiet products.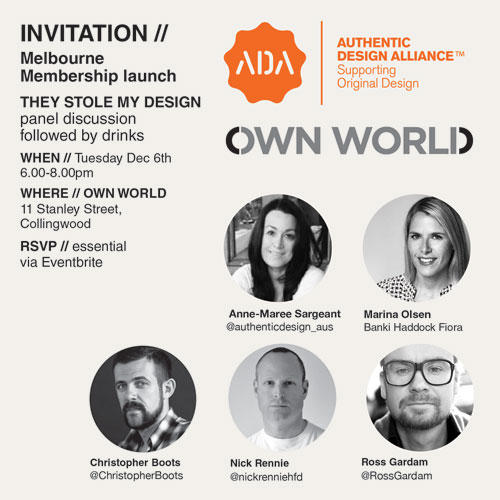 INTRODUCED by OWN WORLD director Peter Quintal-Norris
MODERATOR ADA director Anne-Maree Sargeant
PANEL
Christopher Boots Designer
Ross Gardam Designer
Nick Rennie Designer
Marina Olsen Banki Haddock Fiora Lawyers, senior associate
AUTHENTIC DESIGN ALLIANCE // memberships open late November!
Join the ADA to support original design authenticdesignalliance.com.au
@authenticdesign_aus // INSTAGRAM + FACEBOOK
WHO SHOULD ATTEND // anyone who purchases contemporary furniture & lighting
interior designers / architects / developers / builders
furniture, lighting, object designers & makers
design brands + retailers
media + supporters of original design
hosted by OWN WORLD
supported by FACTORY DESIGN DISTRICT
in association with AUSTRALIAN COPYRIGHT COUNCIL
Banki Haddock Fiora Lawyers
produced by THE SNAP ASSEMBLY
---------------------------------------------------------------------------------------------------------
MEDIA CONTACT
MICHELLE PR + michelle@michellepr.com.au / 0407 329 810
---------------------------------------------------------------------------------------------------------
Have questions about AUTHENTIC DESIGN ALLIANCE // Canberra