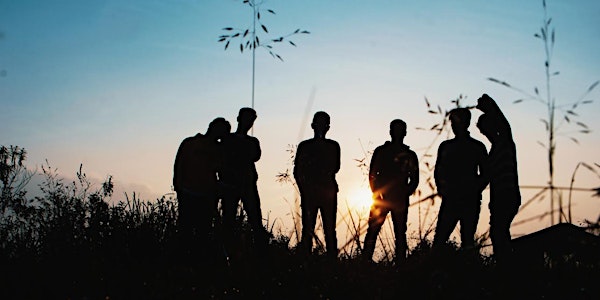 Authentic Bay Area: Authentic Relating Games
Amar Healing & Recovery Center presents Authentic Bay Area: Learn To Have Greater Awareness
When and where
Location
Amar Healing and Recovery Center 1564 Bush Street San Francisco, CA 94109
Refund Policy
Contact the organizer to request a refund.
Eventbrite's fee is nonrefundable.
About this event
Doors open at 6:20 PM. The event starts at 6:30 PM. If you arrive late, you will not be let in.
The event is from 6:30 PM to 8:30 PM and it's open to all humans who'd like to attend.
~ Amar Healing & Recovery Center presents: Authentic Bay Area: Learn To Have Greater Awareness ~
Amar Healing & Recovery Center is a facility in San Francisco providing counseling services to individuals and their family members who experience challenges with their mental health and substance use disorders.
- - - - - - - - - - - - - - - - - - - -
Authentic Bay Area educates humans on how to develop greater social-emotional intelligence through practicing relational mindfulness. Our teachings are based on the methodologies of Authentic Relating, Circling, and T-Group.
Our pedagogies are hard to explain and easier to experience. Our community provides an excuse to connect about things that matter while learning from each other's humanity.
Our curriculum strengthens your relational fitness through developing:
+ Self Understanding
+ Social Awareness
+ Responsible Decision-Making
+ Self Leadership
+ Interpersonal Skills
Facilitators:
Dakota Quackenbush is the Founder of Authentic Bay Area. She has been taking up space in the Authentic Relating world for the last 5+ years. Her background working in addiction and mental health already had her rooted in vulnerability, depth, and analyzing social dynamics when she found AR. Once discovered, she quickly began incorporating this technology into her everyday living. She is actively researching Authentic Relating's Impact on Social Emotional Skills in Intrapersonal and Interpersonal Relationships. Her focus in life is reducing stigma surrounding mental health and making authentic, vulnerable connections the norm. Dakota regularly closes her eyes to connect to her emotions and physical sensations. When she's not facilitating connection, she can be found writing poetry, or dancing any time a beat comes on.
Ahran Lee is the Director of Training and Facilitation for Authentic Bay Area. She's a 1.5 Korean American multidisciplinary artist, improv actor, and event designer and facilitator based in Berkeley, California. As an active practitioner of authentic relating, cultivating interconnectedness and kinship is central to her work as an artist, facilitator, and community organizer. Ahran loves designing community spaces where she can facilitate collective creativity and vulnerable sharing to alchemize trauma into collective healing. Themes found in Ahran's creative work range from AAPI women empowerment, raising mental health awareness, to exploring decolonization of oppressive systems. Ahran wants to be the first generation in her lineage who boldly breaks away from oppressive patterns by creating and occupying space loudly and proudly. Ahran is an energy mover. Ahran is an ancestral pattern shifter.