Dieses Event ist beendet.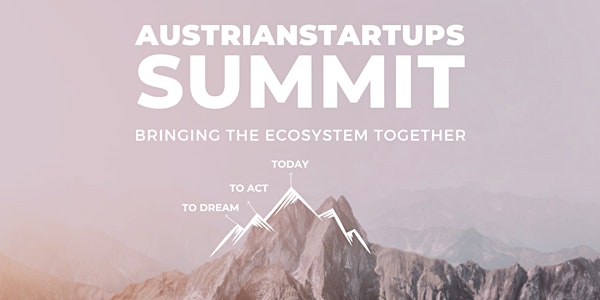 AustrianStartups Summit
AUSTRIANSTARTUPS SUMMIT 2022
Zeit und Ort
Veranstaltungsort
das WERK 331 Stadtbahnbögen #333 1090 Wien Austria
Karte und Wegbeschreibung
Zu diesem Event
bringing the ecosystem together.
to dream . to act . today.
June 23rd, 2022
from 1 pm until late
@Das Werk, 1090
This is a one-day conference for the community, by the community! Join us as the Austrian startup ecosystem gathers together in-person for a day full of learning, networking and celebration.
Who should join?
Founders, investors, employees, students and anyone else that is excited about startups - this is an event for you. There are going to be a bunch of different activities throughout the day and we're sure there's something for everyone!
Agenda:
13:00
Welcome (Main Stage)
Startup Fair Opening (Terrace)
13:30
Keynote: From Lego robots to Twitter exits - a tale about open source projects & real life metrics with Felix Krause (Main Stage)
14:00
Fireside Chat: How Web3 changes how we found startups with Alexander Valtingojer & Michael Ionita (Terrace)
15:00
Fireside Chat: 0 to 100 - founding & scaling in Austria with Karin Kreutzer & Alexander Brix (Terrace)
Co-Founder & Investor Speed Dating (Indoor Stage)
16:00
Fireside Chat: How to build a brand that stands out from the crowd with Cornelia Diesenreiter & Isabell Klaus (Indoor Stage)
Fireside Chat: Show me your growth! Raising capital & expanding in 2022 with Christian Strobl & Adrian Zettl (Terrace)
17:00
Future Weekly Live Podcast: A walk down memory lane with Markus Raunig & Daniel Cronin (Main Stage)
18:00
AustrianStartups Showcase - Get to know the next generation of Austrian changemakers (Main Stage)
19:00
Stammtisch #100 - A look into the past & future with Daniel Cronin, Hansi Hansmann, Markus Wagner, Stephanie Cox, Nina Hödlmayr, Peter Windischhofer, Florian Wimmer, Theresa Imre, Anna Pölzl & Fredrik Debong
21:00
The startup party of the year - The whole Austrian startup community in one place. DJs, drinks and a vibrant dance floor. You don't want to miss this!
Get your ticket and be part of this exciting day event dedicated to the spirit of the Austrian startup ecosystem! Don't miss out on this opportunity to connect, grow and celebrate. See you there!
Further information can be found on www.austrianstartups-summit.com