Dieses Event ist beendet.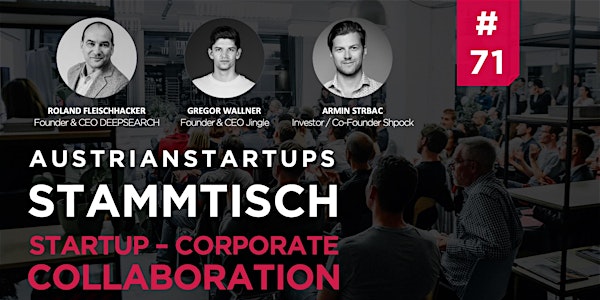 AustrianStartups Stammtisch #71: Startup-Corporate Collaboration
Zeit und Ort
Veranstaltungsort
Das Packhaus Marxergasse 24 1030 Wien Austria
Karte und Wegbeschreibung
Beschreibung
Please register now (for free!)
--------------------------------
AustrianStartups Stammtisch #71: Startup-Corporate Collaboration
---
Corporates need startups to stay innovative and startups - they need customers. There are many options for startups to collaborate with corporates: through initial pilots, corporate accelerators, hackathons or even strategic investments. At our Stammtisch #71 we're trying to look behind the curtain and find out what made sense and what didn't for our panelists.
Get excited for a kickass panel and some networking with brilliant people after.
Our guests on the panel:
- Roland Fleischhacker (Co-Founder & CEO of DEEPSEARCH)
- Gregor Wallner (Founder & CEO of Jingle)
- Armin Strbac (Investor / Co-Founder Shpock)
One more panelist will be announced soon!
The agenda for the evening:
Welcome & Community News
Impulse statements by our speakers
Panel Discussion
Speed dating (for everybody who wants to)
Networking with some drinks
Looking forward to seeing you all,
Your AustrianStartups Team
____________________________________________
About our Speakers:
Roland Fleischhacker
Roland is Co-Founder and CEO of DEEPSEARCH GmbH. A Vienna-based company, which helps its customers to optimize and automate their customer case processes. In the past Roland founded one of the leading SAP consulting companies in Central Europe. After the IPO he headed towards the next big topic: AI, semantic technologies and Natural Language Understanding.
Gregor Wallner
Greg is a creative strategist and musician. He is the founder & CEO of Jingle - a startup where local retail is digitalized to help sell more stuff.
Armin Strbac
Armin is a startup founder (Shpock) & investor with endless hunger, motivation, aspiration and many stories from the startup rollercoaster.
One more coming soon!