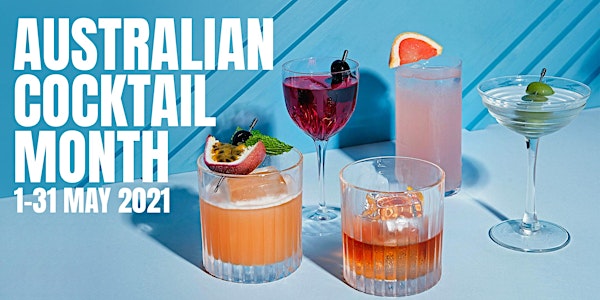 Australian Cocktail Month 2021
Like cocktails? Love good times? Australian Cocktail Month is coming this May 2021.
About this event
The inaugural Australian Cocktail Month starts from the 1 - 31 May 2021, with 72 hand picked bars and venues across Brisbane, Sydney, Melbourne and Adelaide, serving delicious cocktails at great prices.
Your Australian Cocktail Month ticket will last for the duration of May, unlocking unique bar experiences and giving you access to a curated menu of cocktails (including non or low alcohol offerings) created exclusively for the month.
The special menu is available at participating venues, with a range of tasty cocktails at $14 and non or low alcoholic options at $10.
So grab your ticket, gather your friends, support the bar industry and discover what your city has to offer throughout May!
Remember, each member of your group must have a ticket to access the Australian Cocktail Month menu of amazing drinks at great prices.
Australian Cocktail Month is an 18+ event.
Australian Cocktail Month has partnered with these amazing venues and bars to bring you the best cocktails in May 2021.
QLD
NSW
VIC
SA