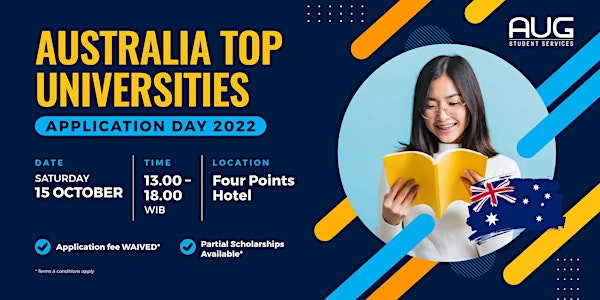 Australia Top Universities - Application Day 2022
The Biggest Australia Top Ranked Universities Application Day!
When and where
Location
Four Points by Sheraton Surabaya 25-31 Jalan Embong Malang Kec. Tegalsari, Jawa Timur 60261 Indonesia
About this event
Calling all students in Indonesia to Study in Australia!
Khusus buat Anda yang mengutamakan Kualitas!
AUG Student Services Indonesia akan membuka kesempatan kepada Anda yang mempunyai rencana untuk melanjutkan pendidikan S1, S2 atau S3 di universitas dengan kredibilitas dan peringkat terbaik di Australia.
Temui dan konsultasikan langsung minat studi kamu langsung dengan perwakilan dari universitas-universitas berikut:
The University of Adelaide
The Australian National University (ANU)
Monash University
The University of New South Wales (UNSW)
The University of Queensland (UQ)
The University of Sydney
The University of Western Australia (UWA)
AUSTRALIA TOP UNIVERSITIES - APPLICATION DAY 2022
Sabtu, 15 Oktober 2022
Pukul 13.00 - 18.00 WIB
Four Points Hotel by Sheraton
(Tunjungan Plaza)
Jl. Embong Malang No.25-31, Kedungdoro
LANGSUNG DAFTAR DAN DAPATKAN FREE UNIVERSITY APPLICATION FEE!*
Kenapa harus mendaftar di event ini?
Anda bisa bertemu dan berkonsultasi langsung dengan perwakilan universitas
GRATIS biaya Aplikasi Pendaftaran*
Informasi lengkap tentang Partial Scholarship dari tiap universitas
Event ini ditujukan untuk siapa?
Pelajar SMA / SMK dan sederajat
Pelajar A-Level, IB Diploma, atau kurikulum international lainnya
Mahasiswa sarjana (S1) yang ingin melanjutkan kuliah paskasarjana (S2)
Mahasiswa / Akademisi yang ingin melanjutkan kuliah program Doktoral (S3)
Orangtua murid dan guru / kepala sekolah
Apa saja yang perlu dipersiapkan/dibawa untuk mendapatkan FREE APPLICATION FEE?
Passport
Raport / Akademik Transkrip Terakhir
Sertifikat IELTS / TOEFL / PTE Terbaru (jika ada)
CV dan/atau Resume untuk mendaftar S2 atau S3
Untuk informasi lebih lanjut:
WhatsApp: 0817 6865 284
DM Instagram: @augindonesia
Facebook: AUG Indonesia
Email: surabaya@augstudy.com
Staff kami akan menghubungi Anda untuk mengkonfirmasi kehadiran Anda.
*Syarat & ketentuan berlaku