Think you know your Aussie trivia? Join us for an evening of Aussie music, snacks, cold beers, meat-tray raffles, and plenty of new mates!
About this Event
Stuck inside and missing social interaction this Australia Day? Well now's the time to connect with some mates from all over the USA, be inspired by our nation's first people, and win a meat tray while drinking a cold beer and singing along with some Aussie classics.
After months of being inside and distancing yourself from others I can imagine that you are probably going a little bit crazy... so why not join me for a laugh?
Prepare yourself a beer or a cocktail, and join in for some fun. We're living through serious times, so this is your chance to take a deep breath and debrief.
We've got:
General Australian knowledge trivia so you can learn about our nation, its' history, and the first people!❓
Breakout rooms so you can chat to small groups and meet some new mates 💬
We give away a tray of meat in a raffle 🥩; and
We play games and give away Aussie treats as prizes! 🎯
You can join in or just sit and watch from a quiet corner of the bar.
What more could you want? Well, here's what others are saying about it:
"SO MUCH FUN. So great talking to real people and the trivia was totally fair"
"Loved it, such fun!"
"Always a great evening of fun and meeting other Aussies!"
"This is a great event helping people stay connected while isolated"
"Josh is awesome and I have so much fine each time"
"This has been a highlight of our week during our 'stay at home'. So grateful for Josh and this community. We have met some really lovely people and trivia is always fun. Thank you Josh!"
"Such fun! I really liked the breakout rooms where I got to meet new people. The pace of the event was perfect."
"Great way to kill a hr on lockdown."
"Great fun!"
"I can't believe I'm still meeting fellow Aussies after weeks of joining AmericaJosh for drinks and trivia. Thanks for such a fun evening!"
"It always fun to meet other Aussies from Across the country and enjoy making new social distance friendships !"
"Big fan of trivia, big fan of Josh; overall, big fan!" - Alex E.
"A highlight of the week. Thanks Josh"
"Love Friday night drinks with Josh - he's such a fun engaging entertaining host and attracts a quality gathering!! Thanks Josh" - Emily
"Love it. Being stuck with no contact it means a lot. Great job"
"A fun way to meet fellow Aussies living the American dream." - Justin J
"It is always great to hear the language and be with people who get the Aussie humour"
"Wish it went on longer. Fun crowd."
"Log on to meet aussies and have a beer"
"I have attended every week and make it a point to be home in time to join. Meeting other people is awesome and Josh is great!"
""Friday night drinks with Josh, was a fun and interactive way to meet people online. The smaller breakout groups were an excellent way to chat casually during the event." - Aaron
"Definitely a fun, engaging time while staying home and safe during a most challenging time in our all our lives. Thank you, Josh! Can't wait for this Friday!"
"Friday night drinks has become a highlight of the week in lockdown! Thank you Josh for making this happen. We appreciate you."
"Such fun and was great to connect to other expats! I really enjoyed the break off sessions which allowed us to connect more personally. Thanks for this josh!" - Shayne E.
""Thank you thank you thank you. A highlight for the week"
"This was my first time on a Virtual HH. I love it! Josh is really good and enthusiastic." - Teresa
"Fun and engaging - didn't feel socially isolated at all!" - Cara
"Great trivia! Was fun to meet new people and bond over Covid-19! Thanks Josh for keeping us entertained during these times!"
"Our first Friday Night Drinks, my husband and I thoroughly enjoyed it and break rooms were great and also the recommendations at the end. Always great hearing Australian accents too!"
"Love the breakout rooms and getting the chance to meet new people!" - Ari
"Loved meeting other Aussies. Josh is a fabulous host."
"Wonderful fun! Look forward to each Friday evening with Josh hosting."
"So good to hear those Aussie accents in such a fun environment."
"a fun evening; social but not in your face; break out rooms are great to find out a bit about other aussies here, what brought them to the USA, why and for how long. quiz questions and answers are a hoot - thanks Josh for the time and effort you put into keeping us Aussies connected :-)" Deb W-S
"So much fun. Can see it getting quite competitive as the weeks roll by - bring it!!"
"Best way to finish the week!" - Ricky D.
"This is a brilliant way to have some fun and feel a bit connected in this pandemonium"
"Great weekly event and provides some much needed social interaction with a lot of friendly new faces!" - Lewis, CA.
"Friday night drinks with Josh, was a fun and interactive way to meet people online. The smaller breakout groups were an excellent way to chat casually during the event." - Aaron"
"This was the interaction I needed not only to escape self-isolation but hearing friendly Aussie voices and creating connections!"
"Friday trivia is such a great way to socialize with others without feeling awkward about making conversation with strangers. A fun and friendly environment I'd be happy to participate in again :)" - Natalie K.
"Great fun, New friends!"
"Friday trivia with Josh is major in making life in lockdown bearable. Thank you so much!"
"Josh attracts great people, and makes these events FUN! Always looking forward to the next one!"
"This idea is great, well done Josh, I hope to attend many more, thank you." - Macca
"Josh is a gifted and talented host. He's engaging and upbeat and is a fantastic communicator! We had a great time sharing with other Aussies." - JulesandGra
"A great way to finish a busy week working from home ! Thanks Josh" - Dave G
"Thanks for running these - they have been great fun, and a wonderful way to meet other expats while trapped at home"
"During times like this (in 14 days of quarantine isolation in a hotel), this was just what I needed!"
"Such a fun way to connect!"
"Great fun. Something different to pass a Friday evening while in isolation!"
"I am so appreciative of these trivia nights. Not only are they fun but it's great to talk and laugh with you all. These are challenging times but we look forward"
"Questions were a great mix of difficulty, loved the chance to meet people in chat rooms. Loved hearing all the Aussie accents! It was a wonderful, fun break in routine during this crazy time." - Miriam
"This was a great idea! Moving country is very isolating, even without a global pandemic, and this was a wonderful way of meeting other expats" - David & Jacky
"Josh is a ray of sunshine. He puts his heart and soul into everything he does and spreads happiness to all." - Gina
"Josh ran a hilarious "On-Nomi" event to help people engage during a pretty harsh time. Well Done"
"So fun for an American to hear all your charming accents and to have a chat with such nice people!"
"Awesome and engaging. Great way to get a community of expats together for fun and social interaction"
"Brings people together"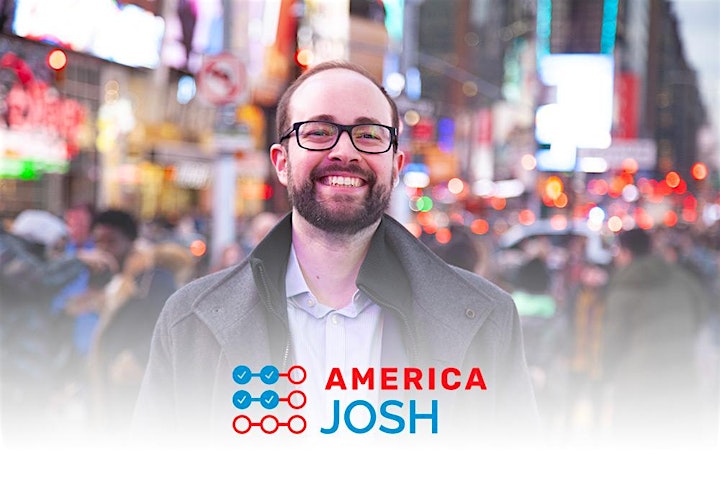 Josh moved to New York City from Adelaide, South Australia in the middle of a cold 2017 winter. While there was no real plan but it was clear that the city and its 7 million+ people meant for all sorts of adventures and opportunities.
After arriving though it was clear that transitioning your life from one country another was a pain, and there was no real advice to help you order a sandwich properly, let alone arrange for real things like Social Security. So he started America Josh.
America Josh is an online guide and community network helping expats from all over the world move to and thrive in America.
The mission of America Josh is to make the transition more straight forward and life abroad less stressful on individuals. AmericaJosh.com includes guides, reviews, tools, recommendations, and community-generated content to help with a move whether they are in the early stages of planning, have a firm plan to move, or have already made the move.
These online resources coupled with events and community recommendations provide a full suite of knowledge and assistance for anyone moving to or living in the U.S.
Proudly presented by Josh Pugh of America Josh. By registering for this event, you agree to receive e-mail communication from us.