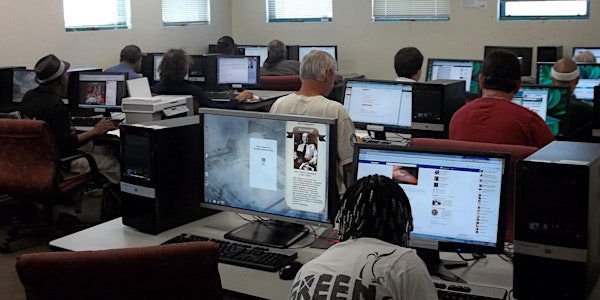 Austin's Digital Inclusion Day and Digital Resource Fair - FREE to the Public
When and where
Location
Austin Community College 6101 Airport Blvd Austin, TX 78752
Description
Friday, May 13th is Digital Inclusion Day in Austin, Texas!
To celebrate, Austin Free-Net is partnering with Skillpoint Alliance, Austin Community College, the City of Austin and Google Fiber to launch the city's first Digital Resource Fair on Friday, May 13, 2016, 12:00 PM – 4:00 PM.
This event is free and open to the public. Attendees can can learn about free adult computer training programs, summer programs for children, and get free one-on-one help with computer and internet services. We'll also be giving away desktop computers and mobile devices to some lucky attendees.
Here are some of the organizations that will be at the Digital Resource Fair:
African American Youth Harvest Foundation

AMP360

Austin Community College

Austin Energy

Austin Free-Net

Austin Independent School District

Austin Public Libraries

Blue Cross Blue Shield of Texas

Boys & Girls Clubs of the Austin Area

Capital IDEA

Code Orange

El Buen Samaritano

Foundation Communities

Girl Scouts of Central Texas

Google Fiber

Housing Authority of City of Austin

Latinitas

Literacy Coalition of Central Texas

Manos de Cristo

Microsoft

PelotonU

Skillpoint Alliance

TaylorMade Careers

Texas Department of Insurance

Texas Technology Access Program

United Way / 211

Wellsfargo Bank
The Digital Resource Fair will highlight and demonstrate the vast array of online resources available to enhance the lives of Austin residents. Exhibit booths will demonstrate that with online resources, families can spend more time together and not have to spend precious resources to take buses to pay a bill, wire money overseas, make an international phone call, or simply choose a movie to see together. This event will be an awareness event to engage the community to participate and not be left behind in the digital community.
Interested in being a vendor? Get more information here: http://j.mp/vendorRSVP
More About the Digital Divide
More than 60 million people across the United States aren't connected to the Internet. More than a third of these people don't see the Internet as relevant to their lives, while another third find the web difficult to use. The numbers are similar in Austin. According to the City of Austin's 2014 Austin Digital Assesment, nearly 44% of those who do not use the Internet were not interested, 42% were without someone to teach them relevant skills, and 37% found the Internet too difficult.
About Austin Free-Net

Austin Free-Net, is a 501(c)(3) nonprofit and exists to provide technology training and access to the community, fostering skills that enable people to succeed in a digital age. For more information: http://austinfree.net/
About Skillpoint Alliance

Skillpoint Alliance, a 501(c)3 social enterprise based in Austin, builds partnerships among industry, education and the community, leading to college and career success for Central Texans, while meeting employers' needs for a qualified workforce. For more information: www.skillpointalliance.org
About Austin Community College
Austin Community College is a nationally recognized two-year college serving Central Texas. ACC is focused on student success and providing affordable, flexible pathways to help students reach their education goals, learn new job skills, or advance their career. The college currently enrolls more than 43,000 credit students and serves an additional 15,000 students each year through noncredit programs. For more information: http://www.austincc.edu/