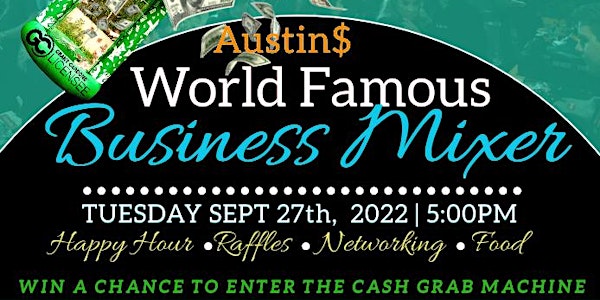 Austin$ World Famous Business Mixer!
AUSTIN NEWBIES, TECHIES, ENTREPRENEURS, STARTUPS, HEALTH, 10XERS, REAL ESTATE
When and where
Location
Simar Seafood Cocina 9503 Research Boulevard #Unit 400 Austin, TX 78759
About this event
Austin's World Famous Business Mixer is Happening Sept 27th! Our networking mixers are the perfect way to promote your business and have fun doing it! You will be surrounded with business professionals that want to buy, connect and collaborated with you!
You will ALSO ENJOY
FOOD, DRINKS, PRIZES AND A CHANCE TO ENTER OUR CASH GRAB MACHINE FILLED WITH CASH!
AGENDA
5:00pm-6pm / Open Networking 6pm-6:15pm /Announcements 6:15pm to 6:45 pm / 1-5 Minutes pitches 6:45 to 7pm / Raffles/ CASH GRAB MACHINE 7pm - 7:30pm / Open Networking
Last 48 hours Tickets go up to $25 Tickets will be $25 at the Door. FREE Parking Tell your Network, Friends, Family and Business Partners
****Thank you to our Sponsors***
Christina Suarez, Championship Tile, 512-924-9343, Championshiptitle.com
Robert Duran, Grant Cardone Licensee 10x Coach, 512-363-6038, www.store.grantcardoneteam.com/?ref=F7D6Lc8-FK3Su
Jesse Breidor Seidfield Realty 512-636-6779 Seidfield.com
Gabriel De La O CohesionLabs 210-464-8322 Cohesionlabs.io
Jakesha Vaughn Signature Mobile Services 737-230-4522 Signaturemobileservices.com
Prince Avery Soma Photography 512-361-7110 Somaphotoparties.com
Nancy Hilliard , Juice Plus, 512-470-3750, Nancyh.juiceplus.com
Inspirational Photo Booths, 830-402-6684, Inspirationalphotobooths.com
Simar Seafood Cocina 512-386-1182 Simarseafood.com
BNG Networking Group, 512-855-7317, BNGnetworkgroup.com
Want to Stand out?
$200-$500 Sponsors ( Call Robert at 512-363-6038)
$50 Two minute business Pitch (buy on Eventbrite)
$10 Business Shout out at the Mixer (buy on Eventbrite)