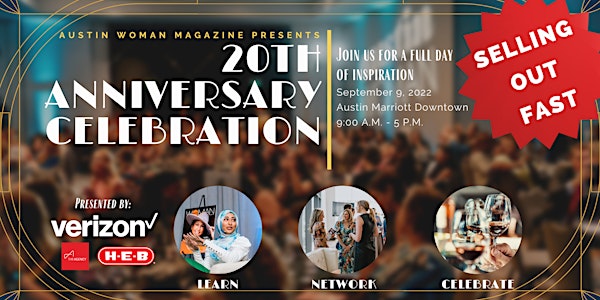 Austin Woman Magazine 20th Anniversary
Join us a we celebrate 20 years of Austin Woman Magazine!
When and where
Location
Austin Marriott Downtown 304 East Cesar Chavez Street Austin, TX 78701
About this event
For the last 20 years we have witnessed a transformation amongst the women of Austin. Join us as we celebrate, in true Austin Woman fashion, a community filled with diversity and women empowerment. There will be personal and professional development opportunities, we are engaging panels, workshops and networking sessions to boost your relationships and career!
Schedule:
9:30 A.M. - 10:00 A.M. - Registration
10:00 A.M. - 10:45 A.M. - Morning Panel Sessions (Choose 1)
Web 3 and the Metaverse: What Does This Mean For Me?
We've all heard these terms bandied around in elite circles, but if you're like me, it went in one ear and out the other. The thing is, it is not just THE future, it is OUR future and as women, we need to be in the know to make sure we are on the cutting edge, as women should be!
Real Estate In Austin is Not For The Faint of Heart
It's not a question why everyone suddenly loves Austin. You and I both know it's one of the greatest places to live. The influx of people moving to Austin has been unprecedented causing an already nationwide housing shortage that is exasperated throughout the Austin Texas region. With the real estate market shifting what can we expect next? Have sellers lost their opportunity and will buyers finally stand a chance to secure their dream home without competing against multiple would be home purchasers? Let's talk with the experts and get their best tips and advice for navigating a changing market.
The Corporate Track... Is There a Secret to Getting Ahead at Austin's Biggest Corporations?
It's no secret that Austin is attracting both start-ups and some of the largest corporations in our country to set up shop here. On the surface, it's great to have the opportunity, but the corporate world still holds it challenges for women—especially in tech. Hear from some of Austin's top female leaders who have navigated the sometimes-treacherous waters to come out on top.
11:00 A.M. - 11:45 A.M - Networking in Vendor Market
12:00 P.M. - 2:00 P.M. - Luncheon (AW Cover Woman Panel / Grant Winner Announced)
2:00 P.M. - 3:30 P.M. - Afternoon Panel Sessions (Choose 1)
What is it like to be Black in Austin today?
We start with some history and then will dive into What's gotten better? Worse? What has maddingly stayed the same. What can we do, as women, as "co-conspirators", as people of color and wildly diverse backgrounds to stay the black exodus and create growth and opportunity?
Fashion+ Beauty+Wellness: Look Good, Feel Good, Do Good.
How we feel, inside and out, affects every part of our lives. There is so much happening in each of these industries that will continue to affect our dailies lives. From the latest tips and trends to how to make sure your "inner" self feels as good as your "outer" self looks! BONUS: make-up demo by Lisa J of BK Beauty and Fashions by Linda Asaf.
3:30 P.M. -5:00 P.M. - Networking & Happy Hour