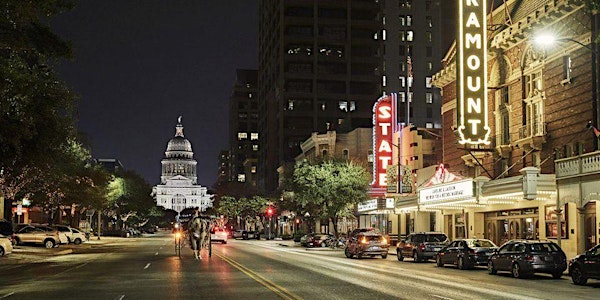 Austin Witchfest 2020
When and where
Location
Jourdan-Bachman Pioneer Farms 10621 Pioneer Farms Dr Austin, TX 78754
Description
Austin Witchfest Inc. is an Austin-based 501 (c) (3) non-profit organization dedicated to the celebration and education of the religion of witchcraft. Held in the beautiful outdoor spaces of Pioneer Farms, we hope that you will join us for a day full of workshops, rituals, vendors, raffle prizes, entertainment and more! A portion of net proceeds will be donated to charity.

Admission
• The ticket cost to enter the festival is $5 per person. Children 12 and under enter for free. All rituals and workshops are included with admission along with a single raffle ticket.
• Tickets can be purchased through Eventbrite located here on the event page. We will also accept CASH ONLY at the entrance for as long as capacity permits. For those that have pre-purchased tickets, please have your tickets out and available upon entrance to be scanned.
• Pets are not allowed on Pioneer Farms property. Pioneer Farms has livestock on property and because of this we ask you to leave your pets at home. Service animals are welcome on-site to assist their owners. This does not include emotional support, therapy, comfort, or companion animals.
• We ask that no weapons be brought into the festival grounds. In fact, if you purchase a blade from one of our vendors, it will be walked up to the front for you to claim upon exit. We want to provide a safe environment for all and accidents can happen, especially with the sharp, pointy stuff!
• The dress code is casual and family friendly. There have been questions on what exactly "family-friendly" is. In general, this means no nudity and/or dress that depicts things such as nudity, sex, extreme horror, profanity, racial slurs, innuendo, drug use, blasphemy, and/or racism. We ask that you be cognizant that this not an 18+ or 21+ type event where dress and/or nudity are generally more lax (especially in Austin). There will be children, teenagers, young adults, grandparents and any other kind of family member you can think of. Your attire should be suitable for all. We are sorry if you feel that this limits your creativity or self-expression, that is not our intent, but we have to keep things suitable for the family. If you come dressed inappropriately, you will be turned away or asked to cover up/change. Feel free to add a little flair to your attire if you so wish, but this is NOT a cosplay or LARP event. You do not have to dress-up to attend.
• It will be held outdoors with limited shade, rain or shine. The average high temperature for this time of year is between 69° and 75° and sunny, however, this is Texas, where the weather changes on a whim, so please check the forecast beforehand!
• While most vendors will accept credit card payments, there will be no ATM on site, so make sure to plan if you want to bring cash.

Note: Pioneer Farms will be closed for the festival but will have a booth. The blacksmith will be onsite teaching classes, but this is NOT part of Austin Witchfest. For cost and more information about this, please speak with Pioneer Farms directly.



Parking
Parking is available on-site for $2.00 per carload. and is first come, first serve. The main parking lot can accommodate 500 vehicles, but don't worry! There is huge back field that will be mowed for overflow parking and it can accommodate several times that.



Raffle
Each admission ticket purchase will come with a single raffle ticket which will be given to attendees upon entry. Raffle tickets will NOT be given to children 12 and under, however, additional raffle tickets can be purchased separately for $5 a ticket. Raffle items consist of items donated by our vendors and should retail for around $20 USD. There will be two raffle giveaway periods, one around noon and the other in in the afternoon. If you are attending a workshop during the raffle giveaway, fear not, you won't miss out! Just check with an Austin Witchfest volunteer or coordinator and they can check to see if you winner. Any unclaimed raffle items at the end of the festival will be donated to local causes.



Austin Wildlife Rescue
From the cycles of the sun and moon, to the natural landscapes of our planet, to our animal brothers and sisters whom we share this physical space with, all forms of witchcraft, to one degree or another, include an intimate connection with nature and the universe. As a local non-profit, we will donate a portion of our net proceeds this year to the Austin Wildlife Rescue:

"Austin Wildlife Rescue is a 501(c)(3) non-profit organization dedicated to helping sick, injured, and orphaned wildlife in the Austin area. We have been a proud Central Texas tradition since 1977. AWR started as a small group of concerned individuals from diverse backgrounds with a common interest in providing experienced care for wildlife. From the small core of individuals, Wildlife Rescue has grown into a widespread network of licensed rehabilitators, trained staff members, and dedicated volunteers. Over 7,000 wild animals are cared for each year. Our Intake Center and Rehabilitation Center are open to the public for drop-offs and the Austin Wildlife Rescue telephone hotline is answered daily to assist with your questions about local wildlife."

There will be a donation box setup as well for those that wish to make an additional direct contribution. For more information about Austin Wildlife Rescue, please visit their website at https://www.austinwildliferescue.org/ or their Facebook page at Austin Wildlife Rescue.



Rituals and Workshops
We can't have a proper festival without rituals and workshops! As mentioned previously, rituals and workshops are free for all attendees, however, the workshop tent will only have 60 chairs, so it will be first come, first serve! We will allow as many people in the tent as possible, barring any occupancy limits. If you are interested in a workshop, make sure you are a little early as they will start promptly at their designated times. NOTE: Our keynote speaker, Mat Auryn, will be on the main stage, not in the workshop tent.

Opening Ritual by Cauldron of the Witches Moon Coven
10:30am – 11:00am: Center of Festival
The Cauldron of the Witches Moon is an eclectic coven that promotes diversity and wandering paths, from seekers to crones. We welcome all who want to learn how to weave their magick and master their life through the power of witchcraft. We are a bunch of witches who teach, learn, and gather under the energy of our ancestors and the Goddess. If you'd like more information about the coven, please contact Madame Zee. She will have a divination booth setup at the festival, but outside of that can be reached at www.madamezee.com or on Facebook at Madame Zee Tarot.

Brujeria de la Frontera: Mexican Witchcraft from the Borderlands by Alexis Arredondo with cityalchemist; 11:10am – 12:10pm: Workshop Tent
Come hear about this colorful practice of witchcraft from your local City Alchemist team. You will not only learn the proper terminology, but how brujeria differs from other common practices. We will invoke the Gods of Mexico and the folk saint of death herself: La Santa Muerte. Be ready to leave this course with many trabajos (workings) to heal, help and even harm!

Gardening by the Moon & Stars by Cedar Stevens of Natural Magick Shop; 12:20pm – 01:20pm: Workshop Tent
Join local witch and magical herbalist, Cedar Stevens, as she teaches us how to use the phases of the moon and its journey through the zodiac signs to get the most out of your gardening! Growing by the moon and stars is a time-honored, worldwide practice that is largely forgotten in the new world. During this class, you will learn to use a moon calendar to align your garden with these celestial cycles. Info sheets and calendars will be provided, plus Demeter oil for self-anointing. The class will finish with a Spell to cultivate a Green Thumb!

Magick for All: Witchery from Nothing by Mat Auryn - Author
1:30pm – 3:00pm: Main Stage
As children, when we think of those with magickal power we tend to think that magick is something that is done on the spot with a thought, a gesture, a word, or a gaze. Later on, as we enter into the path of magickal training we learn that magick isn't done this way—or is it? How would you perform magick if you were stranded at sea or lost in a desert, or if you have mobility issues or disabilities? In this discussion, Mat Auryn will be discussing why the world needs more magickal practitioners and that every single human being can employ magick effectively in their lives regardless of who they are, their physical mobility, or financial situation. Discussion is based on his book Psychic Witch (Llewellyn).

Ancestral Magick & Healing by Danielle Dionne - Psychic Medium & Author
3:10pm – 4:10pm: Workshop Tent
The spirits of the dead offer a rich partnership for healing of the past and present to empower the future. Join Danielle to explore ways to build relationships with your loving ancestors. Discuss ways to create space in your life to honor and commune with the dead and to seek their intercession through divination and magick. Learn to build a magickal mediumship practice to receive messages and to validate their presence in your life. Consider ways to work with the ancestors to heal yourself and your lineage through veneration and ritual. This workshop is based on her upcoming book, Magickal Mediumship: Partnering with the Ancestors for Healing and Spiritual Development, publishing with Llewellyn later this year!

Closing Ritual by Belladonna Eclectica
4:20pm – 04:50pm: Center of Festival
Belladonna Eclectica is a small group of sisters who gather for coffee, food, and magic. We are made up of women of different paths as well as different stages on their path.



Musical Guest: Nøkken + The Grim
11:00am – 12:00pm: Main Stage
Primal neofolk in the name of Föld Anya, Earth Mother, and the songs of old. We recall the rhythms of the world, from the murmuring streams to the wild fury of the Jötnar to the anguished fiddling of the fossegrim. Nøkken + The Grim is the feral call of beasts, the longing cry of animal and nature spirits in an era of machines. We channel the old ways, of animistic life, forgotten rituals, and primal musics, coursing from the spirit of Old Norse and Magyar traditions and eons before humanity. We are nonhuman spirits who pull this music from the dreams and memories of the soils and roots and lost paths. We sing for our human brothers and sisters to join us again in the wild dance, through dark electronics and the breathing of strings and winds. We give new life to the ancient song.

Nøkken + The Grim began in Austin, Texas in 2015 and debuted their first album Treason to Our Nature in 2018 at The Thicket. Originally the group was a solo act called Nøkken with wild performances by fiddler Justin Gortva Scheibel. When composer/multi-instrumentalist Stephen Savage and violist Karoline Leal joined in 2018, they became Nøkken + The Grim, and the trio of enraged nature spirits started wreaking havoc in Texas. Nøkken + The Grim gets its symphonic sound from its musicians' background in recording film soundtracks. The performers have recorded numerous films with composer Brian Satterwhite, including Paper Birds (2019), The Mark of War (2018), The Next Kill (2018), Sour Bear, and Boneyard Alaska (2019). Nøkken + The Grim recorded the short film Where You Used to Be (2018), with a score by Stephen Savage. All this has culminated in a live premiere of Evil Dead: A Nightmare Reimagined with Hollywood composer Joseph LoDuca for MondoCon2019 at Alamo Drafthouse.


Kid's Activities
We will have face-painting for the kiddos!


Vendors, Divination Booths and Organizations
The submission period for this year is closed! We are still in the process of confirming booths and hope to have a final list soon! In the meantime, however, each will have their own post in the event discussion, so please browse our postings to see who will be attending and what they offer. Check back often for the most updated postings!


Food Vendors
We have a few vendors that will be offering pre-packaged snacks, but are currently working on securing food vendors! Check back later for updates!