Get your Carnival Costumes ready coz we're about to dance!
About this event
AUSTIN Summer Carnival 2021 @austinsummercarnival THIS Saturday 💯 Don't miss
OUTDOOR EVENT ‼️
We outside babe #weoutside
A carnival that celebrates the African heritage with Brazilian, Latin and Caribbean rhythms in Austin, TX!
Time to shake that thang 🤍
Featuring LIVE music LINEUP by:
➕ Emman Legrand @emman.legrand (Congolese
African Music)
➕ T-Rock Again @trocklive (Soca Music Trinidad)
➕ Tommy Francisco @tommymusicnow (Reggaeton/Afrobeats)
➕AND MORE…
Saturday September 25th, 7pm @thevenueatx 🔥
Early Bird tickets on sale now 👇🏾
https://www.austinsummercarnival.com/
🥁 Let's dance on the streets one more time!
🤍 Club Bantu is a community of people who love to dance!
@selectarah @diijray.intl @zb.imagery @sambasaudade @sambabird_atx
__________
#clubbantu #austintexas #atx #austinlife #austinblogger #dance #reggeaton #do512 #austin360 #austintx #carnival #dancechallenge #texas #waustin #soca #music #austinfestivals #costume #dancehall #afro #africa #explorepage #fridayvibes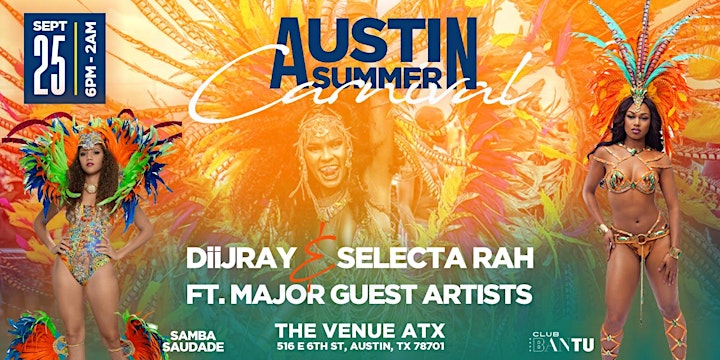 Organizer of Austin Summer Carnival 2021
Club Bantu Austin's HOTTEST Afrobeats Party! Playing Today's best African Music, Latin Music  and International hits! Austin's best looking international crowd parties with us. Don't miss out on the Champagne Cocktail Parties, Intercultural Fashion Shows, Happy Hours, Art Parties, Thursday Latin Night and of course SUNDAY AFROBEATS ROOFTOP PARTIES!! 
Follow us on www.clubbantu.com Facebook /Clubbantu - ATX
Instagram @club.bantu and Twitter @clubbantu
#Clubbantu #Afrobeats #Austin #Africanmusic #Latinmusic