About this Event
asè (or àṣẹ or ashe1) is an African philosophical concept through which the Yoruba of Nigeria (West Africa) conceive the power to make things happen and produce change.
TOGETHER WE CAN!
Come and shop the Austin Shoppers Emporium at the Austin Community Family Center. We will have a host of businesses and vendors for you to support with great products and services. Bring family and bring friends, you can even bring the kids and let them enjoy some time in the ASE children's play area, with free arts and crafts and face painting. Take a break from shopping and spend some time enjoying some live entertainment on the main floor, showcasing and supporting local artists. But wait there's more... just in case you exhaust yourself visiting our fabulous vendors take time to grab a bite at the ASE Pop-up Cafe. That's right in the lower level, there's various food vendor cooking up their talents and business just for you. The Austin Shoppers Emporium is all about community, family and empowerment. Don't miss this fantastic event or your chance to be one of the lucky $100 gift card giveaway!
EVERY SATURDAY FROM 11AM-3PM
***
DATES OPEN
4/4, 4/11, 4/18, 4/25, 5/2, 5/9, 5/16, 5/23, 5/30, 6/6, 6/13, 6/20, 6/27,
***For vendor opportunities email acfcservices@gmail.com or call 708-969-6832***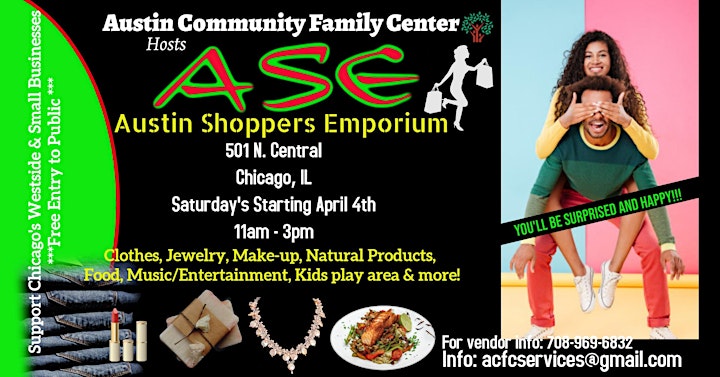 The Austin Community Family Center is a Non-profit located on Chicago's West Side within the Austin community. The Austin Shoppers Emporium is a partnership with ACFC to support small businesses and entrepreneurs by promoting economic growth and sustainability; in addition to spur community engagement in a safe and family friendly environment. The Austin Community Family Center welcomes sponsorship and volunteers in support of its services and mission. For more information on the Austin Community Family Center please feel free to visit www.acfamilycenter.org today!