Description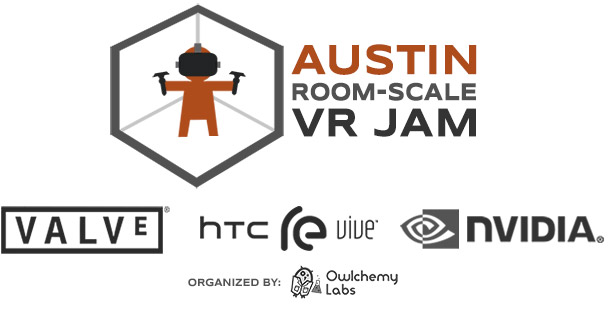 What is it?
Come build VR games on some of the most impressive VR hardware in the world. Welcome to the first ever room-scale VR jam, right here in Austin, TX!
Last June, we organized the Boston VR Bender, a game jam for Valve's prototype positional tracked headsets. This year, with the help of HTC, Valve, and NVIDIA, we'll be bringing some of the brightest minds into one room to build entirely new room-scale VR experiences -- experiences that allow the player to stand and walk around an unobstructed 15' by 15' space with fully tracked motion controllers, thanks to SteamVR and the HTC Vive. Anyone passionate about experimenting on VR won't want to miss this special event.
Agenda:
This shindig is is a two part event!
Event #1: This Eventbrite ticket allows you access to the following private weekend event:
VR Jam day 1 - Sat. May 9th 2015 (10am to 10pm)

VR Jam day 2 - Sun. May 10th 2015 (10am to 10pm)

Event #2: Monday night we'll have a huge demo night open to the public! Note that VR jam attendees also need to sign up for Monday night, on the VR Austin Meetup page.
VR Austin demo night - Mon. May 11th (7pm to 11pm)
Location:
For all 3 days, we'll be setting up shop at the beautiful Vuka Austin located at 411 W Monroe St, Austin, TX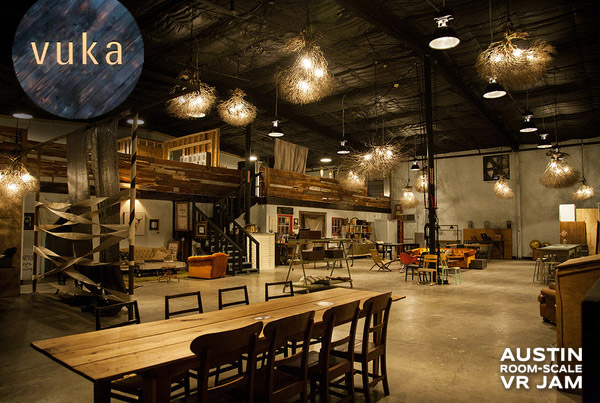 Since this is Austin -- yes, we will have a taco truck parked outside for Monday night's event ;)
Deets:
Signing up on this Eventbrite page serves as a way to reserve a spot at a desk to do actual development at the VR jam (and help with costs) -- If you or a colleague would like to attend briefly to 'check things out', email me so we can save that slot for a game jammer who needs use of a desk.

Attendees will have access to sample Unity and Unreal packages to begin creating content for the Vive within minutes.

Bring your own PC! A beefy desktop is encouraged, but keep in mind, the setup will be such that your actual computer will not be driving the Vive headsets -- you computer will only be used for your own personal development. Once a build is ready to be tested on the Vive, we'll be organizing a build system (flash drives and sneakernet!) to allow for testing on the actual units due to the limited number of Vive headsets available.

For those who are unable to bring a PC/Mac of sufficient quality, NVIDIA is generously bringing along 10 desktops which will be available to developers. Let us know if you need access to one of these machines during the jam.

Bring your own DK2 (and a Hydra if you have one!) -- Testing your builds on Hydra/DK2 is a rough approximation, suitable for prototyping. Remember -- there are only 3 room-scale Vive setups so you'll need to be building and testing with your own computer and periodically trying your build on the Vive machines.

Hardware may be left overnight at Vuka on Saturday night -- your hardware will be secure in the space.

Valve will be discussing getting VR titles of all shapes and sizes on Steam.

Drinks and snacks will be provided.

Bringing along some extra ethernet cables, power strips, etc. can't hurt!

Parking details here!

Of course, every great event needs a Twitter hashtag: #ViveVRJam
Common Questions:
How long should my game/experience be? 3-4 minute experiences will be the max length players will really be able to have, with such limited hardware and, so get right to the core mechanic IMMEDIATELY with no exposé or intro.

Can we bring existing content? You can absolutely take existing content / art / designs / full projects that already exist and room-scale-ify them! No problem there, although building art styles and designs and scenes from the ground up with VR in mind is always a good idea. It's harder to take an existing scene that was running at 60fps on a monitor and try to optimize it to run at dual stereo 90hz...

Any optimization tips? Watch out for realistic art styles, heavy scenes, and complex shaders. Also avoid full-screen pixel shaders / full-screen passes. They will destroy your framerate because you're going to be extremely fill-rate bound pushing so many pixels per frame at 90hz.

Is this a contest? Nope! It's not a contest -- the jam is in the spirit of making cool stuff and sharing ideas / what works / what doesn't work and having fun with this cool new tech.

Huge thanks to our event sponsor, NVIDIA, who is providing the support needed to make this event a possibility.

A big thank you to Unity, who will be providing developer support and raffling off a license of Unity Pro on Monday night!
Another big thank you to Epic, who will be providing developer support during the event!
An extra special thanks to Valve and HTC -- without them, we'd just be standing in an empty room. :)