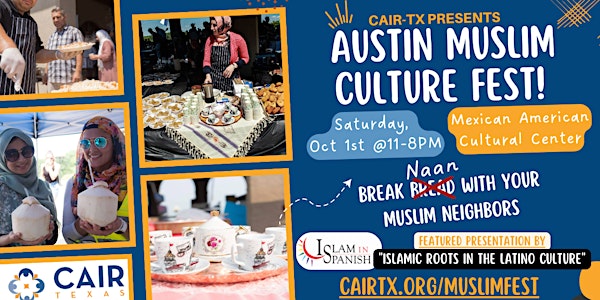 Austin Muslim Culture Fest: Break 'Naan' With Your Muslim Neighbors
Bring Your Family to the 1st Ever Austin Muslim Culture Fest! Break bread, or in our case naan, with your Muslim Neighbors The Austin chap
When and where
Location
Emma S. Barrientos Mexican American Cultural Center 600 River Street Austin, TX 78701
About this event
Bring Your Family to the 1st Ever Austin Muslim Culture Fest!
Break bread, or in our case naan, with your Muslim Neighbors
The Austin chapter of the Council on American-Islamic Relations (CAIR-TX) is proud to organize the 1st ever "Austin Muslim Culture Fest!" This one-day festival held in the heart of downtown Austin will celebrate the rich diversity of the Austin Muslim community through delicious international food, stunning artwork, and live educational workshops and performances. This event is family-friendly with various kids' activities. The best part is that the festival is free and open to the public, where guests can purchase meals, kids' activities, and other fun items on sale.
WHAT:First Ever Austin Muslim Culture Fest!
WHEN: Saturday, Oct. 1st at 11 AM - 8PM
WHERE: Mexican American Cultural Center
600 River St, Austin, TX 78701
Check out the Images below to see a list of speakers and the different food and other vendors at the Festival. We will also have bounce houses for the kids as well as other kids activities. Several dignitaries will attend and speak at the festival.
Business Sponsors: We want to give a special thanks to our amazing business sponsors who made this festival possible.
Frequently Asked Questions:
Is there any cost to enter the festival? No, there is no cost to enter the festival. This program is free and open to the public. Food, art, clothing, and other items
Is Parking Available: Yes, there is on-site parking at the Mexican American Culture center. Plus, there is ample street-metered parking around the festival.
What is the Structure of the Festival: The festival consists of various vendors selling food, clothing, art, and other items. Throughout the day, different educational workshops will be held to educate the public about the Austin Muslim community that will be held in English and Spanish. There will also be performances throughout the day at the festival. These will include poems, spoken word, and other live performances.
Can I Volunteer: Yes, as the date gets closer, a registration link will be available for people to volunteer for the program.
Do I Have to be Muslim to Attend: This event is open to the public, and you do not need to be Muslim to attend. We welcome people of all faiths or no faiths, backgrounds, and ethnicities to attend.
Will, there be Kids Activities: Yes, the festival will include bounce houses, henna, face painting, and other fun activities for children.
What if I Have Other Questions: We are here to help answer any of your questions about the festival. Please email Info@CAIRTX.org or call/text (469)200-0273.