Sales Have Ended
Ticket sales have ended
Thank you for your purchase. See you at the festival! Stay Fierce! Board of Directors Austin International Drag Foundation Inc. (501c3) www.internationaldrag.org
Sales Have Ended
Ticket sales have ended
Thank you for your purchase. See you at the festival! Stay Fierce! Board of Directors Austin International Drag Foundation Inc. (501c3) www.internationaldrag.org
Description


THIS PROJECT IS SUPPORTED IN PART BY THE CULTURAL ARTS DIVISION OF THE CITY OF AUSTIN ECONOMIC DEVELOPMENT DEPARTMENT
THIS PROJECT IS SUPPORTED IN PART BY THE CULTURAL ARTS DIVISION OF THE CITY OF AUSTIN ECONOMIC DEVELOPMENT DEPARTMENT
CLICK HERE TO VIEW THE FESTIVAL SCHEDULE AT OUR MAIN WEBSITE!
SPECIAL EVENTS!!!
Don't miss our Welcome Dinner and Show on Friday evening at the Drag Village
WELCOME SHOW
FRIDAY NOV 16 FROM 7PM-9PM
The show will feature our popular Celebrity Match Game (Snatch Game)
and the CAMP WANNAKIKI panel with the producers and cast!
The welcome show is included with your Friday Day Pass or Full Festival Pass
THE TACO DINNER is an extra charge and is limited to 50.
NOCTURNAL EMISSIONS: RETURN TO PLEASUREDOME
This is our festival finale party! It will take place Sunday Night (November 18) from 9pm to 2am.
This is included with your Full Festival Pass and Sunday Day Pass!
The show stars Drag supertroupe POO POO PLATTER as well as James Majesty, Erika Klash, and Urula Major from Dragula. Plus UK Drag sensation DisCharge and recording artists, Party Favors and May May Graves!
There will be a full lazer light show with GoGo Dancers and Le VitaKiss will be spinning the music!



Your best deal is the Full Festival Pass which is only $75 or $45 for students.

As you can see by the chart above we have passes to fit your every need if you cannot attend all weekend or want to go on certain days.




The 4th annual Austin International Drag Festival will take place November 15-18, 2018.
The WORLD'S LARGEST DRAG FESTIVAL is back and FIERCER than ever!


This year we have TWO Festivals in one!!! On Thursday, November 15 we will have a mini festival celebrating Drag Kings called KingFest!!! Then the full festival takes over for Friday, Saturday, and Sunday (November 16-18) where you will celebrate everything Drag (and yes, the Kings will be there too!)
Once again, Austin, Texas becomes the center of the Drag Universe as hundreds of Drag Artists from all over the world decend upon our fair city to entertain thousands of Drag fans and each other. This is the crème de la crème of the Drag world. Each artist will be displaying their greatest talents for your education and entertainment.

CLOSE TO 400 PERFORMANCES ALL WEEKEND!
Including the following Headliners
Soju, Evah Destruction, James Majesty, Ariel Versace, Brita Filter, Mystique Summers, Darcelle XV, Alexis Bevels, Shyanne O'Shea, Spikey Van Dykey, Joey Bambino, Erika Klash, Ursula Major, Lucy Stoole, Louisianna Purchase, Drag Clyo, Trey Alize, Dis Charge, Flarington King, Maximum Capacity, Ryan Stecken, JizzaBella, Maxi Glamour, Complete Destruction, Paradox Rei, Papi Churro, May May Graves, Rasta Boi Punany, EmmaSis, Sha'Nyia Narcisse, Kara Foxx Paris, Mahoganny, Coco Jem Holiday, Gloria Devine, Sabrina Kinkade, Vivian Dejour, Tucker Noir, Dr. Lady J, Veranda L'Ni (Madame Ambassador), Boiz Of Austin (Ambassador Generals)
(AND your festival pass allows you to MEET ALL HEADLINERS FOR FREE!)
Plus hundreds more Selected Artists! (Scroll to end to see!)

AS A LOYAL DRAG FAN, TAKE ADVANTAGE OF OUR EARLY BIRD DRAG FAN SPECIALS on Full Festival Passes! The price of the Full Festival Pass will increase throughout the year (final price will be $99), so the earlier you buy your pass, the more you save!

We are once again offering VIP upgrades as well!
Would you like to see the festival for free? Volunteer! (Choose the free volunteer option in the tickets.)
Don't forget to Book Your Room in the Drag Village ($99/night)
https://austindragfest.org/book-your-room/

What's up at the festival? In the daytime, visit the Drag Village located in our host hotel where you will be treated to Drag showcases, a Drag Market, Meet & Greets, Panels, Workshops, Podcasts, Game Shows, a Photography Studio, a Glamour Lounge, a Welcome Dinner, after hours events and much more.
In the evenings catch our Drag Shuttle to the Red River Cultural District in downtown Austin to witness even more of the best Drag artists from around the world in multiple venues just feet from each other!
This year we are excited to announce there will be two casting calls for two of television's newest Drag Reality Competition Series: Casting Call for Season 2 of Camp Wannakiki (open to all Drag Artists regardless of gender identity or expression) and Casting Call for Season 3 of King Me! Rise of a Drag King (open to all Drag King artists regardless of gender identity).
This is an ALL AGES festival. The nightly Drag showcases are limited to ages 18+ (some stages 21+).
Children ages 16 and younger should be accompanied by an adult. Some festival content and language (including artist performances) may not be suitable for all ages. Parental discretion is advised.
This is a 100% volunteer run nonprofit event produced by Austin International Drag Foundation Inc., a 501c3 nonprofit dedicated to the education, support and advancement of Drag Artists everywhere.
Check out our growing list of headlining Drag Artists for the 2018 festival: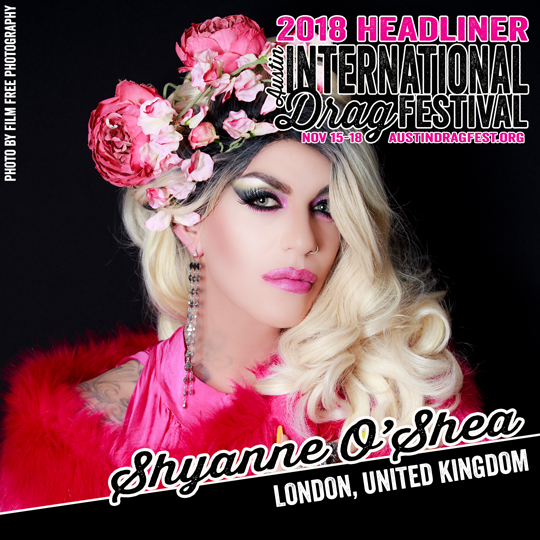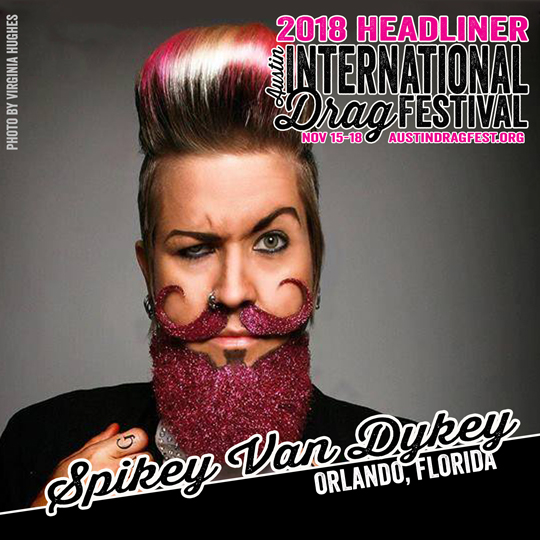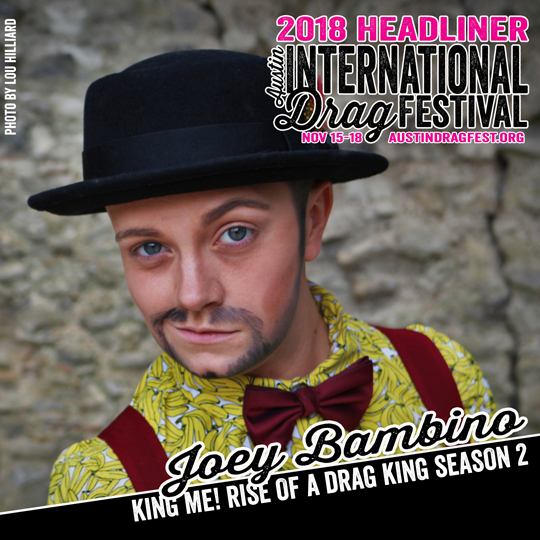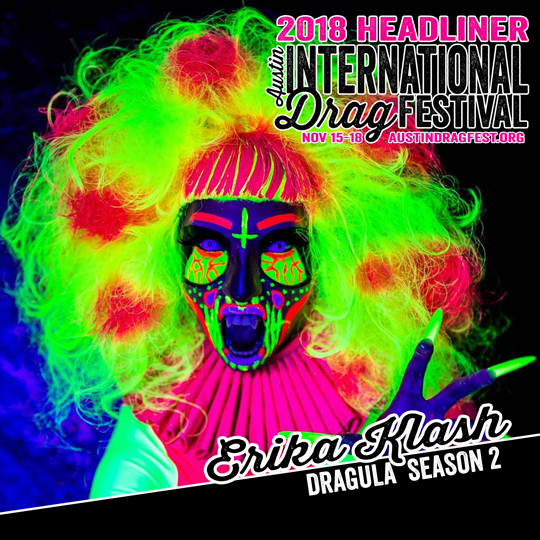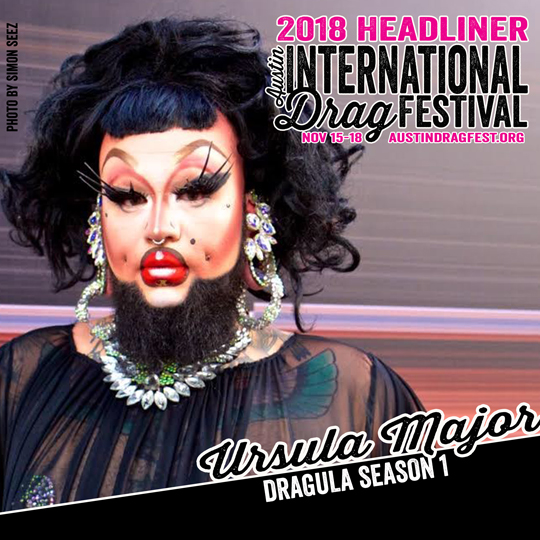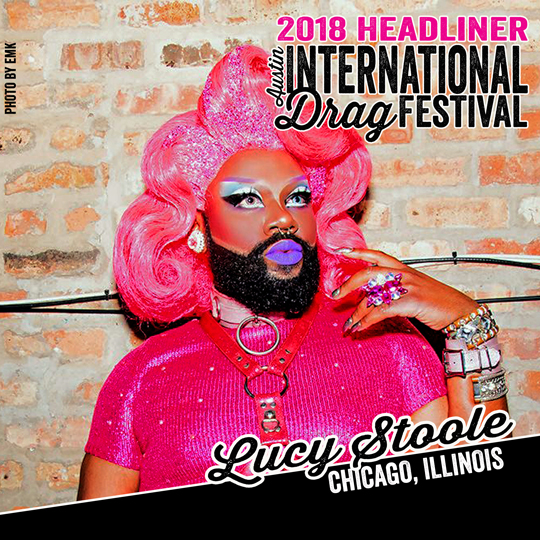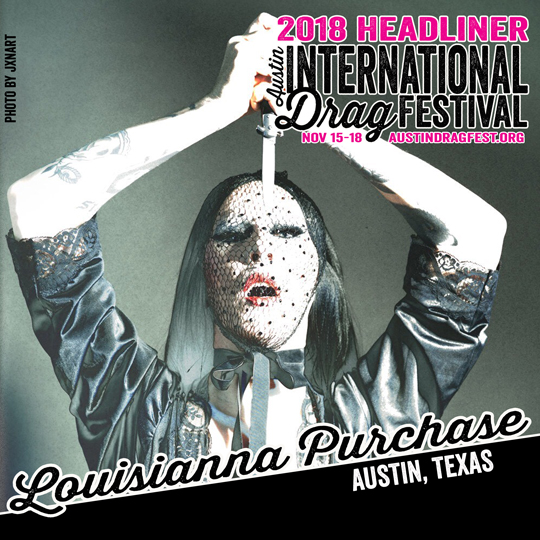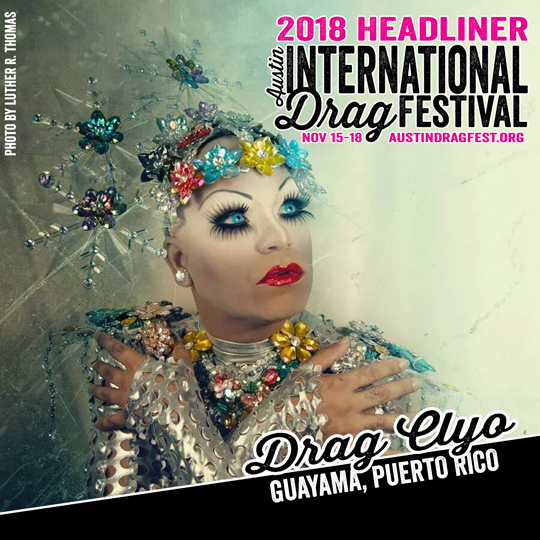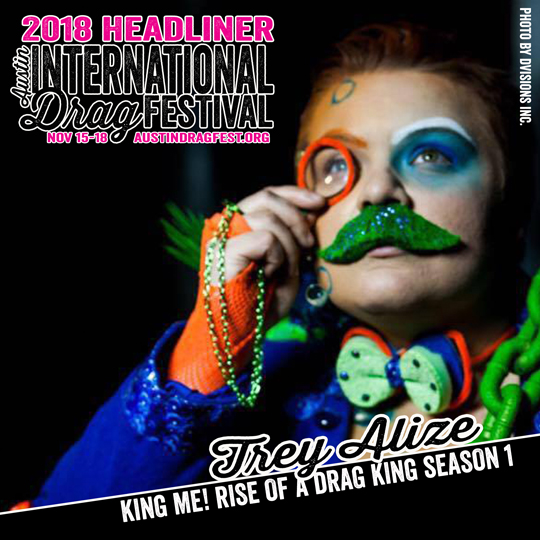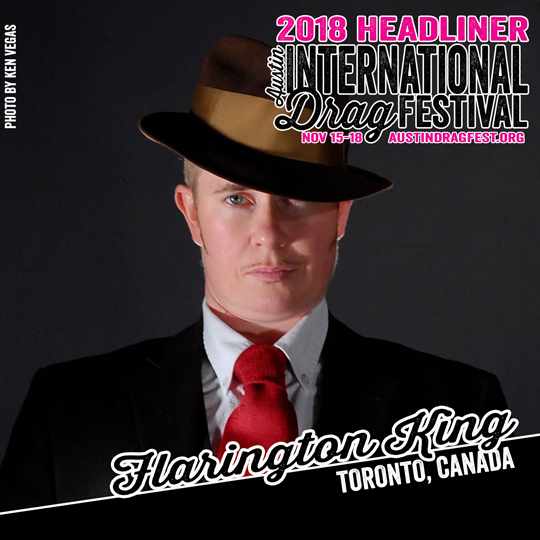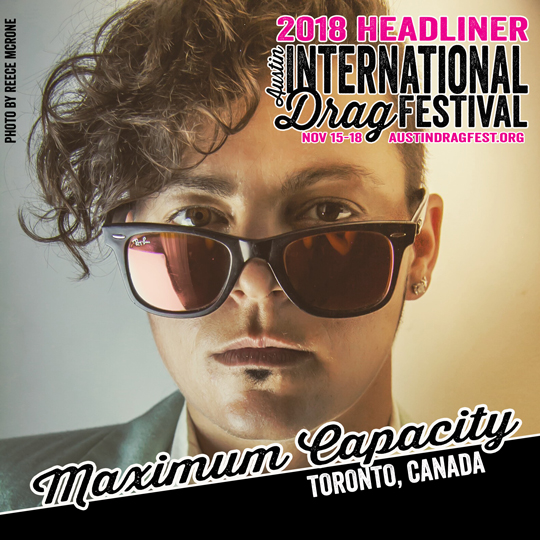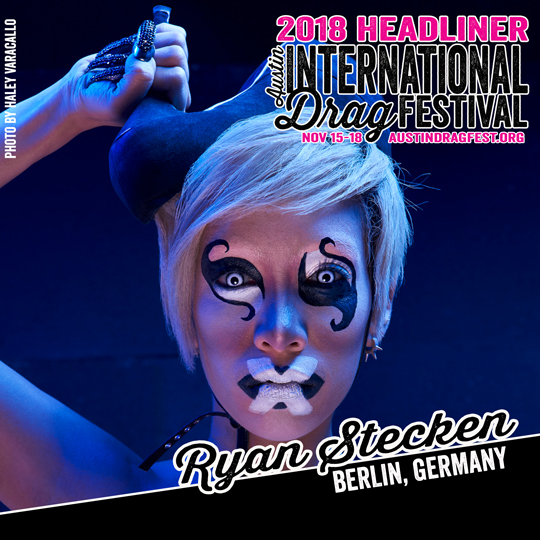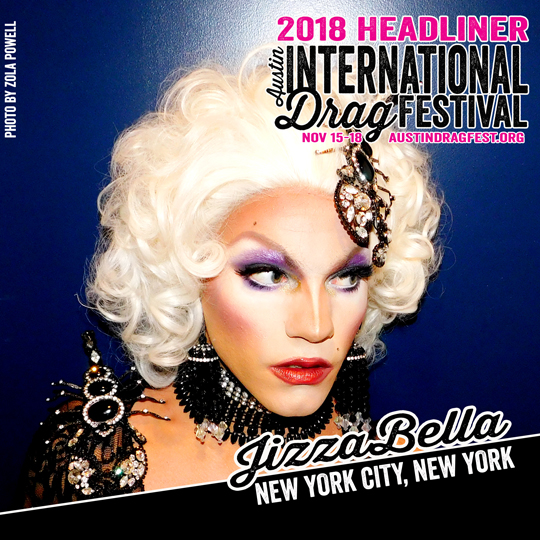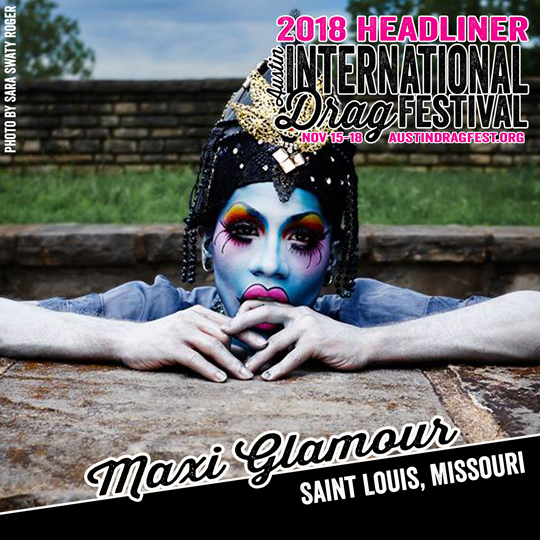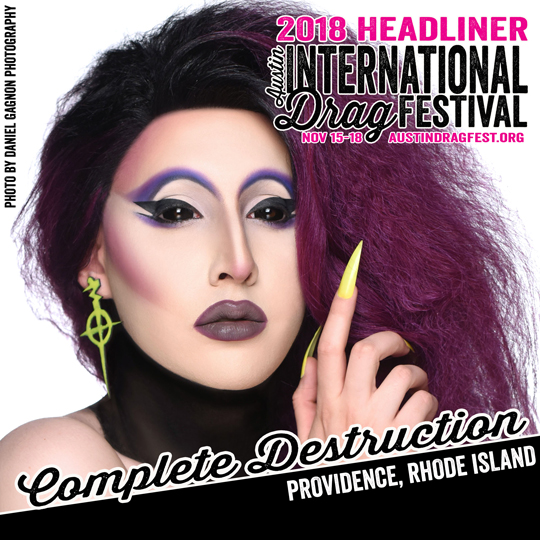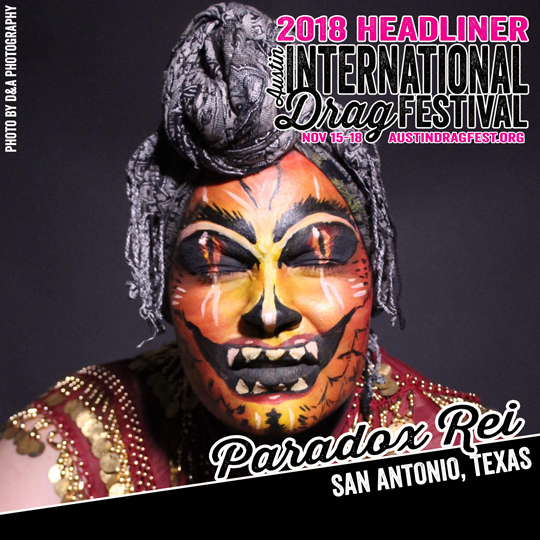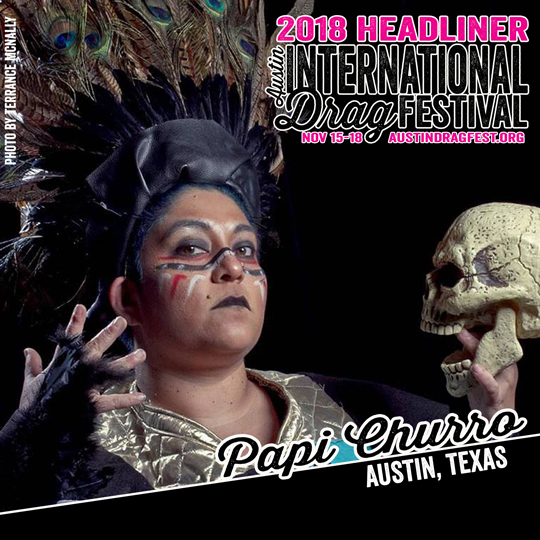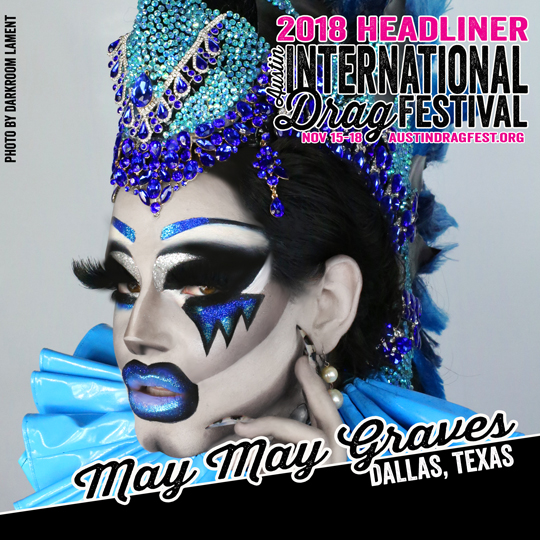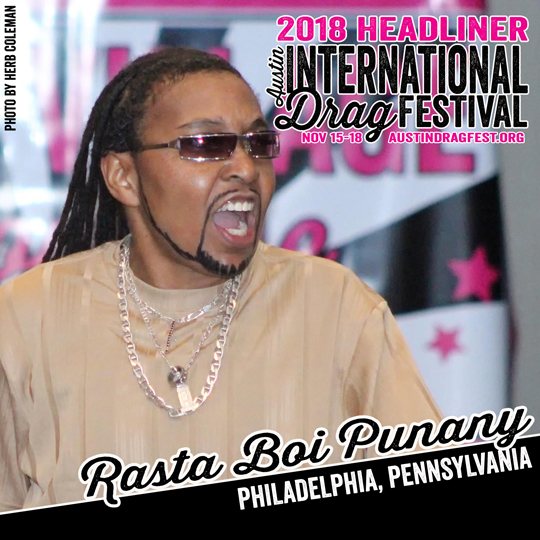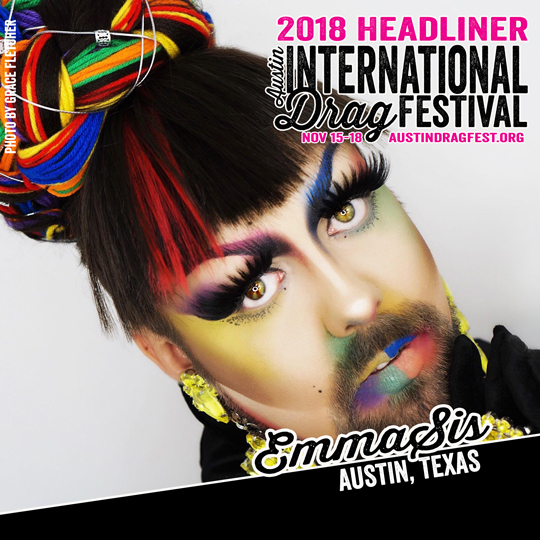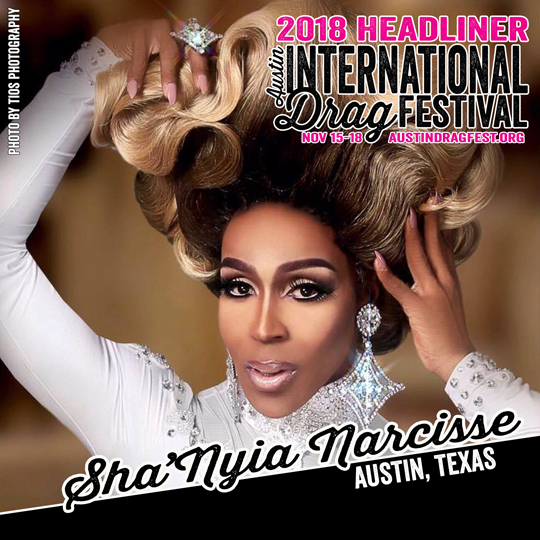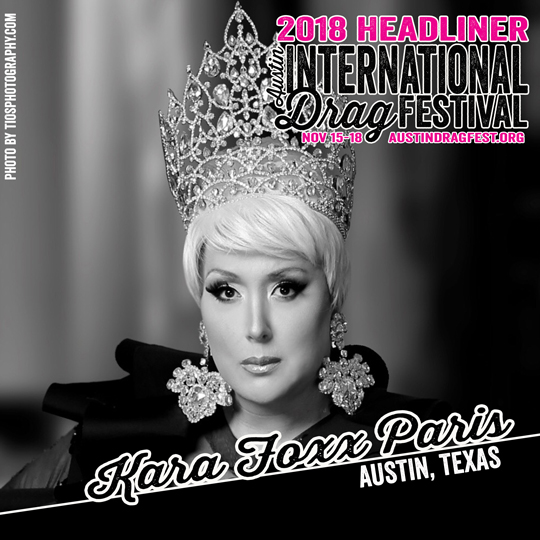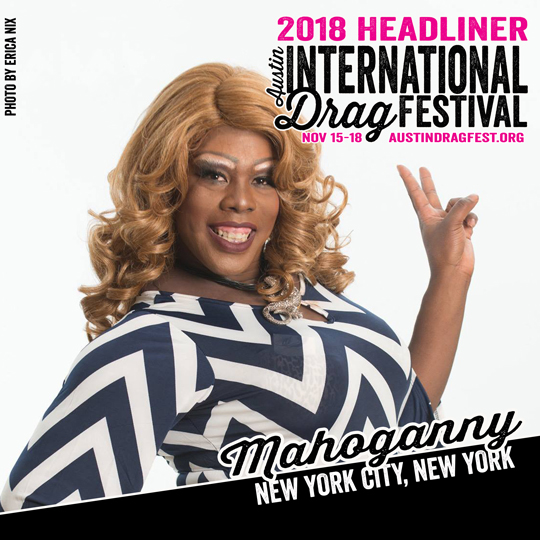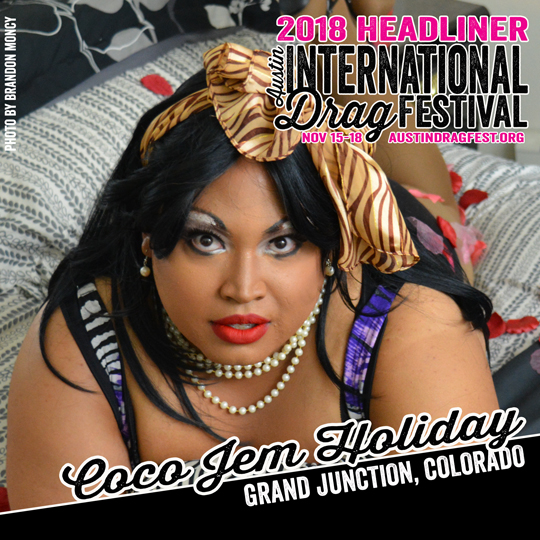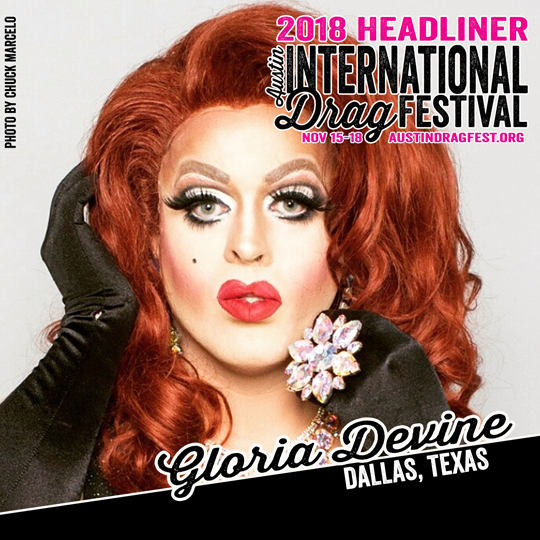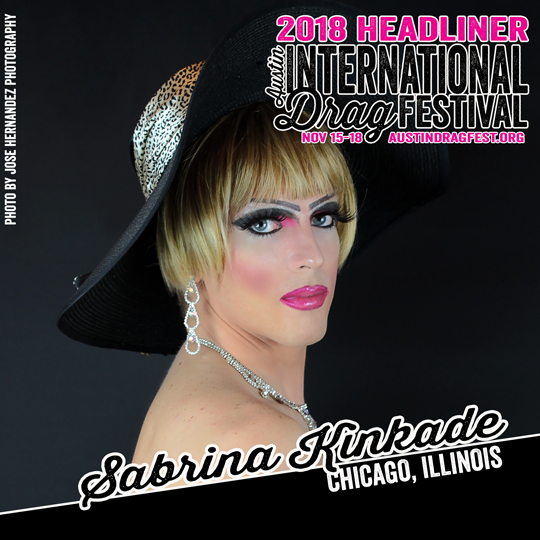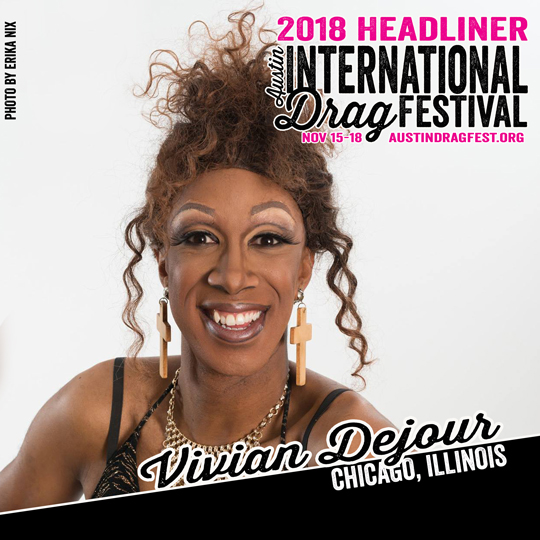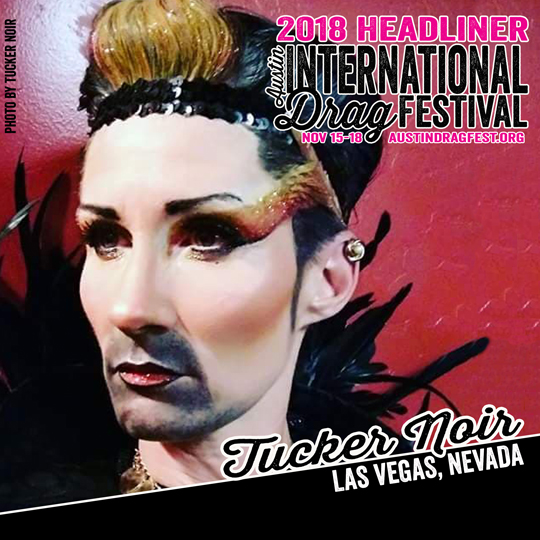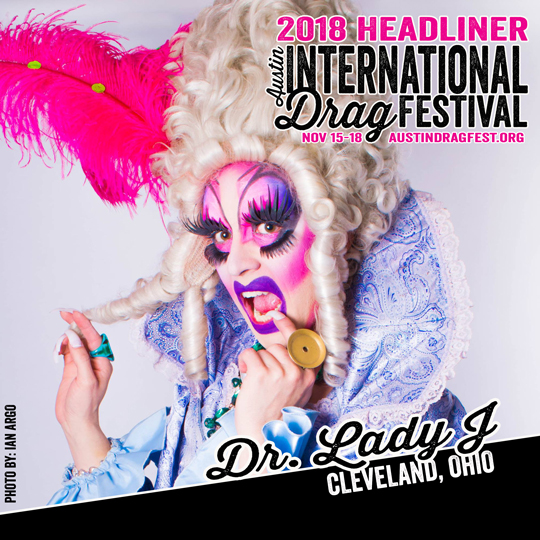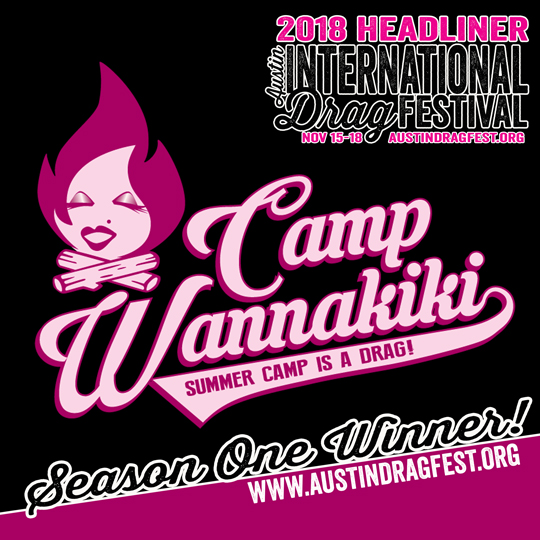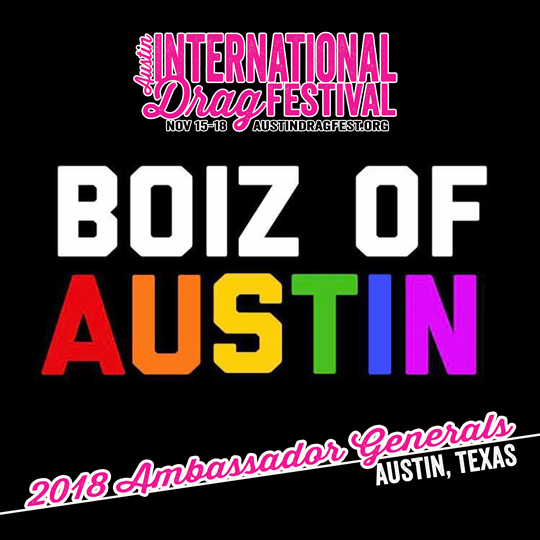 ******************************************************************************************************************
These are the other Drag Artists selected to perform at the 2018 Austin International Drag Festival...

Viola DeGradable-Debris - Miss Kitty Litter ATX - Luiz Fatale - Samantha Echo
Freddy Prinze Charming - Mary Jane Styles - Carly Üninemclite - Christi Foxx Paris
Mile High KINGdom - Sindy Vicious - Athena Sapphire - EyeVee Mystic - Colleen Deforrest
Dion Summers - Geneva Convention - SirGio - C'est Kevvie - Roddy Jodphurs - Krymson Scholar
Robin from Human Resources - Los MENtirosos - Erika LeDerreon - Hawaiian Licorice - Vana D
The Bearded Queer - Claire K Somers - Coco Charming Bardot - Logan Shaft - Zenyth - Veronica Reyes
Raven Roberts - Alice Cooter - Chyna Versace - Mel Mac & Verna Vendetta - Jayden Jamison KA St. James
Divine Intervention - Sassy Sascha - Roxie Valentine - Mulan Rouge - Yvee Laveau - Harlequing
Jaimee Spangle - Party Favors - Ophelia Johnson - Enchanté LeFay - Evelyn Syde - Ricky Rosé
Dean Disaster - Diana Fire - Scarlett Mascarra - Oliver Assets - Arsenic - Jack Hardness - Boris Tudeth
Jasmine Van Cartier - Jessica J'Adore - Jaques Strap - Victoria Obvious - Scarlett Kiss - Vagsicle
Chola Spears - Mister Underwood - Shawn Benet - Gypsy Rose Fatale - Ray Decorazón - Cash Monet
Holden Cox - Amber Güetty - The Artist Formerly Known as Anton - Yiyi - Cyril Cinder
Monroe Fitzgerald - Maxxx Pleasure - Mitchwell Hung - Raven Von Roe - Lola Angelica Stratton
Colby Jack Davenport - Dreama Belle - Danny Fox-Trot - Mona Massacre - Vic Sin - Kabbalah Divine
Kurt Sovain - Max Manchester - Annie B. Frank - Clare Apparently - Marla Darling - Jackie Oh Kennedy
Cream Victoria - Vex Beaverhausen - Misty Mountains - Miss Taint - Gena Cyde - Max Ryder
Kendrix Kyle - Anhedonia Delight - Kylee Ohara Fatale - Nayda Montana - Lilith Beest - Mercury Divine
Smashlyn Monroe - Maeve Haven - Felicia Minor - Hugh Johnson - Siren LaCoast - Cass Marie - Qzars
Thee Suburbia - Brock Harder - Magnu - m Missile - Oriana Peron - Ivanna - Alexander the Great
Dandy Velour - Boiz of Austin - Emerald Foxx Paris - Mad Max Morrison - Rhonda Jewels - Miss
Alexandria Van Cartier - Jodie Fosterchild - Jack Rabid - The Puberty Sisters - Mandy Quinn - May Dai
Diamond Dior - Rah'jai Lecrae - Euphoria - Debbie Penetration - Grandma Steven - Kennedy Fatale
Rowdy Rory - Veronica Valentine - Keira Jay - Ruby Rabid - Alysha Pretty - Tanya Lasagna - Cheeki Kahnt
Friday VIII - Queen Squirtboxx - Ethel Lynn Glycom - Klingon Vanna White - Brandin Kline
Dear Ruthie - Stephani Lane - The Sugarbaker Twins


******************************************************************************************************************
THE FINE PRINT (PLEASE READ)
All ticket/package sales are final. NO REFUNDS, EXCHANGES OR TRANSFERS.
Drag Village (DAY) Events are All Ages. Nightly showcases are limited to ages 18+ (21+ for some stages).
We cannot guarantee entry into all events, dinners, parties, panels, workshops, showcases, etc., due to capacity limitations so we encourage you to arrive early to whichever events you wish to attend.
All sales are final. There are absolutely no refunds or exchanges. Schedule and performer lineups are subject to change without notice.
All announced events, panels, workshops, parties, headliners, performers, speakers, webcasts, podcasts, meet & greets, dinners, photographers, makeup artists, hair stylists, panelists, instructors, and everything else that has something to do with the festival is subject to change without notice.
*******************************************************************************************************************