Austin IN: Resilience- Offering Hope

Saturday, October 27, 2018 from 8:30 AM to 4:00 PM (CDT)
Event Details
Austin IN: Resilience-

Offering Hope



With Sunny Lansdale, Candyce Ossefort-Russell,
Juliane Taylor Shore, and Stephen J. Terrell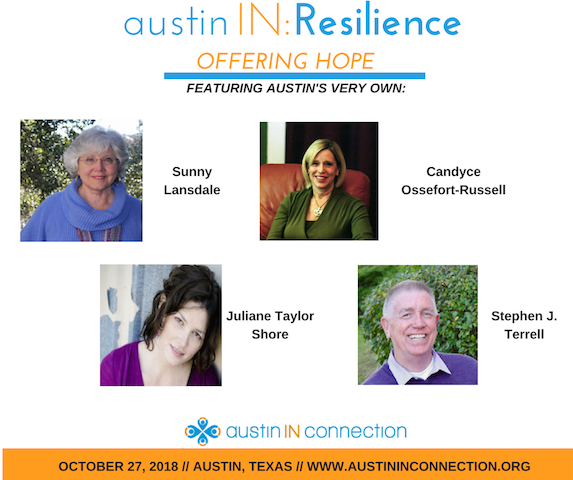 Saturday, October 27th

8:30am - 4:00pm
8:30am - 9:00am: Registration
9:00am - 4:00pm: Conference
University of Texas at Austin,
School of Social Work, Utopia Theater

Candyce Ossefort-Russell, LPC-S
All therapists will encounter grieving clients in the course of their practices. Too often, though, therapists are not trained to work effectively with grief, so they inadvertently join in our culture's misinformation about grief stages, grief work, and the idea that resilience means "bouncing back." Therapy offered from this perspective leaves grievers alone and misses profound opportunities for deep healing and self-rebuilding that can arise when grief is met with fearless presence. Candyce's presentation will translate attachment theory, IPNB, and polyvagal theory into plain language that redefines what resilience means in the face of grief and loss, empowering all therapists (not just "grief specialists") to understand how to bear witness to and accompany their clients' journeys through the pain that arises from loss of any kind.
Candyce Ossefort-Russell, LPC-S is a psychotherapist, grief advocate, writer, trainer, and speaker in private practice in Austin, TX. She has actively lived, studied, and trained in psychological, spiritual, and scientific perspectives of suffering and transformation for over 25 years. She's the founder of the DEEP Center for Counseling and Psychotherapy Training where she counsels, supervises, writes, and teaches from an attachment-based experiential perspective in the areas of trauma, grief, and life transition. She's known for her warm and emotionally engaged style that creates a safe and connected atmosphere for growth and learning. 
Juliane Taylor Shore: Developmental Trauma and Attachment Repair
This talk will explore the nature of the dynamic between therapist and client that makes recovery from developmental trauma and attachment repair possible.  We will explore how different attachment dynamics show up in the room and helpful therapeutic stances that invite self-compassion for both therapist and client.  The talk will also discuss the importance of tracking neural networks, memory re-consolidation and grief as a healing agent.
Juliane Taylor Shore is the founder of IPNB Psychotherapy of Austin and has been practicing for ten years.  She specializes in trauma recovery and in couples counseling.  When she is not seeing clients, Juliane spends much of her time speaking to therapists about Interpersonal Neurobiology and its application to clinical work, teaching interns and being with her husband and 4 year old daughter.  She has been a member and supporter of Austin IN Connection for 8 years.
 Stephen J. Terrell, PsyD, SEP: Nurturing Resilience
Join Stephen as he discusses his book, "Nurturing Resilience".  Stephen will discuss the importance of regulation of the nervous system, window of tolerance, faux window of tolerance, defensive accommodations, and how the use of touch when working in non-verbal trauma can be effective for treatment of Developmental Trauma.
Stephen J. Terrell, PsyD, SEP is a Author, Psychotherapist, Consultant, and Teacher of Somatic Resilience and Regulation, Transforming The Experience-Based Brain, and Developmental Experiential Groups.  Stephen specializes in working with clients and students who are either affected by Developmental Trauma or are interested in learning somatic touch techniques to better meet their client's non-verbal trauma.  Stephen co-authored, Nurturing Resilience which describes the effects of Developmental Trauma on the nervous system.
Sunny Lansdale
The path through adolescence is full of challenge for the adolescent.  Physical growth spurts, secondary sex characteristics, hormones, peer pressure, brain development, emotional sensitivity, thrill seeking, the emerging of sexuality, impulsivity, and separation from the nest is the short list of these challenges.  The role of attachment style can be pivotal in how the young person manages his or her trajectory through this tough time.  Knowledge about how attachment style affects adolescent behavior can help parents, teachers, and others to understand, assist, and respond effectively. The goal of this presentation is to open such a discussion.
Sunny Lansdale has worked as a teacher and counselor/psychotherapist in secondary school, undergrad, and graduate school. She is currently a professor in the Human Growth and Development Department specifically in the Masters in Counseling Division at St Edward's University.  She has had a private psychotherapy practice in Austin for 35 years working with Individuals, families and couples. She emphasizes the influence of Attachment on human development and the treatment of Trauma. 
YOUR FEE INCLUDES LUNCH, LIGHT MORNING AND AFTERNOON REFRESHMENTS! 

WANT TO SAVE ON YOUR REGISTRATION FEE?
CLICK HERE TO JOIN AINC TODAY! 
This workshop provides 6.0 CEUs.
You must attend the entire workshop to receive CEUs; 
no partial CEUs will be given.  
If paying with PayPal, choose PayPal as your method of payment above.  
If paying by check, choose Pay by Check as your method of payment above; please make checks payable to: Austin IN Connection and mail to: 
Austin IN Connection
PO Box 10724
Austin, Texas 78766
Refunds will be accepted for registration cancellations on or before
SATURDAY, OCTOBER 13, 2018
When & Where

University of Texas at Austin, School of Social Work, Utopia Theater
1925 San Jacinto Blvd
Austin, TX 78712


Saturday, October 27, 2018 from 8:30 AM to 4:00 PM (CDT)
Add to my calendar
Organizer
Healthy Relationships, Healthy Community, Healthy World