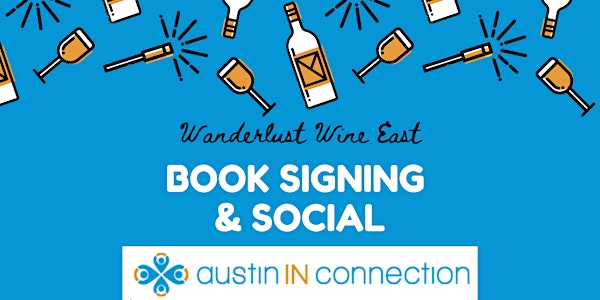 Austin In Connection: Book Signing and Social
Relationship-based Treatment of Children and their Parents: An Integrative Guide to Neurobiology, Attachment, Regulation, and Discipline
When and where
Location
Wanderlust Wine Collective 702 Shady Lane Austin, TX 78702
About this event
Join us for AINC's 1st Book SIgning and Live event post-pandemic! There's so much to celebrate- our founder's new book, new board, and new members.
Join us for a preview of the new book: Relationship-based Treatment of Children and their Parents: An Integrative Guide to Neurobiology, Attachment, Regulation, and Discipline by Elizabeth Sylvester and Kat Sherer with a foreword by Dan Siegel, MD
Book Summary:
Children and families burdened with attachment disruption, emotional distress, or behavioral issues need effective and immediate assistance. They do not have the time to wait for developmental change or long-term interventions. They require interventions that impact the family at relational, emotional, and cognitive-behavioral levels - and empower parents to make rapid therapeutic change.
Bios:
Kat Scherer, PhD, MFT, C-IAYT is a Psychologist, author and educator. She practices in Austin, Texas, and presents on topics such as interpersonal neurobiology, relational attachment, and mindfulness in mental health. Dr. Scherer is a co-founder of Austin IN Connection, a multidisciplinary organization focused on emotional health and attachment science. She co-hosts the Heart & Work Series with two collaborative mental health blogs: Therapy Matters and Heart & Work of Parenting. In addition, she is a former Brazelton Touchpoints trainer and a faculty member at the Practice School of Yoga Therapy.
Elizabeth Sylvester, Ph.D. is a Clinical Psychologist working with children and their families in Austin Texas for over 30 years. She is an Advanced Trainer of the Nurtured Heart Approach, and integrates this approach with her expertise in relational attachment and interpersonal neurobiology. She specializes in treating highly behaviorally and emotionally intense children and adolescents combining parent interventions and psychotherapy. Dr. Sylvester is a cofounder of the Heart & Work series of writings and presentations, and of Austin Child Therapy, an organization whose mission is to support the work of pediatric mental health professionals.
The authors will read an excerpt from their book and discuss the publishing process with light fare provided by AINC.
Venue Information: Wanderlust Wine East 702 Shady Lane Austin, Texas 78702
This is a free event and open to non-members.
Interested in becoming a member? JOIN TODAY!