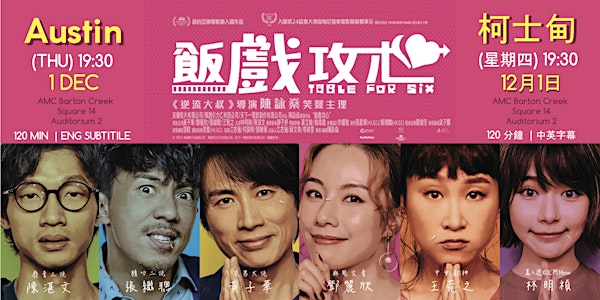 Austin HK Movie Screening - Table for Six | 飯戲攻心
香港首日上映已經奪得2022年港產喜劇開畫票房第一位。小童票詳情在下方 It is No. 1 highest-grossing Chinese film in Hong Kong in 2022. See below for children ticket detail.
When and where
Location
AMC Barton Creek Square 14 2901 South Capital of Texas Highway Austin, TX 78746
Refund Policy
Contact the organizer to request a refund.
Eventbrite's fee is nonrefundable.
About this event
一家三兄弟,大哥戀戀不忘的前女友 Monica 竟成為異父異母二哥的現女友。自尊心驅使下,大哥答應新結識的喵喵的追求。同父異母的三弟和女友Josephine的姐弟戀長跑多年,也面臨愛情危機。同一屋檐,3對情侶,4段戀情,每晚人齊開餐的相聚漸漸演變成飯桌修羅場,啼笑不停。面對舊愛與新歡,大哥將做何選擇?大家努力維持的這個家,又該何去何從?從此,每晚6人一齊撐枱腳。
只設一場,門票有限,欲購從速,不設劃位,多謝支持!
*小童票 (3-16): $16,名額20。請電郵 hkmovieatx@protonmail.com 直接訂購。
In the five weeks since the opening of the film, the cumulative box office exceeded 74.54 million Hong Kong dollars, and becoming the No. 3 highest-grossing Chinese film in Hong Kong. It was selected at 24th edition of Far East Film Festival held from April 22 to 30 2022, where it had its world premiere and was nominated for Best Screenplay Award. Later it was also invited to the 21st New York Asian Film Festival in crowd pleasures section, where it had its North American premiere on 23 July.
It is often said that food and meals bring families together, but in TABLE FOR SIX it's clear that not all family gatherings are a cause for celebration. In this melodramatic comedy, three brothers reside in a home that they inherited from their late parents. The eldest brother Steve (Dayo Wong), theoretically is the man of the house, but he constantly is getting dissed by his two younger brothers Bernard (Louis Cheung Kai Chung) and Lung (Chan Charm Man Peter) for the decisions he makes, the inedible meals that he cooks, and his complicated romantic encounters. To prepare for a family reunion dinner, Steve seeks the help of Lung's girlfriend and foodie Josephine (Ivana Wong) and in doing so, wins back their hearts for a while, until his old flame and Bernard's new girlfriend Monica (Stephy Tang) shows up. That's a recipe for a disaster waiting to explode! The unexpected visit of Steve's part-time girlfriend Meow (Lin Min-Chen) not only fails to turn down the heat and cool the awkward situation, but stirs up the sibling conflict even further.
There is only one show in Austin (seats not assigned). Please get your tickets ASA. Thank you for your support.
*Child ticket (Age3-16) :$16 and 20 seats quota. Please email hkmovieatx@protonmail.com for direct purchase.