Description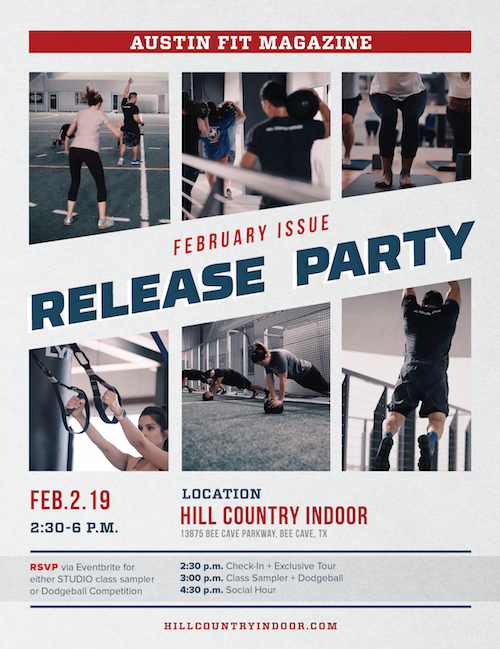 New year new you doesn't stop in January. Come explore this amazing fitness facility with the Austin Fit squad. Enjoy free workouts, a friendly dodgeball competition, drinks and bites all to celebrate the release of our Champions Issue.
This FREE event will feature samples from our friends plus some awesome raffles and giveaways. Each attendee will receive $35 off joining fee if he/she joins Hill Country Indoor as a member that day.
Austin Fit Magazine and Hill Country Indoor February 2019 "Champions" Issue Release Party
Saturday, February 2nd 2:30pm-6:00pm
Schedule:
2:30pm - Check-In + Exclusive Tour
3:00pm STUDIO Class Sampler OR Dodgeball (choose your specific STUDIO classes on arrival)
4:30pm Social Hour (HCI will have happy hour deals posted in the café for participants to take advantage of as well as fun vendors including Stretch Lab.)
For those who choose the STUDIO offerings, when you arrive you can choose from the following 30-minute classes they would like to attend within the allotted hour and a half (2-3 classes).
Dodgeball will be a friendly competition with four teams and two rounds. Break between rounds. Winning team participants receive free magazine subscription for a year ($30/value).
Please RSVP for your desired time - space is very limited. Please only RSVP if you will be attending.