Description
Come out and talk to manufactures, distributors, reps, and contract manufacturers tomorrow night at Capitol Factory for the Austin Electronics Showcase 2017.
Some additional exhibitor profiles are :
ST is a global semiconductor company with net revenues of US$ 6.97 billion in 2016. Offering one of the industry's broadest product portfolios, ST serves customers across the spectrum of electronics applications with innovative semiconductor solutions for Smart Driving and the Internet of Things. By getting more from technology to get more from life, ST stands for life.augmented.
•Among the world's largest semiconductor companies •A leading Integrated Device Manufacturer serving all electronics segments •A leading technology innovator (approximately 7,500 people working in R&D, ~16,000 owned patents in ~9,500 patent families and ~500 new patent filings in 2016) •Delivering solutions that are key to Smart Driving and the Internet of Things •Rich and diversified portfolio (discrete and standard commodity components, ASICs, full custom devices and semi-custom devices, and Application-Specific Standard Products) •A pioneer and visionary leader in sustainability
Phoenix Contact develops and manufactures industrial electrical and electronic technology products that power, protect, connect and automate systems and equipment "At Phoenix Contact, we strive to develop 'trusting partnerships' with our customers. By focusing on the unique requirements of our U.S. customers, we constantly expand our products and solutions with inspiring innovations. We offer the broadest line of interconnection, interface and automation solutions, and constantly strive to be the best supplier in our industry."
- Jack Nehlig, President, Phoenix Contact USA
A global company ◾Phoenix Contact global sales exceeded 1.97 billion euro ($2.1 billion) in 2016 ◾Founded in Germany in 1923 ◾15,000 employees in more than 50 international subsidiaries
With a local presence ◾Phoenix Contact USA, one of the first international subsidiaries, founded in 1981 ◾More than 675 employees in the U.S., including about 500 at U.S. headquarters near Harrisburg, Pa. ◾U.S. headquarters is home to manufacturing and distribution center ◾By bringing production and logistics closer to our customers, we provide shorter lead times, easier on-site reviews, faster response and increased flexibility to our U.S. customers
Component Technology has been proudly serving the South Central USA since 1985.
We are a Manufacturer's Representative of OEM Electronic Components in Texas, Oklahoma, Arkansas, and Louisiana. We have a proven track record of successful, results oriented performance with our high quality lines. Component Technology is dedicated to serving your system design and sales needs, with professional engineering and sales support that you can depend on. EEMB is specialized in the production of Primary Lithium batteries and Rechargeable Lithium batteries since 1995. Hokuriku Electric Industry Co., Ltd. has been developing and supplying resistors, electro-mechanical parts, circuit boards, sensors, piezo-electric parts, module products since its foundation in 1943 Nidec Copal is a leader in the design and production of quality electric motors for use in motion control applications. We provide an extensive range of brush and brushless motors, gear motors, stepper motors, cooling fans, and vibration motors Startek, the finest LCD manufacturer for standard color TFT and monochrome STN LCDs in China with literally 100 versions in stock for immediate delivery.
ComponentTechnology.com
Seiko Instruments excels with Big Technology in Small Packages From a world renowned watch making heritage comes expertise unsurpassed in global industry. •Expertise in design miniaturization.
•Expertise in precision engineering. •Expertise in quality manufacturing. These qualities have contributed to making Seiko Instruments one of the most respected, most powerful names in the world.
And these same qualities are the foundation for over 100 products Seiko Instruments USA offers to customers in the Western Hemisphere.Whether you are an electronic design engineer; a CAD engineer; a manufacturing engineer; a graphic artist; a business person; the owner of a large enterprise, a small company or a home office; a student; or simply a giver of unique gifts -- you can benefit from Seiko Instruments' Big Technology In Small Packages. Our goal is to provide you with products that enhance productivity. Since 1981, our success in applying our proprietary technologies to the needs of both end users and OEM customers is demonstrated by our impressive growth. But many companies and individuals are just now discovering how they can solve problems, enhance productivity and improve quality by utilizing the products and services we offer. These products represent a melding of superior global research, development and multinational sourcing capabilities, combined with an in-depth understanding of the needs of our customers--and their customers.
MacroFab is redefining electronics manufacturing with the world's first online platform for PCB assembly. You no longer have to use a manual, time-intensive and error-prone system, performed by large teams of people. Now experience a real-time and streamlined process for your prototype and production orders, through MacroFab. Simply upload your boards and receive instant quotes to get started.
Our platform allows teams of any size to make things easier than ever before. Assemble single boards, up to 10,000+ units with MacroFab. Try our free demo at MacroFab.com
Do you have a great idea or are already working on a new product and want to meet and talk with electronic product manufactures, distributors and service providers. There is no substitute for getting the knowledge you need for your product live and building relationships face-to-face. This is the fastest way to find solutions.

You will meet vendors from most aspects of building an electronics product.
Contract Manufactures will assist you to build products right here in Texas.
Electronic Distributors can explain all the resources they offer besides just suppling you parts.
Circuit Board Manufactures offer help with your PCB design from rigid to flexable circuit design.
OEM suppliers will show how buying a pre-built design may be your best alternative at the begining.
Prototyping Service providers are there to build your housings and mechanical designs.
and more...
IEEE
Learn about the IEEE and find out about their resources that are available to you.
The top reasons for attending:
Attendees get access to the resources that big manufactures have.
Are you a fresh faces to central Texas, meet your peers and also find out about the bennifits of the IEEE.
Exposure to your peers, what the online world can't give you is true networking with others that are working on new products.

Attendance is free and open for anyone interest or active in hardwre product development.
Looking forward to seeing you there.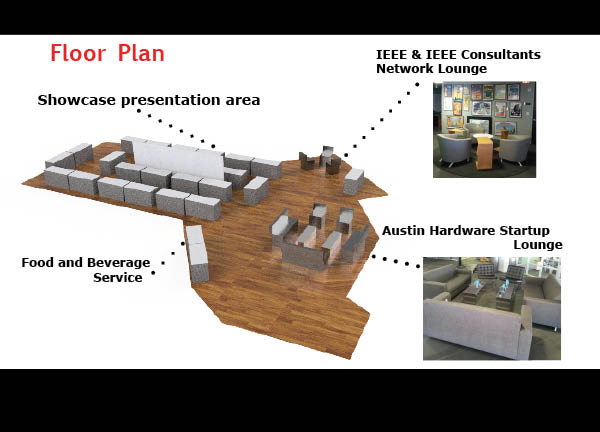 SPONSERS & EXIBITORS

We have a few special companies that have a continued support for our group, they are:
Exhibitor and sponsor for food catering at the showcase is the Würth Group

Würth Elektronik eiSos GmbH & Co. KG is a manufacturer of electronic and electromechanical components for the electronics industry. Würth Elektronik eiSos is part of the Würth Group, the global market leader for fastener technology. The company employs currently 6,750 people and generated sales of 555 million Euro in 2016. Together with Wurth Electronics Midcom, Würth Elektronik iBE and Erwin Büchele, Würth Elektronik Stelvio Kontek and Würth Elektronik AMBER Wireless Würth Elektronik eiSos ensures a high availability on all markets.
The Würth Elektronik eiSos product range covers EMC Components, Capacitors, Inductors, RF Inductors and LTCC Components, Transformers, Components for Circuit Protection, Power Modules, LEDs, Connectors, Switches, High-Power Contactsand Assembly Technique.
As one of Europe's largest manufacturer of passive components, Würth Elektronik eiSos sets itself apart from other component manufacturers in the following ways:
All catalogue products are available from stock
Delivery of samples within 24-48 hrs
Design support from technical sales force and Field Application Engineers
Reference designs with all leading IC manufacturers
Software tools for selection of components
In addition to components, Würth Elektronik eiSos also supplies engineers with expertise. The "Trilogy of Magnetics", "Abc of Capacitors", "Trilogy of Connectors" and "Simulation in LTspice IV" application manuals provide professionals and other interested parties with a compendium of practice-oriented expertise, which is unique of its kind.
Würth Elektronik eiSos is active with direct sales in 43 countries worldwide. 17 manufacturing facilities located in all important markets worldwide guarantee the rapid delivery of components.
Sponsor for beverage catering and exhibitor at the showcase is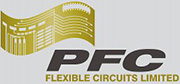 PFC Flexible Circuits
PFC Flexible Circuits Limited designs, manufactures and assembles flexible circuits and rigid flex. PFC is successful because we provide customers with full service solutions all under one roof. We pride ourselves at having the capabilities and knowledge to provide solutions that our competitors cannot. American manufacturing space of 45,000 sq ft with over 90 employees.
Some technologies are:
Single and double sided flex circuits, Multilayer flex (3-6 layers), Rigid flex (4-16 layers), Sculptured Flex, Flex assembly, Full turnkey and today HDI at 50 micron and moving to 25 micron.
PFC investments in new materials, manufacturing equipment, manufacturing techniques and our people

ARROWArrow Electronics is a global provider of products, services and solutions to industrial and commercial users of electronic components and enterprise computing solutions, with 2016 sales of $23.8 billion. Arrow serves as a supply channel partner for over 125,000 original equipment manufacturers, contract manufacturers and commercial customers through a global network of more than 465 locations serving over 90 countries.
Besides having a great supply chain, ARROW also provides design and engineering support and some specialized programs that are designed to support the hardware startup. ARROW representatives will assist you in your future relationship with ARROW.
ARROW help startups with funding, EllieGrid out of Houston received $75,000 recently for their pill box product from ARROW and Austin firms have gotten the support.
Do you want access to this supply chain?

NPI Technologies
PCBA assembly is the core of NPI Technologies activities and the foundation of our success. Use of the latest technologies on surface mount & through-hole assemblies, combined with our quest for perfection, enables our production team to achieve a high level of throughput and yield for the most complex and demanding Class 2 and Class 3 PCB assemblies. Add to this our second-to-none customer service and response time and you have the leader in the low volume high mix electronic contract manufacturing industry.
NPI Technologies operates two large operations in Houston and Dallas offering safety and redundancy of every project. If your project requires full or partial turnkey solutions, wire or cable harness assemblies, rework, and box builds, our dedicated team is here to help.

ATXLED
ATXLED is a local manufacture of LED lighting products. These LED control systems power remote LED lighting over new or existing CAT5/6 Ethernet cables using POE technology. One of their newest LED products is a light switch that provides dimming using DMX, connecting too many light fixtures that have integrated DMX built in.
But ATXLED also has a line of OEM based products that support the IoT world. Feature rich products in the OEM IoT environment support built in microphones, audible sounds, motion and acceleration plus many other sensors for the startup that doesn't want to build their own boards. The OEM boards also have a SDK that integrates into a very small packet remote data base.
More exhibitor company profiles coming in a few days.