Check out the newest international independent comedy films on the Festival Circuit at the Austin Film Society Cinema.
About this event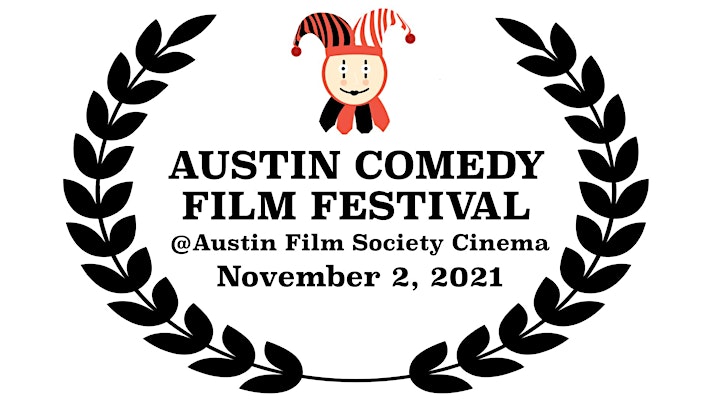 This page is dedicated to the films, videos and screenplays on the Film Festival Circuit that have been selected for the Austin Comedy Film Festival Fall 2021 competition. This live screening event will take place on Tuesday November 2, 2021 at the Austin Film Society Cinema from 5:00pm - 9:30pm. Comedy genres included Animation, Dark Comedy, Romantic Comedy, Funny Music Videos, Mockumentary and more. Each film averages about 5 minutes in length, but there are a few that are in the 20 minute range. These films were created in 12 different countries and 30 US States including the great state of Texas. Most of these films have never been screened live in the United States. Below is the list of nearly 100 international independent films and screenplays selected by the judges. Each of these submissions rated in the top 20% of the nearly 450+ total submissions to this event.
*Please note that this event was previously named the Austin Comedy Short Film Festival. 2021 is the first year of the name change to the Austin Comedy Film Festival.
Tuesday November 2, 2021 Event Schedule
5:00p Filmmaker Outside Check-in Opens. Outdoor photos.
5:30p Theater Doors Open for seating/networking
6:00p Awards Presentation And Filmmaker Introductions
6:30p Film Screenings
9:30p End of program
Fall 2021 Official Film Selections
#ISFJ, Directed by Joe Jennings Jr.(Georgia)
180 Seconds, Directed by Perry Strong(new york)
A HORROR... Or Something Like That!, Directed by NaTonia Monét(New York)
A Krampus Family Easter, Directed by Danny McCarthy(Illinois)
A Stand for Damaged Fame, Directed by Kent J Arceneaux and David Luck(Louisiana)
Afghan Kush, Directed by Brady Canales(California)
Atypical Morning, Directed by Navik Nanubhai(Washington)
Auction House, Directed by Sean Davis, CavekeeperX(New York)
Back In The Day, Directed by Lucy Musial(California)
BioPetz, Directed by Tyler Council(Florida)
Break Time, Directed by Sean Winslow(New York)
Brothers, Directed by Luke A. Sacksteder(Tennessee)
Carbon Dating (Comedy Sketch), Directed by Ken Rudnick(California)
Carlota, Directed by Malu Solís(Mexico)
Catfish, Directed by Jose Andres Cortes(California)
Chad, Directed by Benton Cockerell, Clinton Howard II(Texas)
Chloe Mary Lydia, Directed by Megan Chumbley(California)
Cook's Counter: Frat Bro (Comedy Sketch), Directed by Ken Rudnick(California)
Cult Following, Directed by Amy Parry(Australia)
Dark Tales, Directed by Michael Yosef(Nevada)
Date Prep, Directed by Chezdan Mills(United Kingdom)
Dear Diary : The Third, Directed by L.P. Dohi(USA)
Fabric Softener, Directed by Chris Yates(Massachusetts)
First Day, Directed by Suzanne Weinert, Julia Barnett(Texas)
Future Fred, Directed by Brent Katz(New York)
Garbage Island (Trash Beneath My Feet), Directed by Damon Cirulli(United States)
Ghostwritten Series, Directed by George Gross(New York)
Good Help Is So Hard To Find, Directed by Jake Isaacs(California)
Harpoon, Directed by Yuri Yarushnikov(Russia)
Heathens, Directed by Griffin Wenzler(Tennessee)
How to OxiClean a Broken Heart, Directed by Naomi Brady(Texas)
I Really Love This Piece, Directed by Graham Goldstein(California)
IM DATING A PORNSTAR, Directed by Hollywood Fizz(United States)
In Luck, Directed by Kaitlyn Busbee(Iowa)
It's all in the sauce, Directed by Marcus A Olsson(Sweden)
It's That's A Wrap, Directed by Emma Rathe(Iowa)
Jeff Hilliard - Mulletude, Directed by Jeff Hilliard(California)
Jeff Hilliard - Silicone Wave, Directed by Jeff Hilliard(California)
Kathy with a 'K", Directed by Michael Carnes(United States)
Le Winner, Directed by Aliénor Duplessis(France)
LIVE AT HOME: A Comedy Music Video, Directed by Ali Eagle(California)
Love & Co., Directed by Adam Floeck(Oregon)
Love Chum, Directed by Molly Ratermann(California)
Lucky, Directed by Michael Heubel, Schyler Martin(California)
MarriageFit, Directed by Rob DiNinni, Jeffrey Palmer(Massachusetts)
Matman, Directed by Josh Bowen(Florida)
Millennial Tiny House USA!, Directed by Joshua Koszewski(Texas)
Millennial, Directed by Ryan Thomas(Wisconsin)
Mulligan, Directed by Katelyn McCulloch(Canada)
My Friends The Plants, Directed by Christine Celozzi(California)
Neander Valley, Directed by Shug Cvitanic(California)
Night of the Living Data, Directed by Isabel Custer(Chile/USA)
Of Age, Directed by Christina Offley(California)
Of Pints and Men, Directed by Daniel Lee(United Kingdom)
Oyez Court: AppBortion (aka episode 2), Directed by Hedi McLaughlin(California)
Pap Trap, Directed by Rachel Napolitano(Texas)
Rehearsal, Directed by Corey Podell(California)
Remember My Name - Episode 02 - #Hashtags, Directed by Sonny Vrebac(Australia)
Scam of the Century: Zack and Cody Danimals Sweepstakes, Directed by Gavin Bell, Thomas Bozalis, Will McDonald, Georgia Sasso, Coryell Smith, Chancey Stefanos(Texas)
Sex, in Cars, Directed by Matthew Solomon(California)
Social Prostitution, Directed by Dylan Assed(New York, Texas)
Some Sh*t, Directed by Dave Holton(North Carolina)
Spoken Word Coffee Date, Directed by Kara Addington(California)
Summer is for Sandcastles, Directed by Harris Gurny(New York)
Table For Four, Directed by Mingzhu Ye(California)
Tesla Psycho, Directed by Devon Ryan(Texas)
The Art of The Headshot, Directed by Keaton Davis(Texas)
The Big Pickle, Directed by Rick Rosa, Tom Leu Kimberly Carroll(USA)
The Cookie Cutter, Directed by David Rocco Facchini(California)
The Couch, Directed by Alexander Konis(Australia)
The Cows, Directed by Hugh O'Neill(Ireland)
The Dawn of Duck, Directed by ZZ Satriani(California)
The First Jewish Surfer, Directed by Brett Maline(California)
The Long Strange Trip Backyard, Directed by Coby Rich(Texas)
The Main Guy & the Other Guys - GAME OF THRONES (a Tribute), Directed by Erling 'Duke' Gronhaug(Australia)
The OnlyFans Campfire Song, Directed by Taylor Bernstein(New jersey)
Too Many Buddhas, Directed by C. Fraser Press(California)
Typecast, Directed by Blake Studwell(Georgia)