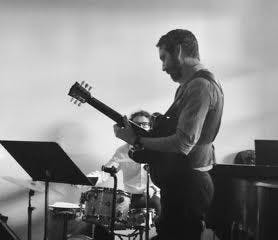 About this Event
Musician Austin Brazille to perform from 6pm-8pm.
Doors open at 4pm
Happy hour 4pm-7pm
Dance lessons from Edgar Tarango 5pm-6pm ($5 for a lesson, no partner needed)
Live music 6pm-8pm (no cover until 7pm)
21+ only
---------------
Austin Brazille
https://www.austinbrazille.com/
https://www.instagram.com/austinbrazille/
BIO:
Originally from Amarillo, Texas, Austin fist began playing the guitar at the age of 14 and began formal lessons at 16 where he studied classical, jazz, rockabilly, and Texas swing styes as well as music theory and techniques for improvising. Around this time Austin began performing with local rock, country, bluegrass, gospel, and jazz bands on guitar, bass, and drums. After graduating high school, Austin attended Amarillo College where he majored in music. While at AC he performed in the Amarillo June Jazz Festival, the Greeley Jazz Festival held in Colorado, and performed with Colombian saxophonist Justo Almario. After graduating from Amarillo College, Austin decided to pursue jazz further and was accepted into  the University of North Texas jazz program known for alumni such as Norah Jones, Ari Hoenig, Ed Soph, Bob Belden, Jeff Coffin, Bob Dorough, Tom "Bones" Malone, "Blue Lou" Marini, Lyle Mays, and Keith Carlock.  There he had the opportunity to perform in guitar ensembles, big bands, vocal ensembles, latin ensembles, and small groups while also performing in gospel and rock bands outside of school. After graduating from UNT Austin was accepted into the New York University jazz masters program and relocated to New York, New York.  While at NYU, Austin studied with John Scofield, Chris Potter, Lenny White, Adam Rogers, Wayne Krantz, Ralph Lallama, Stefon Harris, Andy Milne, Michael Rodriguez, and Ron McClure. He also worked as an adjunct instructor teaching individual lessons and classes for undergraduate and graduate NYU students.  Austin currently works as a freelance musician and music instructor.