Check out the newest independent films on the Festival Circuit that are created for a mature audience at the Austin Film Society Cinema.
About this event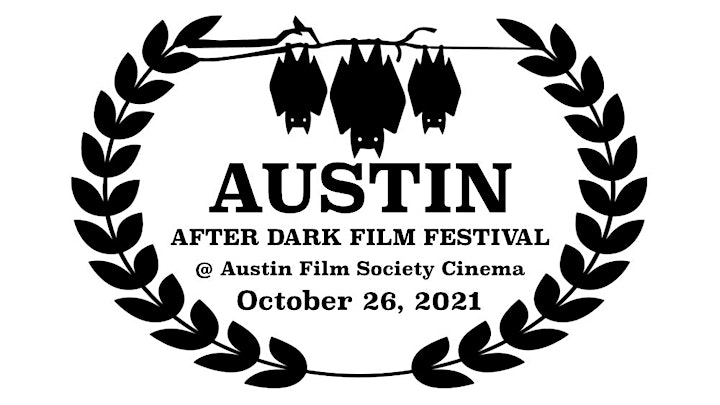 This page is dedicated to the films, videos and screenplays on the Film Festival Circuit that have been selected for the Austin After Dark Film Festival Fall 2021 competition. This live screening event will take place on Tuesday October 26, 2021 at the Austin Film Society Cinema from 5:00pm - 9:30pm.Genres include Animation, Dark Drama, Dark Science Fiction, Dark Comedy, Experimental, Horror, Horror Comedy, Relationship Drama and more. Each film averages about 5 minutes in length, but there are a few that are in the 20 minute range. These films were created in 12 different countries and 30 US States including the great state of Texas. Most of these films have never been screened live in the United States. Below is the list of nearly 100 international independent films and screenplays selected by the judges. Each of these submissions rated in the top 30% of the nearly 450+ total submissions to this event.
Tuesday October 26, 2021 Event Schedule
5:00p Filmmaker Outside Check-in Opens. Outdoor photos.
5:30p Theater Doors Open for seating/networking
6:00p Awards Presentation And Filmmaker Introductions
6:30p Film Screenings
11:00p End of program
Film Screening Schedule: 6:30p
Attending films have priority screening in this order. All screening materials delivered. Please note that the overall program will end at 11:00p (previously listed as 9:30p)
Adventure Space Squad, Directed By Joe Cappa (California)
Alone, Directed By David Over (Texas and Washington)
Cabal, Directed By Rafael Mayoral-Parracia (Georgia)
Crude Massacre, Directed By Ven Scott (Texas)
Dr. Monsanto or: How I Learned to Stop Streaming and Love the Virus, Directed By Monica Phillips, Rick Phillips (California)
Forward Ep 1.1 Too Late, Directed By Adio Ash, Christopher Booth (Pennsylvania)
Janie's Melody, Directed By Rick Cerda (Texas)
Monster, Directed By Rion Fletcher (Texas)
Mother's Gift, Directed By Jayde Anderson (California)
Performance Anxiety, Directed By Trey Anderson (California)
Playing with Spiders, Directed By Rylan Rafferty (California)
Sole Searching in San Francisco, Directed By Peter Allas, Eric David Tippett (California)
Stiletto, Directed By Maclaine Lowery, June Shaukat (Texas)
The Cartists: Ep 1, Directed By Ben Morris (Missouri)
The Immortalz: Dead Man's Party, Directed By J. Budro Partida (Texas)
The Long Strange Trip Backyard, Directed By Coby Rich (Texas)
The Puppeteer, Directed By Paul Greenamyer (Texas)
The Witch's Bargain, Directed By Corey J. Trahan (Texas)
There's Something in the Silence, Directed By Mike Castro (New York)
VI VON, Directed By Boris Muzychuk (California)
Lucy The Lycan, Directed By Queen Cujo (Texas)
Prisoner #1616, Directed By Michael Fodera (New York)
Thank you TXMPA for partnering with Austin After Dark Film Festival Fall 2021!
The Texas Media Production Alliance is a statewide non-profit industry advocacy organization for film, TV, commercial, online media, and video game creators.
We have led the charge for increased and improved incentive rebates legislation to grow the media production industries in Texas that help keep us competitive with other states.
TXMPA is proud to educate the general public on the history of the media industry in Texas and support a strong community of industry professionals.
Non-Attending Films Screening Confirmed 10-26-21. All Materials Delivered
Be Quiet, Directed By Gary Davies (New Zealand)
Biscuit, Directed By M. Elizabeth Eller (California)
Clean Slate, Directed By Olubajo Sonubi (Georgia)
Crock Pot, Directed By Ty Jones (Missouri)
Do You See It?, Directed By Sergio Guerra (California)
Doll Klaw - You Said, Directed By Eric Foss (California)
Frederick Von Scholar's How-to Series, Directed By Jim Allison (California)
Harvey, Directed By Aaron Carroll (Australia)
Home Before Midnight, Directed By Jacob Piller (Georgia)
Masochist, Directed By Matthew Ragsdale (California)
Oh, Baby!, Directed By Stephen McKeon (Ireland)
Processing, Directed By Renetta G. Amador (California)
Tabi Tabi Po, Directed By Jenn Santos (California)
The Lost, Directed By Daniel Byers (Massachusetts)
Vagrant, Directed By Ben Trandem (California)
While The Cat's Away..., Directed By Aaron Carroll (Australia)
Your Houseplants Are Screaming, Directed By Benjamin Roberds (Georgia)
Fall 2021 Official Film Selections
Please note that more than half of these films have deferred their screening until May 14, 2022.
A Stand for Damaged Fame, Directed by Kent J Arceneaux and David Luck (Louisiana)
Adventure Space Squad, Directed by Joe Cappa (California)
Alone, Directed by David Over (Texas and Washington)
American Diablo, Directed by Juan Carlos Castaneda (Florida)
Be Quiet, Directed by Gary Davies (New Zealand)
Beats, Directed by Sara Lattis (California)
Biscuit, Directed by M. Elizabeth Eller (California)
BLINDS, Directed by Matt Shelar (Texas)
Boomslang, Directed by Trevor Ryan (California)
Cabal, Directed by Rafael Mayoral-Parracia (Georgia)
Cancelled - The Sweet Smell Of Success, Directed by Jeff Doyle, Johnny Elliott (Ireland)
Cartists: Ep 1, Directed by Ben Morris (Missouri)
Clean Slate, Directed by Olubajo Sonubi (Georgia)
Creature, Directed by Larissa James (California)
Crock Pot, Directed by Ty Jones (Missouri)
Crude Massacre, Directed by Ven Scott (Texas)
Date Prep, Directed by Chezdan Mills (United Kingdom)
Defenseless, Directed by Javier Augusto Nunez (California)
Do You See It?, Directed by Sergio Guerra (California)
Doll Klaw - You Said, Directed by Eric Foss (California)
Dr. Monsanto or: How I Learned to Stop Streaming and Love the Virus, Directed by Monica Phillips, Rick Phillips (California)
Escalation, Directed by Christian Bachini (China)
Family Heirloom, Directed by William Pinke (New York)
Forward Ep 1.1 Too Late, Directed by Adio Ash, Christopher Booth (Pennsylvania)
Frederick Von Scholar's How-to Series, Directed by Jim Allison (California)
Geri and Rick, Directed by Vincent and Alena Turturro (New York)
Happy In Hell, Directed by Saalika Khan (Maryland)
Harvey, Directed by Aaron Carroll (Australia)
Heathens, Directed by Marlene Emilia Rios (United Kingdom)
Holdout, Directed by Adam Benish (Canada)
Home Before Midnight, Directed by Jacob Piller (Georgia)
Hopeless Romantic, Directed by Stephen Beason (Arkansas)
Huge, Directed by Danny Farber (California)
I'm in Love with My Stalker, Directed by Jill Marie Morley (California)
Janie's Melody, Directed by Rick Cerda (United States)
Kill Martin Scratch, Directed by Drew Bialy (New York)
Late Boomer, Directed by Lee Anderson (Oregon)
Lords and Liars - "Killdozer", Directed by Tony Murnahan (North Carolina)
Masochist, Directed by Matthew Ragsdale (California)
Momento Mori, Directed by Ami Hanna , Evan Moore (United States)
Monster, Directed by Rion Fletcher (Texas)
Moorriiss the Robot, Directed by Wade Chitwood (Washington)
Mother's Gift, Directed by Jayde Anderson (California)
Musk Lake, Directed by Quentin Ferrant (Canada)
Myrtle and The Taciturn, Directed by Jack Lawrence (Tennessee)
Night of the Living Data, Directed by Isabel Custer (Chile)
Nyctophobic, Directed by Theo Francocci (California)
Oh, Baby!, Directed by Stephen McKeon (Ireland)
PARE, Directed by Lauren Sick (New York)
Performance Anxiety, Directed by Trey Anderson (California)
Playing with Spiders, Directed by Rylan Rafferty (California)
Prisoner #1616, Directed by Michael Fodera (New York)
Processing, Directed by Renetta G. Amador (California)
Saving Salvador, Directed by Luisa Maria González (Texas)
Snow Globe, Directed by Christopher Ryan Laughter (California)
Sole Searching in San Francisco, Directed by Peter Allas, Eric David Tippett (California)
Stiletto, Directed by Maclaine Lowery, June Shaukat (Texas)
Streamer Stalker, Directed by Gaelan Draper (New York)
Tabi Tabi Po, Directed by Jenn Santos (California)
Tesla Psycho, Directed by Devon Ryan (Texas)
The Big Bad Woods, Directed by Wolf Turner (Tennessee)
The Cause of Death, Directed by Tim McCarthy (Texas)
The Dark, Directed by Anthony Altamura (New Jersey)
The Immortalz: Dead Man's Party, Directed by J. Budro Partida (Texas)
The Long Strange Trip Backyard, Directed by Coby Rich (Texas)
The Lost, Directed by Daniel Byers (Massachusetts)
The More You Know, Directed by Daniel Leopold (Texas)
The New Size of Your Coworkers, Directed by Kevin Bible (United States)
The Puppeteer, Directed by Paul Greenamyer (Texas)
The Shack, an Atmos-Fearic Thriller, Directed by Dark Hoffman (Michigan)
The Start of the End, Directed by Anthony DLA (California)
The Witch's Bargain, Directed by Corey J. Trahan (Texas)
There's Something in the Silence, Directed by Mike Castro (New York)
Tinder Tango, Directed by Cecilia Robles (California)
Tweaks, Directed by Jasper Warry (United Kingdom)
Vagrant, Directed by Ben Trandem (California)
VI VON, Directed by Boris Muzychuk (California)
Viola, Directed by Paul W Franklin (United Kingdom)
While The Cat's Away..., Directed by Aaron Carroll (Australia)
Whitetail, Directed by Josh Minyard (Georgia)
Why Are You Like This, Directed by Jessie Oldfield, Adam Murfet (Australia)
Your Houseplants Are Screaming, Directed by Benjamin Roberds (Georgia)