I am a Revolutionary: Stories of Resistance and Resilience
About this event
The New York Times columnist Charles Blow will be the featured speaker at the 15th annual Austin African American Book Festival held June 26, 10 a.m. to 2 p.m. The event will again be virtual and remains free, but attendees must register here on Eventbrite.
A visionary and champion of social justice, Mr. Blow epitomizes the festival theme "I am a Revolutionary: Stories of Resistance and Resilience." In his best-selling memoir "Fire Shut up in My Bones," Blow depicts the challenges he has faced and overcome. The recently-published "The Devil You Know: A Black Power Manifesto," is both a call to action and a path to racial equality.
Festival favorite Dr. Mark Cunningham will interview Mr. Blow about his life, work and ideals.
To open the festival, literary and education consultant Patrick Oliver will moderate a panel on the importance of representation in the development of our leaders of tomorrow. Contributing their voices to the discussion will be award-winning children's authors, poets and illustrators Cheryl Willis-Hudson, Tony Medina and Vanessa Brantley-Newton.  
Dr. Raphael Travis, project director at Texas State University in the School of Social Work, closes out the festival with a discussion of the Oscar-winning film, Judas and the Black Messiah. In his research Dr. Travis investigates creative arts, especially Hip-Hop culture, as a source of health and well-being for individuals and communities.
For the complete event schedule and more information about the organization, visit the Austin African American Book Festival website at www.aaabookfest.org.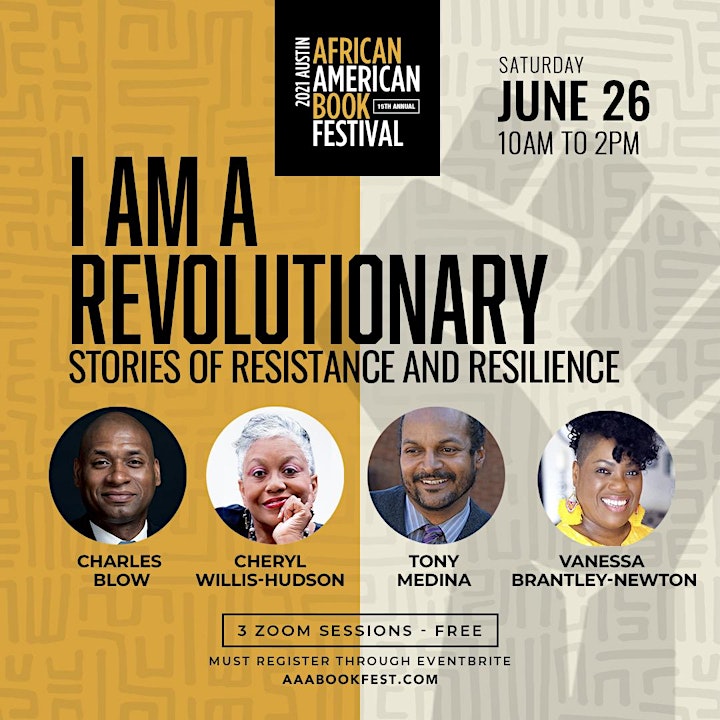 Book Festival Schedule

10:00a – 11:00a CT 

We Rise and Represent: Uplifting Tomorrow's Leaders

Literary activist Patrick Oliver moderates a discussion with award-winning children authors Cheryl Willis-Hudson, Tony Medina and Vanessa Brantley-Newton on the importance of building agency in young readers through what they read and see in books.

11:30a – 12:30p CT 

An Exodus to the South: A Conversation with Charles Blow

Dr. Mark D. Cunningham interviews best-selling author and journalist Charles Blow about his new book, "The Devil You Know: A Black Manifesto," that suggests reverse black-migration as a means of defeating white supremacist structures and reclaiming space and existence.

1:00p – 2:00p CT 

Power to the People: A Discussion of Shaka King's Judas and the Black Messiah 

Dr. Raphael Travis, professor and author of "The Healing Power of Hip Hop," leads a discussion on Fred Hampton's insistence on cultural pride, service, freedom, and restoring power to the people.
Organizer of Austin African American Book Festival
Dr. Roz Oliphant Jones, a longtime educator and bookseller in Austin, Texas had a vision to organize a book festival in Austin similar to the Harlem Book Fair in New York. In 2006, she reached out to writer Evelyn Martin Anderson and together they established the Austin African American Book Festival. The inaugural festival was held in 2007. Since that time the festival has grown to include nationally recognized authors, a platform for local and regional authors, literary discussions, children's activities, and a vendor marketplace. The Austin African American Book Festival, held at the George Washington Carver Library and Museum, is a highly anticipated community event that attracts 400+ festival goers each year.