Description
The event of the year to ring in the new year is here. This year we bring you yet another Premium All Inclusive @AuroraNYE experience: The Mystic Menagerie. Come take part in our Gourmet food, top-shelf only premium drinks and dance the night away as we create everlasting memories.

Expect nothing short of a truly VIP experience from start to finish while enjoying everlasting memories with friends and family. Should you have a need for additional information, or large groups (of 10 or more) please call: 754-400-0960 or email info@auroranye.com

Your All Inclusive Ticket includes:
9PM Earlier Start

Complementary Valet Parking

4 Premium Top Shelf ONLY bars

– all night.

Apetizers

Gourmet Dinner

Champagne Toasts

Fantastic Music

Upscale Ambiance

Beautiful People

Everlasting Memories

P

lus, lots of special touches are planned for the evening (Welcome Drink, Red Carpet photo area, Champagne toasts, the list goes on...)


Gourmet Buffet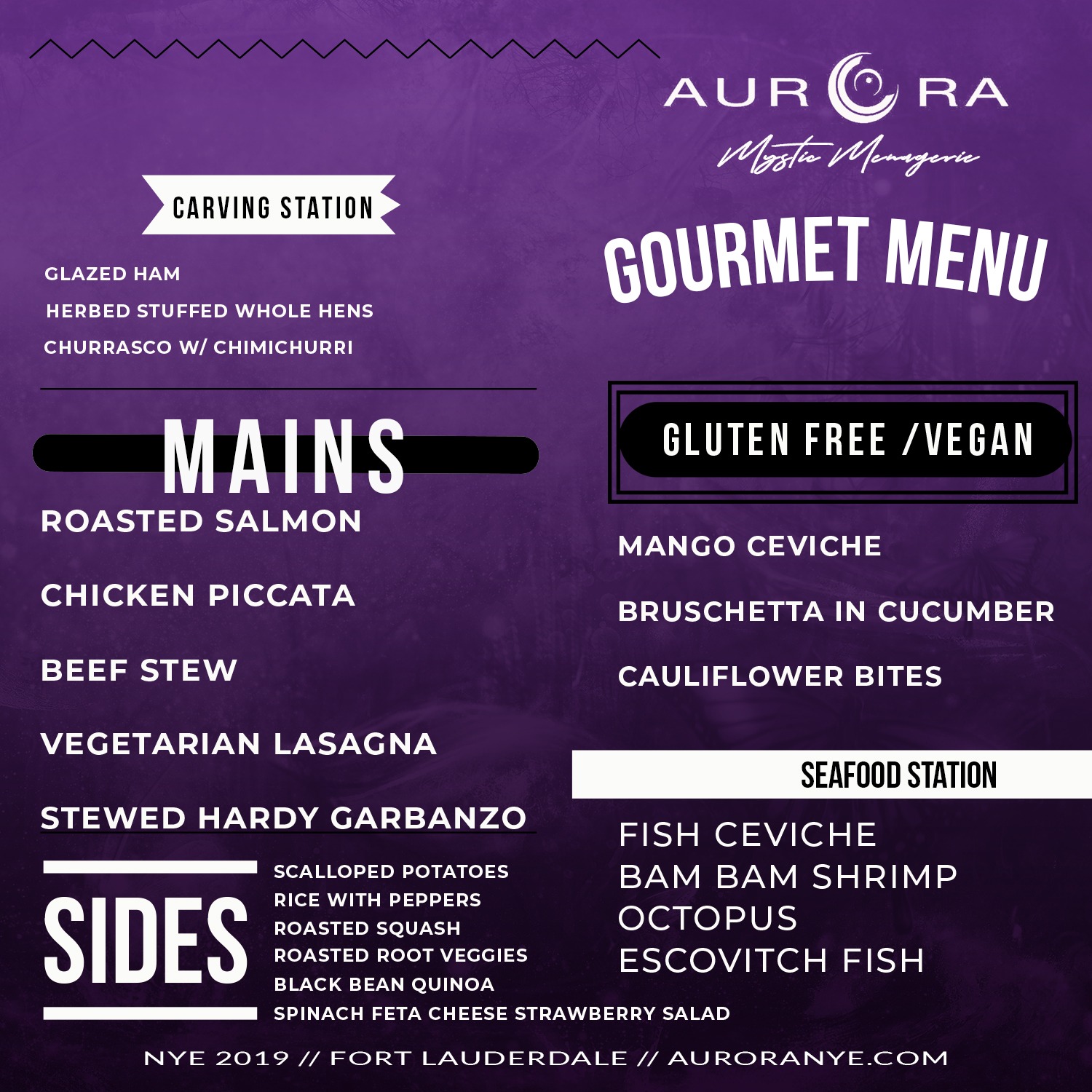 Roasted Salmon – Whole Atlantic Salmon lightly seasoned and slow roasted for succulents
Chicken Piccata – Golden brown, pan fried Chicken breast with a refreshing velouté piqued with lemon juice white wine and capers
Beef Stew – Beef chunks browned in a buttery mirepoix then left to cook in their own juices complemented with root vegetables.
Vegetarian Lasagna – A spin on the Italian favorite; lasagna, done without meat but with a selection of sautéed vegetables between each layer
Stewed Hardy Garbanzo – A Lebanese style dish of slow cooked chickpeas seasoned with Bay leaves, cumin, paprika, garlic with added flavors of roasted red peppers
Scalloped Potatoes – Thinly sliced, layered potatoes oven baked with a creamy béchamel and topped with cheese

Rice with Peppers – a tasty, colorful rice pilaf with the warm essence of sweet bell peppers and sprinkled with parsley for a gourmet touch

Roasted squash with crispy bulgar crumbs – Sweet buttery squash dressed in a texturally pleasing top layer of crunchy seasoned bulgar wheat
Roasted root veggies with balsamic and maple glaze – Hearty root vegetables glazed with maple syrup and balsamic vinegar

Spinach feta cheese strawberries

–

a delicious mix of healthy spinach greens, loaded with strawberries, feta cheese and dressed with a berry vinaigrette.

Black Bean quinoa

–

A light and healthy quinoa salad tossed with glossy black beans in a refreshing orange vinaigrette.
Seafood Station:
Fish Ceviche – Fish lightly cooked by fresh lemon that's seasoned with coriander, peppers, chilies and drizzled with extra virgin olive oil
Bam Bam Shrimp – Crispy buttermilk fried shrimp smothered in a sweet sriracha mayo garnished with fresh garlic and coriander
Octopus –

Fish Escovitch – Traditional Jamaican dish of Dry, fried, whole fish lightly seasoned with salt, pepper and garlic. Finished with a spicy sauce of onions, pimentos and scotch bonnet peppers
Gluten Free / Vegan:
Mango Ceviche –

Fresh sweet mango mingles with the heat of a jalapeno pepper in tropical Halibut; also called mango chow in Trinidadian parlance is a spicy combination of well salted, semi green mangoes mildly pickled in vinegar and heavily seasoned with fresh garlic, scotch Bonnet peppers and chiffonade coriander

Bruschetta in Cucumber – Fresh crisp cucumbers tossed with juicy tomatoes and combination of garlic, basil and olive oil to make the perfect topper for a crisp garlicky toasted baguette.

Cauliflower Bites – Cauliflower florets lightly coated in butter and then breaded with Parmesan cheese, paprika and roasted until crispy.
Carving Station:
Glazed Ham – Unctuous Slices of a honey glazed gammon with notes of Christmas cloves
Herbed Stuffed whole hens – Slices of roasted spatchcock hens, stuffed and oven baked "low and slow" in a buttery herbal infusion
Churrasco w/ Chimichurri – Flame grilled skirt steak cooked medium well and cut against the grain into thin strips served with a marinade of fresh finely diced herbs in olive oil
Top-Shelf ONLY Bar: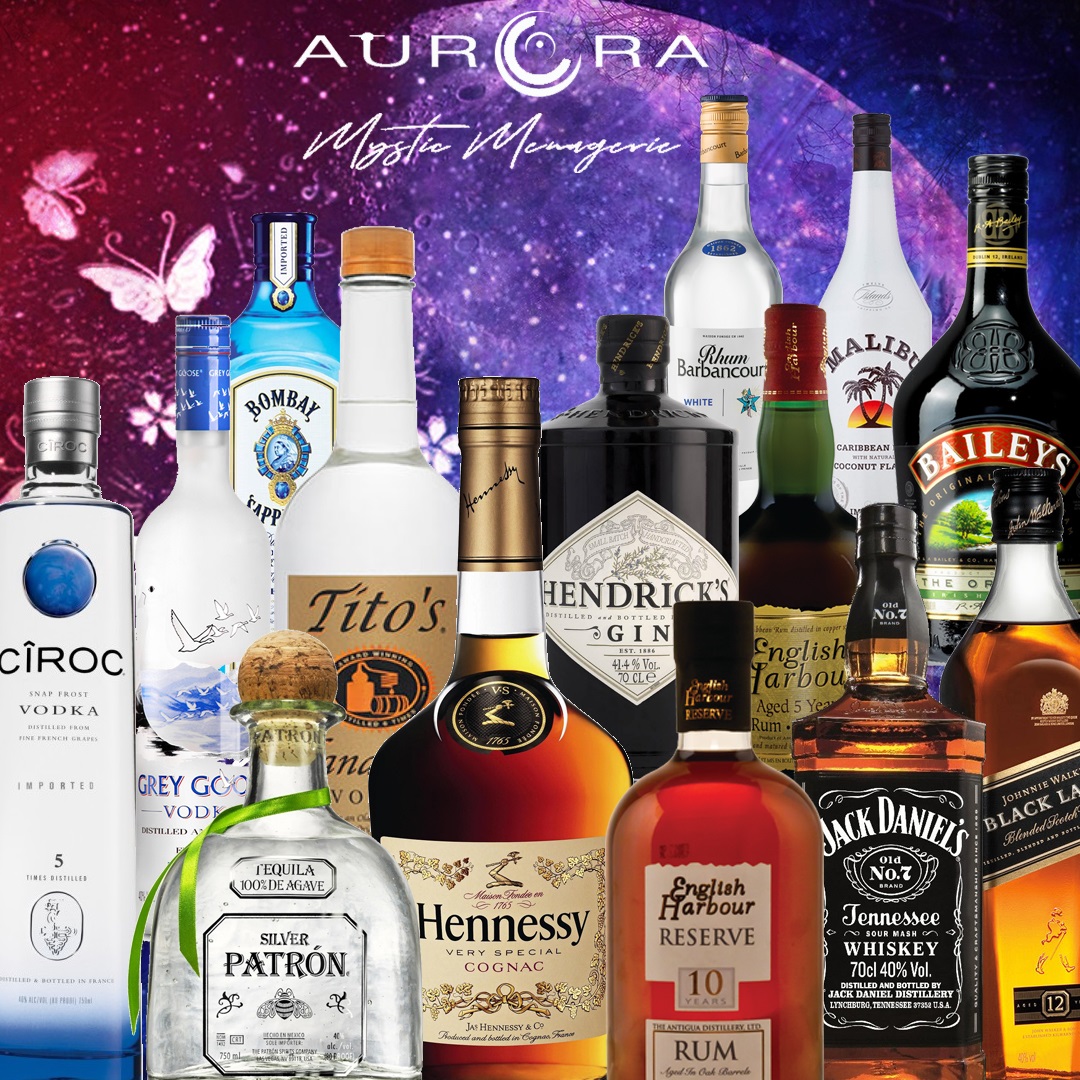 Rum

– English Harbour Rum

Vodka – Tito's Hand Made Vodka and Ciroc flavors (Peach, Coconut, Mango)
Gin – Bombay Sapphire and Hendricks
Tequila – Patron Silver
Whiskey – Jack Daniels and Johnnie Walker: Black Label
Cognac – Hennessy
Champagne – Brut
The music for the night will be Top 40, Hip Hop, EDM, R&B, Latin, Disco, Caribbean (Soca/Reggae), and International. Our Djs will have a little something for everyone.

Other Info:
For privacy, the address will be provided on your ticket stub once the final purchase is made, the location in the online event listing is a close approximation.



#AuroraNYE

*Please be advised that purchases are non-refundable.