Description
Howdy y'all! We reckon it's that time to mosey on into spring. Bubbles n' Brunch is around the bend and according to tradition we wanted to share our brunch menu and entertainment with you. As we're fixin' to create a premium and exclusive atmosphere, tickets will be Pre-Sold only. Contact your favorite #AuroraNYE ambassador and purchase yours today! #BubblesNBrunch #AllInclusive #PreSoldTicketsONLY #AuroraBrunch
The best is right before you.
Should you be so inclined, we have optional Cabanas available upon checkout. For bookings, groups of 10 or more and additional info, please call: 754-400-0960 or email info@AuroraNYE.com
Your All Inclusive Ticket includes:
Brunch
Premium Alcoholic Bar

Bottomless Champagne

Top DJs

P

lus, lots of special touches are planned for the day (Welcome Drink, Photo Area, the list goes on...)
Check out our awesome venue!

The theme for this event is The Ranch so Wrangle up your possie and resurrect your favorite 501's and your daisy dukes to join us for a good ole' fashioned hoedown.
Bottomless Champagne / cocktails:
Mimosas



Bellinis

Daiquiris (English Harbor Specialty)

Rum Punch

Champagne
Brunch Menu: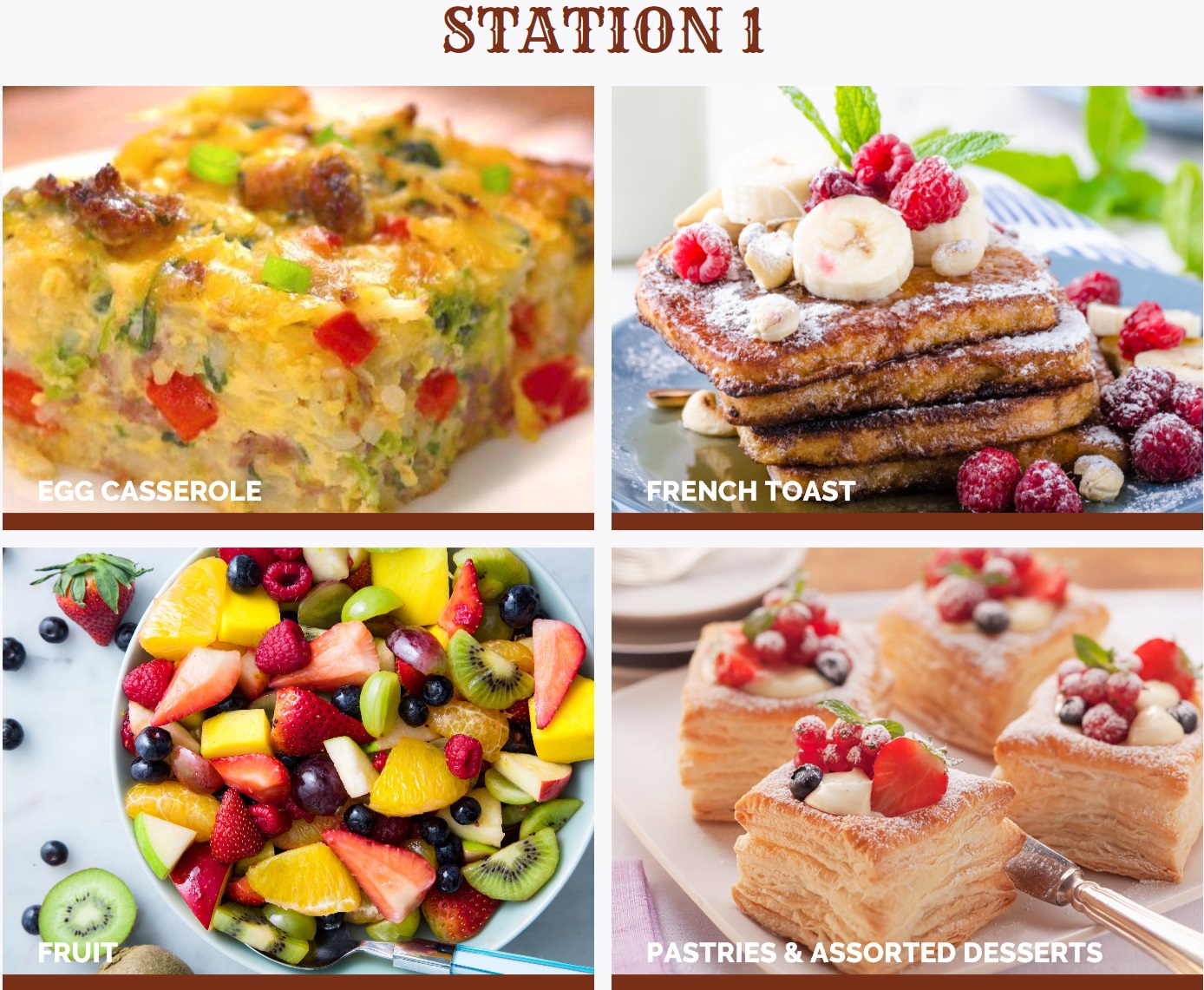 Station 1:
Egg Casserole - a hearty and strata-like baked breakfast dish, with pockets of savory breakfast sausage and shredded cheese amid hunks of crusty bread in a bath of seasoned eggs and tender onions coupled with green peppers.
French Toast -Thick-sliced sourdough dipped in brandied eggs and pan fried in butter topped with whipped butter, maple syrup, powdered sugar and cinnamon.
Fruit & Pastries -Exotic selection of mini pastries and decadent fruits.
Assorted Desserts - a delightful variety of baked goodies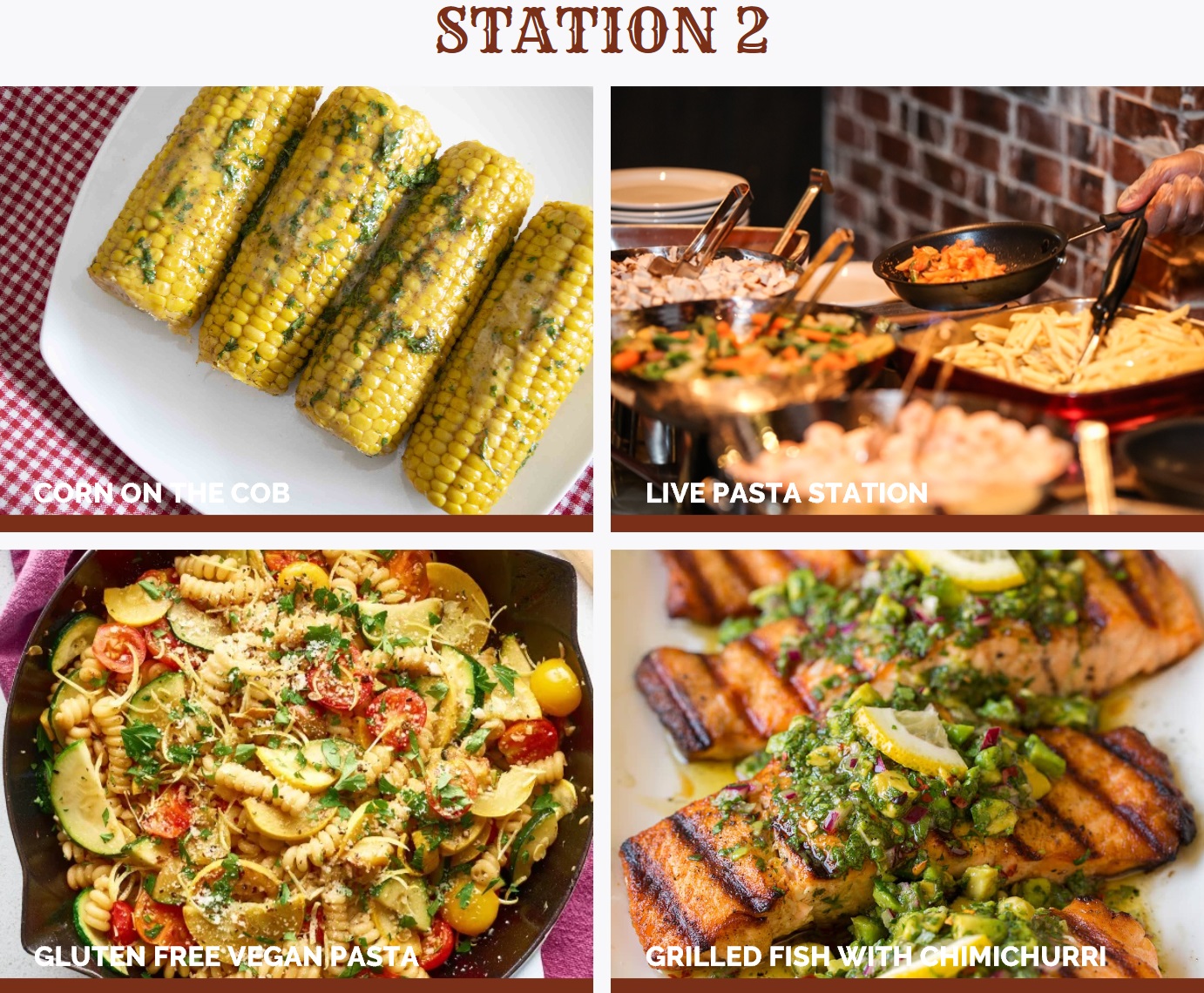 Station 2:
Seasoned Corn on the cob – Fresh cobs boiled then slathered with the creamy butter piqued with

spicy goodness of garlic and chili powders.

Live Pasta Station - Chicken or Shrimp Cajun Pasta
Sautéed Scampi or Chicken sautéed in a roasted garlic and basil mirepoix combined with pasta punctuated by Roasted Tomatoes, Spinach, And Shiitake Mushrooms
Gluten Free Vegan Pasta – Pasta dressed with a creamy butter- and dairy-free white sauce infused with lemon and roasted garlic.
Grilled fish with Chimichurri – Flame Grilled, deep sea fish fillets covered with an earthy, herbal infusion cut with lemon juice in the style of the Argentinian Gaucho.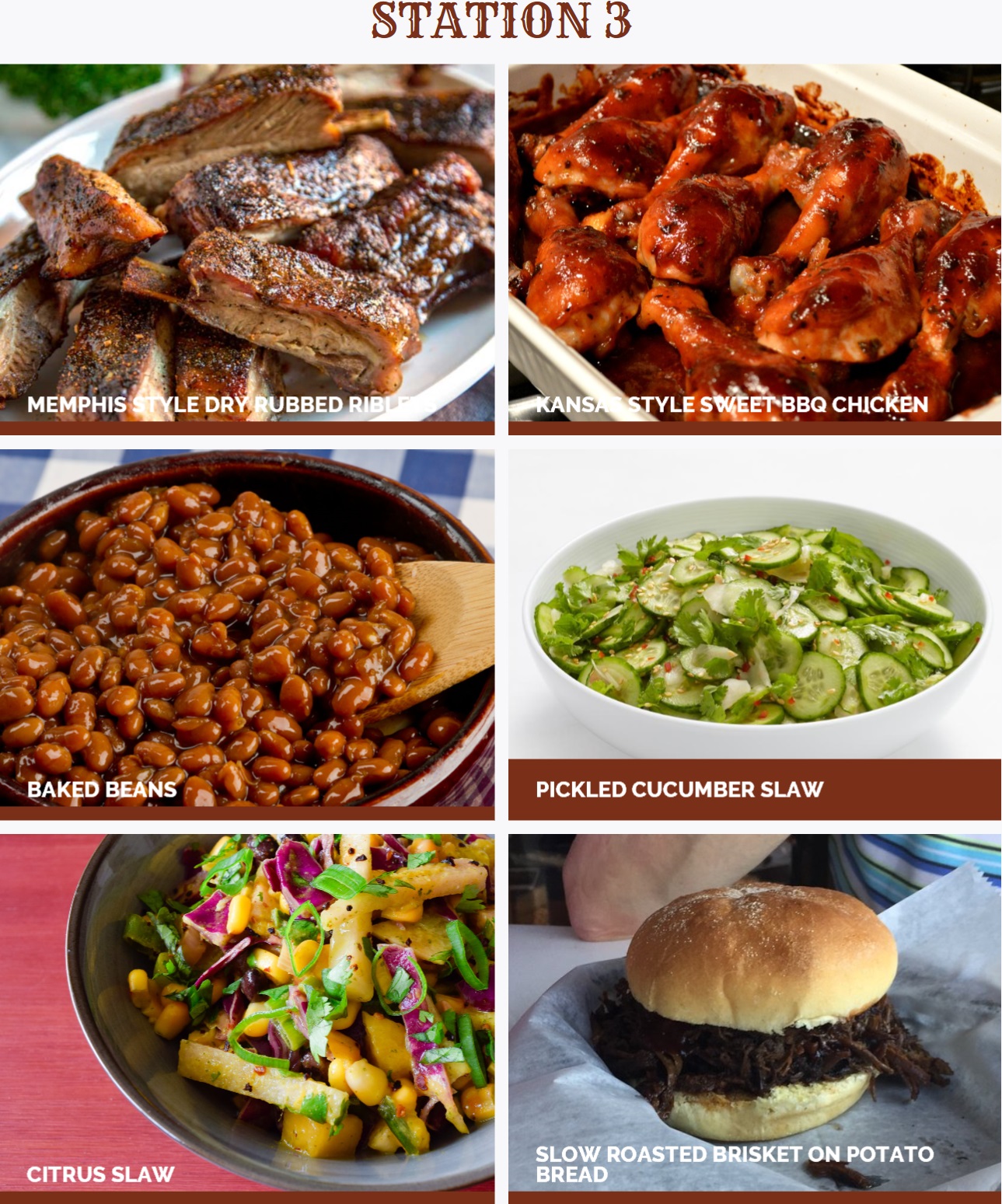 Station 3:
Memphis Style Dry Rubbed Riblets – Whole rack of ribs in a Memphis dry rub with strong notes of cumin, paprika and cayenne pepper slowly roasted and cut into s

ucculent bite size bits with a choice of a tarte pomegranate dip

Kansas Style Sweet BBQ Chicken -

Juicy, melt in your mouth chicken layered with flavors from the best Sweet BBQ Chicken Rub, light apple wood smoke, and a sweet/tangy Kansas City BBQ Sauce.

Baked Beans - Southern style Homemade Baked Beans with Bacon in a thick, rich savory sauce with a perfect balance of sweet and a hint of tang. An essential side for a southern breakfast feast.
Pickled Cucumber Slaw -

Quick-pickled cucumbers with cider vinegar and a little sugar gives loads of vibrancy. Tossed with nothing more than a little olive oil, salt, pepper, and lots of chopped fresh chives.

Citrus Slaw -

refreshingly bright and crunchy collection of white cabbage, purple cabbage and carrots in complemented by freshly squeezed orange and lime juice.

Slow Roasted Brisket on Potato Bread - A sensationally large brisket dry rubbed and slow cooked for over nine hours trimmed into thin slices and housed atop fresh fluffy potato bread.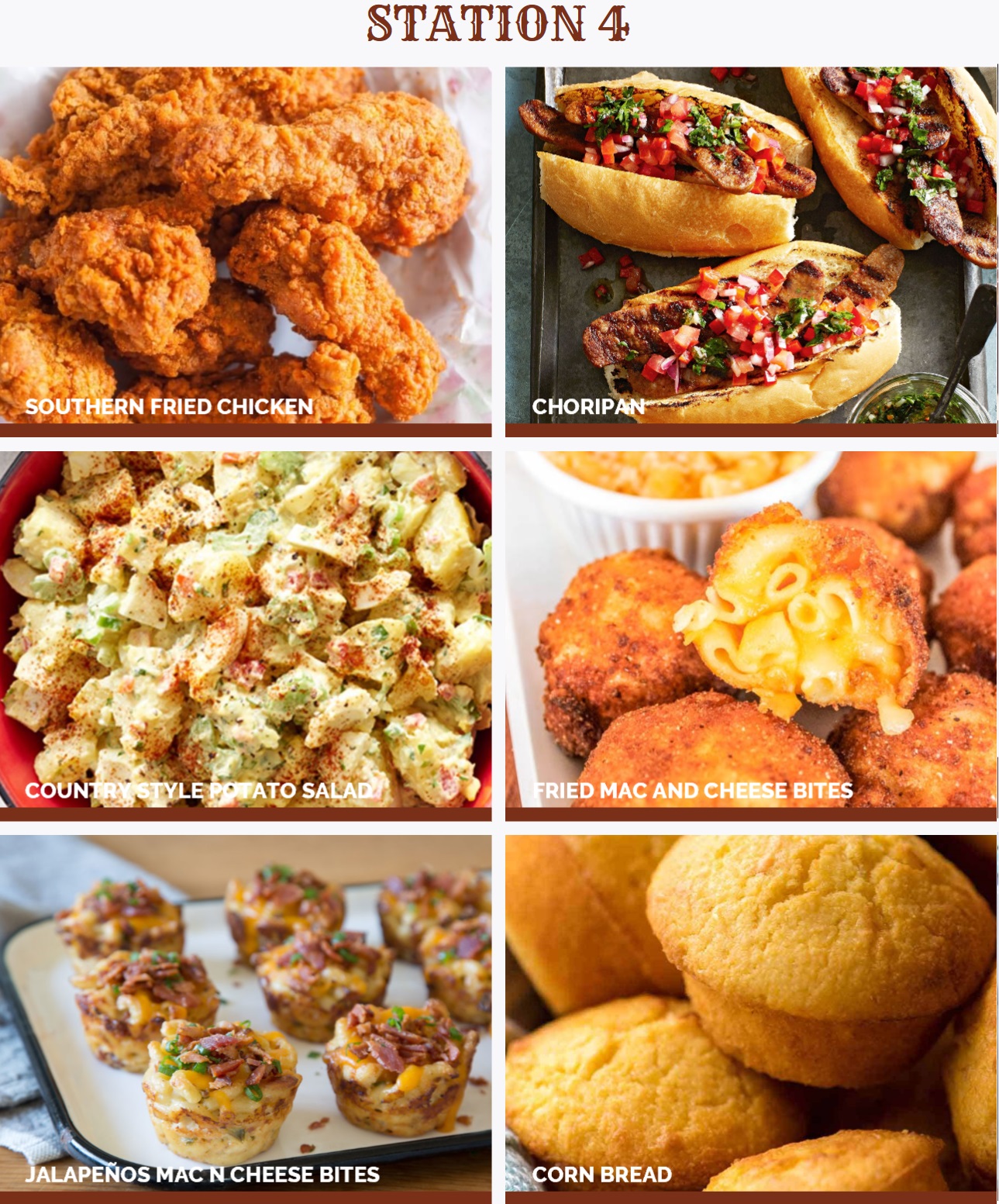 Station 4:
Southern Fried Chicken -

C

lassic Southern chicken recipe with a crunchy outside and juicy and flavorful on the inside; marinated seasoned buttermilk infused for amped up flavor.
Choripán -

A popular delicacy out of South America, grilled chorizo drizzled in chimichurri served on crusty bread.

Country Style Potato Salad –A de

vilishly good Country-Style Potato Salad of boiled potatoes mixed with crunchy celery, cooked eggs, and a creamy soulful mayo/mustard dressing topped just right with the old-fashioned flavor of sweet relish.

Fried Mac & Cheese Bites -

Crisp on the outside yet so soft, this creamy macaroni and melted cheese is coated in a crunchy batter and deep fried for your texture contrasting craving.

Jalapeño Mac & Cheese Bites - These cheesy, bite-sized cups are made extra special with an easy breadcrumb coating and highlights of brunoised jalapeño.
Corn Bread - classic mixture of cornmeal, baking powder, salt, sugar and buttermilk baked till golden brown then basted with honey.
Premium Liquor:
Vodka - Tito's Hand Made Vodka and Ciroc flavors (Peach, Green Apple, Coconut, Pineapple)
Rum - English Harbor 5yo and 10yo

Gin - Bombay Saphire and Hendricks
Tequila - Patron Silver
Whiskey - Jack Daniels and Johnnie Walker: Black Label
Cognac - Hennessy
Your musical enjoyment will be Top 40, Hip Hop, EDM, R&B, Latin, Disco, Caribbean (Soca/Reggae), and International. Our Djs will have a little something for everyone.
Music By:


DJs: Ryan Sayeed, Cool Blaze, Jus Jay, Dutty Dex
Nearby Hotels:
Courtyard by Marriott - Weston - 2000 N Commerce Parkway, Weston, FL 33326
Comfort Suites Weston - Sawgrass Mills South -

2201 North Commerce Parkway, Weston, FL, 33326

Residence Inn by Marriott - Weston - 2605 Weston Rd, Weston, FL, 33331
La Quinta Inn & Suites Sunrise - Sawgrass Mills -

13651 NW 2nd St, Sunrise, FL, 33325

DoubleTree by Hilton Hotel Sunrise - Sawgrass Mills -

13400 West Sunrise Boulevard, Sunrise, FL, 33323
Other Info:
For privacy, the address will be provided on your ticket stub once the final purchase is made, the location in the online event listing is a close approximation.
Get Ready for a good o'le fashion hoedown! – #BubblesNBrunch
*Please be advised that purchases are non-refundable.