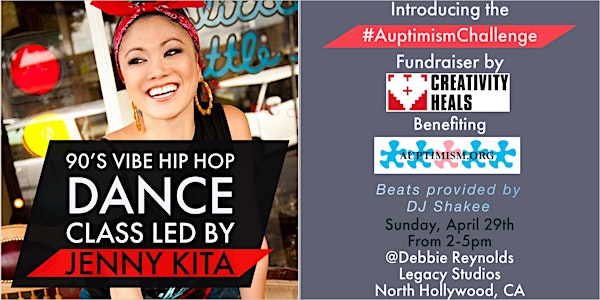 #AuptimismChallenge Dance Class by Creativity Heals
When and where
Location
Debbie Reynolds Legacy Studios 6514 Lankershim Blvd. North Hollywood, CA 91606
Description
Three words: 90s.Dance.Party.
Move to all the jams by DJ Shakee, learn basic hip-hop choreography, and get your heart pumping in support of Autism Awareness Month!
Join Creativity Heals co-founder, Jenny Kita, professional dancer/choreographer ("Angel" of the Harajuku Girls, Madonna, Snoop) as she leads a 90-minute dance sesh benefiting Auptimism, a local non-profit that provides free and fun events for the Autism and Special Needs community.

Also enjoy the opportunity to win fun raffle items, refreshments, and local vendors. No sitter?--No problem! Free movie room and supervision available for children not participating. Family and Autism Friendly event.
Advanced Pre-sale Tickets:
Adult: (14 years & older) $30
Kids: (13 years & under) $15
At the Door:
Adult: (14 years & older) $35
Kids: (13 years & under) $20
Online Raffle Link:
Live too far away, can't make it to our #AuptimismChallenge event, but still want a chance to win big? Click the link below to enter our raffle!
Castle Resorts & Hotels Halii Kai at Waikoloa

FAQs
What should I wear and bring?
Clothes and shoes to dance and sweat in (90s inspired optional and encouraged) water bottle, towel and a smile.No dance experience necessary.
What is Autism?
https://www.nichd.nih.gov/health/topics/autism/conditioninfo/symptoms
What is Auptimism?
Auptimism is a hybrid word, combining "autism" and "optimism" to illustrate how we as a family have chosen to embrace the disorder with an optimistic outlook, not necessarily hoping for a cure but the means to focus here and now on the positive rather than dwelling on the negative, and our hope is to help others do the same.
Where can I find out more about Auptimsm Org and Creativity Heals?

Visit https://www.auptimism.org/
Visit http://www.creativity-heals.org/
How can I contact the organizer with any questions?
Email Riann: Rianndlr@gmail.com
Auptimism: info@auptimism.org