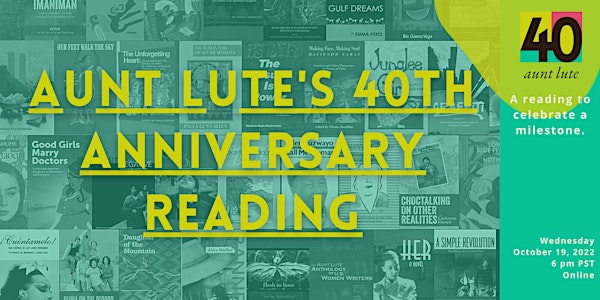 Aunt Lute's 40th Anniversary Reading
Celebrate 40 years of Aunt Lute Books publishing radical works. Join us on Wednesday, October 19, 2022 at 6:00 pm for a special reading.
Refund Policy
Contact the organizer to request a refund.
Eventbrite's fee is nonrefundable.
About this event
For 40 years, Aunt Lute Books has published works by authors so often overlooked and actively excluded by the literary canon and by the publishing industry, centering women, members of the LGBTQIA+ community, and people of color. For 40 years, Aunt Lute has fought for its existence, transforming from a small underground press to a joint publisher with Spinster Ink to a nonprofit organization. For 40 years, Aunt Lute has championed the voices of those who have been silenced, creating spaces through public programming for people to see themselves in literature and in the literary community. What will the next 40 years look like?
The nonprofit intersectional feminist publisher that has published Gloria Anzaldùa, Audre Lourde, Alice Walker, Judy Grahn, Leanne Howe, Melanie Kaye/Kantrowitz, Paula Gunn Allen, and so many more, Aunt Lute has been a pioneer in the small press world. And our staying power over the course of 40 years is a testament to the need for the work we do, if not to the ingenuity of literary activists.
Aunt Lute titles include the first U.S. collection of Filipina/Filipina American women writers (Babaylan), the first collection of Southeast Asian women writers (Our Feet Walk the Sky), as well as a number of translated texts (most recently Rosa Montero's Beautiful and Dark). Our bestsellers include Borderlands/La Frontera: The New Mestiza and The Cancer Journals: Special Edition, titles used in classrooms throughout the U.S. and around the world.
We are honored to host this special reading that will feature Ginny Z. Berson, Verónica Sandoval, ire'ne lara silva, Kathya Alexander, and LeAnne Howe.
Help us celebrate our anniversary. Join us on Wednesday, October 19, 2022 at 6:00 pm Pacific for a special reading. If you can't make it, you can donate to Aunt Lute and help support this necessary work.
Once you register, you'll receive a Zoom link by email ahead of the event. If you have any accessibility needs, please reach out to marketing@auntlute.com. We will do our best to accommodate you.
Ginny Z Berson is a long-time political activist driven by a longing for justice. She is the author of Olivia on the Record, Foreword INDIES 2020 Silver Award Winner in LGBTQ+ Nonfiction, Independent Press Awards 2021 Winner in LGBTQ nonfiction, and Golden Crown Literary Awards 2021 Nonfiction Winner. She was a member of The Furies-- a radical lesbian feminist separatist collective in Washington, D.C. that lived and worked collectively to develop lesbian feminist political thought and philosophy. They produced a mostly monthly newspaper, The Furies, that was distributed nationally and had a significant impact on women's groups all over the U.S. Ginny was a regular contributor and member of the editorial staff.
After The Furies broke up, Ginny pulled together a group of women in D.C. to begin visioning and planning what would become Olivia Records, the national women's record company. She and her partner, the musician Meg Christian, were the initial driving force getting Olivia off the ground. Ginny stayed at Olivia for seven plus years, and during that time the Olivia collective produced records by Meg, Cris Williamson, BeBe K'Roche, Linda Tillery, Teresa Trull, Mary Watkins, a poetry album by Pat Parker and Judy Grahn, and Lesbian Concentrate—a "lesbianthology" in response to a rising wave of homophobia. After leaving Olivia in 1980, Ginny worked for many years in community radio---at KPFA-FM, Pacifica Radio, and the National Federation of Community Broadcasters.
She now works as Director of Outreach for World Trust Educational Services, an anti-racist educational organization that produces documentary films, curricula, workshops and trainings. She also does racial equity work in her neighborhood as part of Neighbors for Racial Justice.
ire'ne lara silva is the author of four poetry collections, furia, Blood Sugar Canto, CUICACALLI/House of Song, and FirstPoems, two chapbooks, Enduring Azucares and Hibiscus Tacos, and a short story collection, flesh to bone, which won the Premio Aztlán. She and poet Dan Vera are also the co-editors of Imaniman: Poets Writing in the Anzaldúan Borderlands, a collection of poetry and essays. ire'ne is the recipient of a 2021 Tasajillo Writers Grant, a 2017 NALAC Fund for the Arts Grant, the final Alfredo Cisneros del Moral Award, and was the Fiction Finalist for AROHO's 2013 Gift of Freedom Award. Most recently, ire'ne was awarded the 2021 Texas Institute of Letters Shrake Award for Best Short Nonfiction. ire'ne is currently a Writer at Large for Texas Highways Magazine and is working on a second collection of short stories titled, the light of your body. Website: irenelarasilva.wordpress.com
Verónica Sandoval is Lady Mariposa, a spoken word artist and sCHOLAr from the Texas Rio Grande Valley, who has been writing and performing for over 20 years. Her creative and academic writing has appeared in several anthologies and collections including: Aunt Lute Press, University of Delaware, Lamar University Press, Texas A&M University Press and Routledge Press.
She earned her PhD in 2022 from Washington State University in American Studies. Her research focuses on chola labor, chola agency, and an emphasis on Chicana feminist epistemology that centers Chicana legacies of resistance. Her dissertation is entitled "Chola Work: A Genealogy of Homegirl Legacies of Resistance."
Currently she teaches Writing and Women's and Gender Studies at Portland Community College, Rock Creek.
When she is not teaching, reading, writing, or performing, she likes to spend time with her chubby vato and their gato named Boots.
Kathya Alexander is a writer, playwright, storyteller, and teaching artist. She was a Writer-in-Residence at the prestigious Hedgebrook Women Writers Retreat and won the Fringe First Award for Black to My Roots: African American Tales from the Head and the Heart at the Edinburgh Festival Fringe in Edinburgh, Scotland for Outstanding New Production and Innovation in Theater. She has also won awards from 4Culture, Seattle's Office of Arts and Culture, Artist Trust, Jack Straw, Seattle Theater Group, Freehold Theater, and Seattle Parks and Recreation. She was a freelance writer for the award winning Colors NW Magazine, and is a regular contributor to the South Seattle Emerald. She has been published in The Pitkin Review, Arkana Literary Magazine, Pontoon Poetry/Black Lawrence Press, and Native Skin Magazine. She has also been published in anthologies by the African American Writers Alliance (AAWA) and in Raising Lily Ledbetter: Women Poets Occupy the Workplace by Lost Horse Press. Her playwriting credits include The Negro Passion Play; Black D*ck Matters; Hands Up! Don't Shoot!; Think Before You Do; With Hope And With Morning; David & Jonathan: A Modern Day Retelling of the Biblical Story; Homegoing; A Revolution of Hope; emotionalblackmale; HumaNature; Dream'n; Native Sons and Daughters; and Nappy Roots: A Fairy Tale.
LeAnne Howe is an enrolled citizen of the Choctaw Nation and writes fiction, poetry, screenplays, creative non-fiction, plays, and scholarship that primarily deal with American Indian experiences. In 2012, she was honored with the Lifetime Achievement Award by the Native Writers' Circle of the Americas, and she also received the 2012 USA Ford Fellowship in the Literature category. Her short fiction has appeared in Kenyon Review, Fiction International, Callaloo, Story, Yalobusha Review, Cimarron Review, Platte Valley Review, and elsewhere, and has been translated in France, Italy, Germany, the Netherlands, and Denmark. She has held residencies at the MacDowell Colony, Virginia Center for the Creative Arts, Ragdale Writers Residency, and the Atlantic Center for the Arts.
Her first novel, Shell Shaker (Aunt Lute Books, 2001), received an American Book Award in 2002 from the Before Columbus Foundation. The novel was a finalist for the 2003 Oklahoma Book Award, and awarded Wordcraft Circle Writer of the Year, 2002. Equinoxes Rouge, the French translation, was the 2004 finalist for Prix Medici Estranger, one of France's top literary awards. Evidence of Red (Salt Publishing, UK, 2005) won the Oklahoma Book Award for poetry in 2006, and the Wordcraft Circle Award for 2006. Howe's second novel, Miko Kings: An Indian Baseball Story (Aunt Lute Books, 2007), was the Hampton University's Read-In-Selection for 2009-2010. Her most recent book, Choctalking on Other Realities (Aunt Lute Books, 2013), is now available. In 2011, Howe was awarded the Tulsa Library Trust Award for her work as an American Indian writer in Tulsa, Oklahoma.