AumaKhua-Ki ® Energy Master - 2017 Workshop

Saturday, October 14, 2017 at 9:00 AM

-

Sunday, October 15, 2017 at 5:00 PM (EDT)
Event Details
Event Details:
Ojela Frank
Presents  
AumaKhua-Ki®  Energy Master Course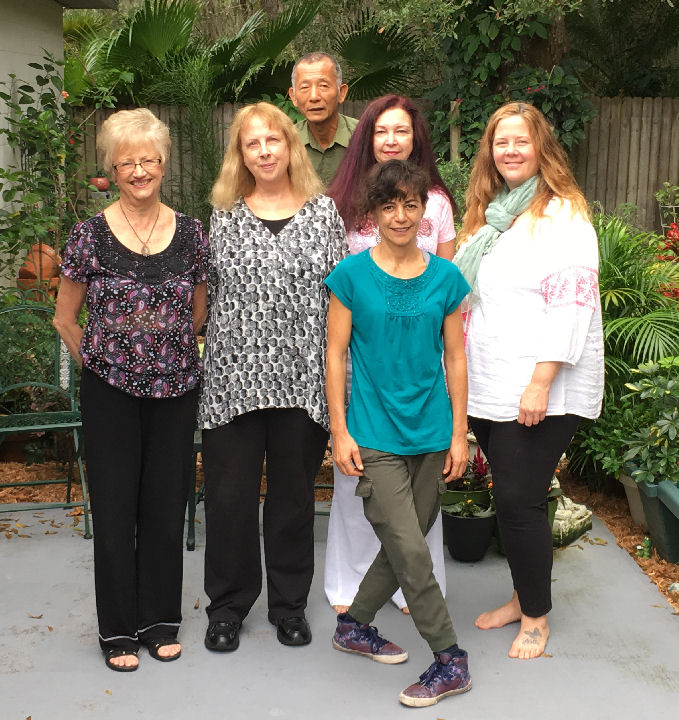 AumaKhua-Ki ® Energy Masters    (2015) 
AumaKhua-Ki® Energy Master Certification Workshop
October 14 - 15, 2017
Sat./Sun. from 9 AM - 5 PM (EDT)
Silver Springs, Florida 
Learn techniques for doing advanced AumaKhua-Ki® sessions for self and others. Participants will gain skills in performing Energy Assessments, learn more hand placements for energy work on supine and prone client positions during AumaKhua-Ki® table sessions, advanced Energy Balancing, Chakra Healing, Aura Healing I I, and more advanced energy techniques. Become skilled at building internal qi. Learn ways to use Aumakhua-Ki® by observing teacher demonstrations (by live lecture and/or recorded video segments). Learn energetic applications during AumaKhua-Ki® sessions for clients with different physical ailments. Class also includes experiential time for giving and receiving AumaKhua-Ki® distant and remote sessions. Participants will also learn how to do an advanced level of AumaKhua-Ki® Energy Balancing for seated clients. This advanced workshop includes an Aumakhua-Ki® LEVEL – 4 class review with Q & A segment, an AumaKhua-Ki® Energy Master Attunement, a class workbook and a certificate of attendance.
Prerequisite: AumaKhua-Ki® Energy Balancing 4 Class AND be a certified AumaKhua-Ki® Level-2 Energy Practitioner.
Those who want to attend Ojela Frank's AumaKhua-Ki® Energy Master workshop need to be a certified AK Level-2 Practitioner by doing the required session work. Graduates gain experience by doing session work and it is a better way to prepare for the advanced classes.
Participants will be required to sign a confidentiality agreement prior to training/attunement.  
 AK MASTER Class Fees: 
$425      (14 FL CEs:  for LMTs)       ***
Class size is kept small.

Early registration is highly recommended.



***  FL CE Provider # 50-14398.
Location:  east Ocala, FL.
REGISTER with a credit card by calling AumaKhua-Ki ®  International at: 352.239.9272 (or purchase a class ticket at the top of this event page). Online registration ends on 10/12/17 12 PM (or when sold out). Limited seating available. You can also reserve your seat with a $50 non-refundable deposit. Balance due at class. 
Visit our website to see the class calendar for workshops, webinars and the Six-Month Program for Energy Practitioners.    www.Aumakhua-Ki.org





Rev. Ojela Frank, MSC, MSTh, LMT, BCTMB has been active in the healing arts for 48 years. She has inspired thousands through her sessions, seminars and books on healing and personal growth. She is an ordained minister, a certified USUI Reiki Master and a Qigong Practitioner. Ojela is founder of AumaKhua-Ki® Energy Balancing & Meditation. 
***AUMAKHUA-KI ® International is a provider approved by the FL Board of Massage Therapy. (#50-14398).  
AKEH: Intro, Levels 1, 2 & 3 courses: Ojela Frank is approved by the National Certification Board for Therapeutic Massage & Bodywork (NCBTMB) as a continuing education Approved Provider (#657).
Visit Ojela's web page for her free Book DOWNLOAD and monthly eNEWS updates:  

www.AKheal.com
© 2014-2017  
When & Where

AKI

Silver Springs, FL 34489


Saturday, October 14, 2017 at 9:00 AM

-

Sunday, October 15, 2017 at 5:00 PM (EDT)
Add to my calendar
Organizer
AumaKhua-Ki ® International
AumaKhua-Ki ® Energy Balancing & Meditation. Discover how to elevate your vibration and experience heightened states of consciousness. AumaKhua-Ki® is a high-frequency energy experience. All can benefit from these relaxing and therapeutic sessions. AumaKhua-Ki® Energy balancing for family, friends, clients and pets.
We offer courses for quantum transformation. Some of our courses include: AK Energy Balancing 1, 2, 3, 4, AumaKhua-Ki® Energy Master and Instructor certifications. We also offer classes in Meditation & Breathwork, Qigong, Rebirthing and Usui REIKI (Levels I, II & Master certifications). Our headquarters is located in Ocala, FL. We also offer Online Distant-Learning and teleseminars. We are looking for people & organizations to host us for seminars. Some of our workshops are located in Florida, Illinois and North Carolina.
For more details, please visit our website and subscribe to our free eNews mailings. 
                   www.AumaKhua-Ki.org  
AumaKhua-Ki ® Energy Master - 2017 Workshop