Description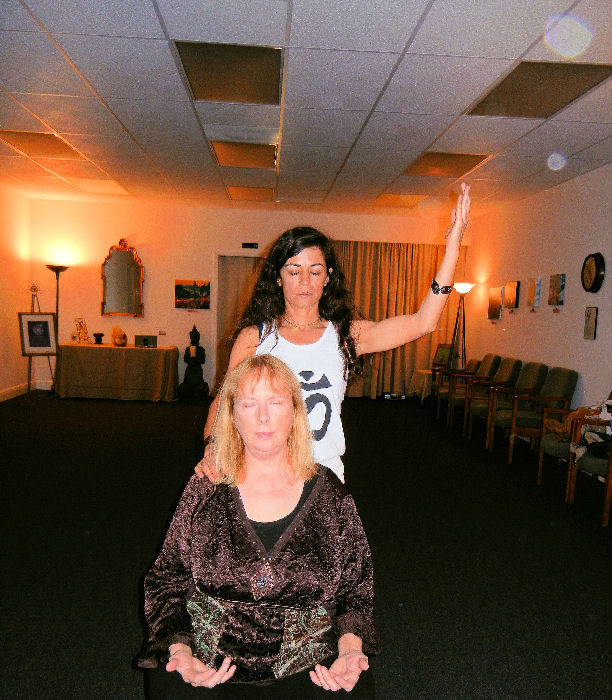 Fabiola doing an AK Energy Activation session. (2012)
AUMAKHUA-KI® Energy Balancing 1 Hands On

with
AUMAKHUA-KI® MASTER Fabiola Kindt, LMT
April 27, 2019, Saturday AKEB 1 Hands-On From 9 Am - 4 PM
Learn AUMAKHUA-KI®
for doing healing energy balancing on yourself. Teaching includes the history of AUMAKHUA-KI®

and hand placements for self-balancing sessions. Learn ways to apply these energizing techniques in your daily life for yourself and others. Learn about the parasympathetic state and the benefits of doing relaxation techniques. Participants will learn about Chakras and how to balance their energy centers. Participants will learn how to do AUMAKHUA-KI®

Energy Healing for seated clients. This 1-Day course includes one AUMAKHUA-KI® Energy Attunement, a class workbook, snacks, and a Certificate of Attendance.
(There is no prerequisite required.)
** Learn about Chakras.
** Learn how to Activate and Open your Energy Channels to feel more energy.
** Learn about Chromotherapy - using Colors for balancing your energy.
** Receive a powerful AUMAKHUA-KI® Energy Attunement.


AumaKhua-Ki ® Energy Balancing 1 Hands-On - course #20-629535
We will do some Energy Explorations and learn how to use the AUMAKHUA-KI® Energy for Self-care & doing Chair sessions. You will be able to do AUMAKHUA-KI® Energy Healing sessions for self, family & friends and pets.
6 CEs for FL LMTs available for this workshop. (CE Instructor #85-6030172)
Early Bird rate: $ 200.00 (registration deadline: 3/20/19)
AKEH1 Class Fee: $225.00 (registration fee after 3/20/19)
For more class details, call FABIOLA at 407-319-4442.


MUST pre-register to attend this event