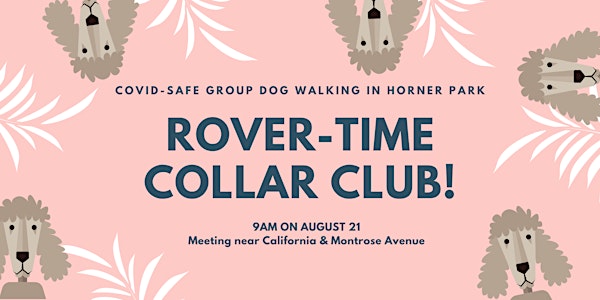 August's Collar Club Walk
An opportunity for current and former Rover-Time customers to meet on August 21, 2021, in Horner Park for COVID-safe group dog walking.
By Rover-Time Dog Walking & Pet Sitting
Date and time
Saturday, August 21, 2021 · 9 - 10am CDT
Location
Horner Park 2741 West Montrose Avenue Chicago, IL 60618
About this event
The Rover-Time Collar Club is an opportunity for Rover-Time previous and current customers, to gather one time per month for three consecutive months in Horner Park for COVID-safe, group dog walks, together. The walks are an opportunity to meet other dog lovers, dog enthusiasts, and pet professionals. It's a great way to socialize dogs or puppies and it will help dogs become the best that they can be by practicing and training obedience skills in public with their owners.
We will gather by 9:00 am and will promptly begin the walk by 9:10. Walks will end at 10:00. It is strongly recommended you arrive by 8:50 am to allow time for parking and to locate us in Horner Park. Real time updates will be added to the private group page. Please email Julia Rohan to be added to the group.
FAQs
What are your COVID protocols for this event? Rover-Time is aligned with the State of Illinois' reopening guidelines but is adhearing to the City of Chicago's tailored understanding on how to gradually conduct business while continuing to prioritize the health of our most vulnerable residents. This means:
Everyone should self-monitor for COVID-19 symptoms and stay home if they're sick. We'll practice physical distancing and for those that would feel safer in their masks, they're encouraged to wear them. That said, they are no longer required to be worn outdoors by vaccinated people.
How do I buy into package pricing for all three events? CLICK HERE. Our walks are scheduled at Horner Park and will happen on June 19, July 24, and August 21, 2021. A discount is available if you're able to commit to attending all the walks!
What can I bring into the event?
Please bring a standard 6′ leash – no retractable leads, please.
Your dog should be wearing appropriate training gear. This is an on-leash walk, no off-leash exercises permitted. Appropriate gear includes any of the following: a flat collar, head collar (i.e. Gentle Leader, Head Halti, Snoot Loop or other), front hook harness (Freedom Harness, Sensation, Wonder Walker or other). 
No aversive gear (slip collar, choke chain, prong or pinch collar, etc). If you have questions regarding appropriate training or walking gear for your dog, please do not hesitate to email to Julia Rohan or any member of our Leadership Team. 
Come prepared to clean up after your dog, we don't want to leave any messes behind.
A yellow ribbon if your dog is fearful or reactive to other dogs or people. Please put a yellow ribbon, yellow leash, yellow harness or other yellow gear on your dog so we provide you the space you need to manage behavior. If your pup is muzzle trained, that's great! Do not feel shy about using it with us. We know these can be very useful.
Updated dog tags and proper City of Chicago registration.
Lots of reinforcers (rewards) for good behavior, treats, tugs, etc. 
Water and portable water bowl if your dog will grow thirsty within the hour that we'll spend together.
A sense of humor.
Bring patience, there is no agenda. 
Can I purchase tickets at the group walk on the day of?
No. To ensure proper staffing, registration must be completed online by the specified date on this event page. 
What's the refund policy?
Tickets are nonrefundable if you are unable to make it after registering. All proceeds go towards the time and cost for properly staffing each walk with our pet professionals. 
What if the group walk is canceled or postponed?
In the unlikely event that a group walk is canceled and not rescheduled to a later date, we will offer a refund.
Our group walks are scheduled to happen during one of Chicago's most lovely seasons of the year but Rover-Time Collar Club will not meet when temperatures are predicted at less than 15 degrees Fahrenheit by 9:00am, or in the event of a wind chill warning or advisory. If early morning temps are very cold, walks may start at 10:00am instead of 9:00. Collar Club may also be canceled due to thunderstorms, very heavy rain, or wind advisory. Our club is about enjoyment and canine enrichment, not endurance.
Why do I need to register my (human) child?
This will give Collar Club organizers a heads up that children under the age of 18 will be present at the event. There is no charge for their attendance, however. 
Legal Fine Print: Rover-Time Dog Walking & Pet Sitting and Rover-Time Collar Club assume no liability or responsibility for the safety and welfare of dogs and people participating in walks. Each participant agrees to take complete responsibility for the action of their own dog, self, and family members, before, after, and during walks. At no time will Rover-Time Dog Walking & Pet Sitting and Rover-Time Collar Club or Julia Rohan or any Collar Club staff be liable or responsible for the actions of each participant or any of the dogs. All participants will be considerate of any and all properties used and of other participants and their dogs.
About the organizer
Rover-Time is a team of vetted and experienced pet professionals focused on providing a high standard of care for Chicago's dogs and cats. We specialize in personal attention and delivering peace of mind to hard working pet parents. We know our human customers as well as we know the animals we serve and we all sincerely love our jobs.