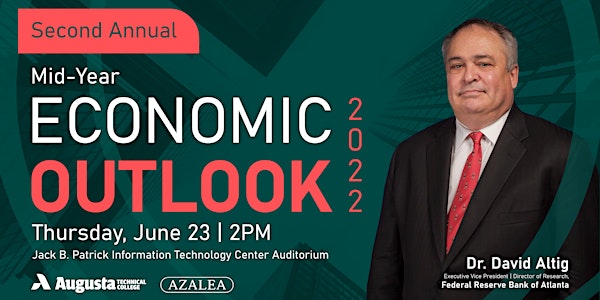 Augusta Technical College 2nd Annual Mid-Year CSRA Economic Outlook Event
Location
Augusta Technical College
3200 Augusta Tech Drive
Jack B. Patrick Information Technology Center
Augusta, GA 30906
Dr. Altig of The Federal Reserve Bank of Atlanta will provide a mid-year update on national, regional, and local economic activity.
About this event
Dr. Altig will provide national, regional, and local (CSRA) economic forecasts for the remainder of the 2022 calendar year. Topics will include GDP, inflation, monetary policy, international trade, and employment information from the Federal Reserve.
Dr. David E. Altig, Executive Vice President and Director of Research at the Federal Reserve Bank of Atlanta, will be the keynote speaker for this event. In addition to advising the Bank president on monetary policy and related matters, Dr. Altig oversees the Bank's Research Division, which includes the Bank's team of economists, the Regional Economic Information Network, and the Bank's Community and Economic Development function.
The event is free, but participants must RSVP to attend.