Augusta, GA - June 30 - Pre-release screening of The Other Side of the Glass: A birth film for and about men.

Saturday, June 30, 2012 from 12:00 PM to 4:00 PM (EDT)
Event Details
Two ticket options:
1) $10 for ticket/admission to the screening or
2) $25 for ticket/admission AND a signed, numbered copy of the Limited First Edition of the film
 
The Limited First Edition will be produced in July, available in August of 2012.
It will be the 3-1/2 hour completed film and include expanded version of the
2 hour screener shown on Father's Day 2012 Pre-Release Tour.

Actual release date has not been determined and it may be months,
so this is opportunity to get one of the first copies at a discount rate.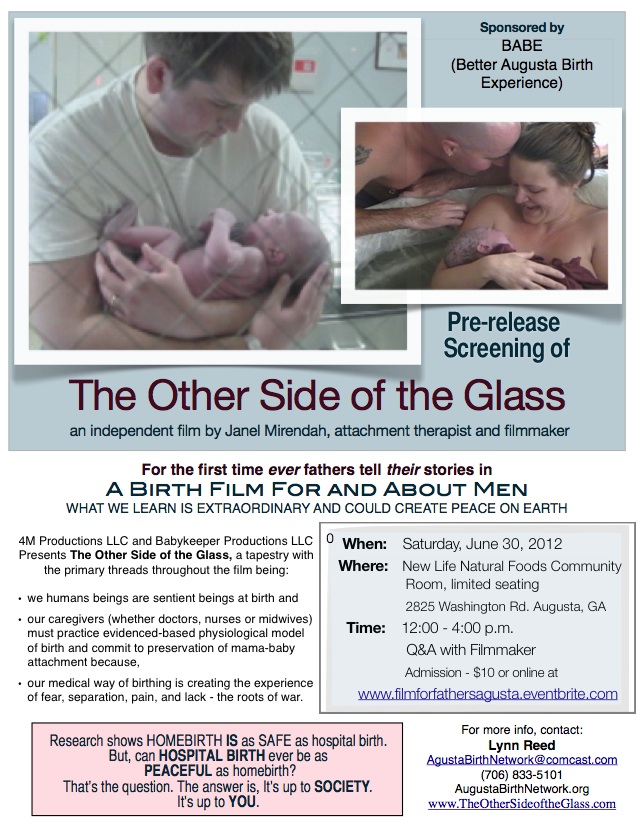 SCHEDULE FOR NATION-WIDE SCREENINGS
This is also a fundraiser for the sponsors and filmmaker

Saturday, May 19 - Columbia, MO
4:00 and 7:30 pm
Holiday Inn Executive Center, Bradley Room
$5 admission
Sponsored by filmmaker
Contact Janel at babykeeper@gmail.com
Saturday, June 2 - Macomb, IL
2 p.m.
Multicultural Center at WIU

Sponsored by Western Illinois Birth Services and the Macomb Area Birth Circle
Contact: Jennifer Vaugh Trias
jvtrias@gmail.com
FB event: http://www.facebook.com/events/229879737125157/
Saturday, June 9 - Temecula CA
10:30-1:30 pm
The Holistic Chamber of Commerce, 27432 Enterprise Circle West, Suite #102 Temecula, 92590 CA
Sponsored by Conscious Birth, Conscious Parenting Group & Karen Pecora of Blessed
Beginnings Midwifery and Founder of The Nesting Place
Contact:  Karen Pecora at 915-970-5437 or karensmidwifery@gmail.com
 https://www.facebook.com/events/408628672503754/
June 11 - Los Angeles, CA
7-10 Pm
The Sanctuary Birth and Family Wellness Center, 11965 Venice Blvd. Ste 307, Los Angeles, CA 90066
Sponsored by Los Angeles Birth Circle
Contact: Stephanie Dawn
www.stephaniedawn.com and http://www.birthsanctuary.com
Wednesday, June 13 - Santa Cruz, CA
6:30-9 pm
The Santa Cruz Village Birth Center, 149 Josphine St. Suite A, Santa Cruz, CA  95060
Sponsored by The Santa Cruz Village Birth & Family Enrichment Center
Contact: Krystal Long at santacruzvillage@gmail.com or 831-216-6262
Saturday, June 16 - Vancouver, British Columbia, Canada
NOON - 3:30 pm
Vancouver International Film Centre
1181 Seymour St, Vancouver BC Canada
Hosted by ICAN Midland and Mothers for Change
Contact: Emma Kwasnica
 604-215-0433
emma.kwasnica@gmail.com
Tuesday, June 19- Denver, CO
1:30 pm
Sponsored by Magic Moments Birth Services
Margaret W. Carpenter Recreation Center, Room C, 11151 Colorado Blvd, Thornton, CO 80229
Contact: Janeen Raygor at janeenlraygor@hotmail.com or 720-371-1134 
 https://www.facebook.com/events/326165647436585/
Saturday, June 23 - Cumberland, MD
5pm
Allegany Arts Council 9 N. Center St. Cumberland MD
Contact:  Meredith Lovell at 301-616-3279 or lovell.meredith@gmail.com
Donations welcome, FREE.
https://www.facebook.com/events/389451687762247/
Wednesday, June 27 - Tidewater, VA
6:30-9:30 pm
United Jewish Federation of Tidewater & The Simon Family JCC
5000 Corporate Woods Drive, Virginia Beach, VA 23462
Sponsors: Birth Matters VA and the Southeast Chapters
Contact: bmv.tidewaterchpt@gmail.com
Saturday, June 30 - Augusta, GA
12:00-4:00 pm
New Life Natural Food Community Room
2825 Washington Rd 30909
Sponsors: Better Augusta Birth Experience (BABE)
Contact: Lynn Reed 706-833-5101
Email: AugustaBirthNetwork@comcast.net
Website: www.AugustaBirthNetwork.org
When & Where

New Life Natural Foods
2825 Washington Rd
30909


Saturday, June 30, 2012 from 12:00 PM to 4:00 PM (EDT)
Add to my calendar
Organizer
The Other Side of the Glass
Augusta, GA - June 30 - Pre-release screening of The Other Side of the Glass: A birth film for and about men.