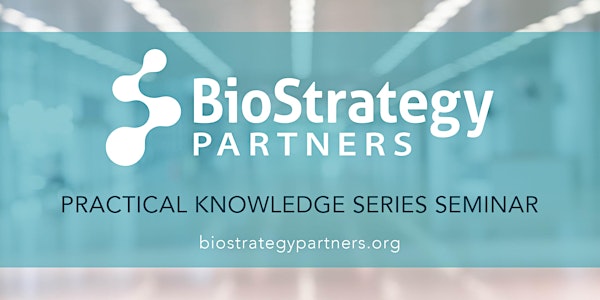 August PKS - Creating Effective Marketing Strategies for your Technology
Join us Friday, August 26th from noon –1 p.m. to learn more on how to develop marketing and communication strategies.
About this event
Having a marketing strategy is crucial for the growth of a biotech company during the R&D phase. Effective corporate and public communication strategies will help build credibility and trust in the technology and in the company. Our panel of experts will discuss how to approach marketing strategies at different phases of the startup such as academic labs with new intellectual property, companies in stealth mode, and companies planning for major venture capital investments or before IPO. Moreover, we will discuss how to partner with various marketing and public relations firms to effectively communicate the science to the target audience as well as knowing when and how to engage with investors.
Submit questions through our registration process or ask them live during the broadcast!
Moderator:
Steve Nappi
Associate Vice President for Technology Commercialization and Business Development
Temple University
Panelists:
Susan Wingeron
President
SciStrategy Communications
Robert Flamm, PhD
SVP Head of Corporate Relations
Burns McClellan
This is an online webinar. Please register to receive the web access credentials.
SPONSORS:
MVM Associates – http://www.mvmgrants.com
Stradley Ronon – https://www.stradley.com
University Place Associates – https://www.upaphila.com
Silverstein Properties – https://www.silversteinproperties.com
Cantor Fitzgerald – https://www.cantor.com
CBRE – https://www.cbre.us
SciStrategy Communications - http://www.scistrategy.com/wp/