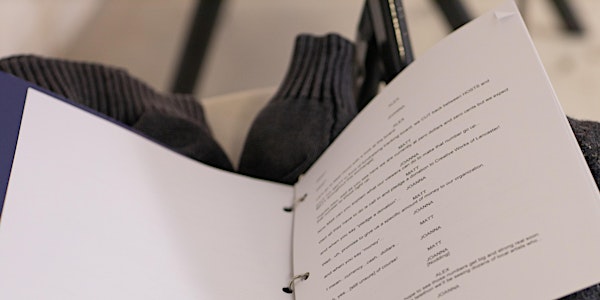 August New Play Readings
Pieces by five Lancaster Dramatists' Platform playwrights will be performed as readings by local actors.
When and where
Location
Tellus360 (2nd Floor, An Droichead) 24 East King Street Lancaster, PA 17602
About this event
Creative Works of Lancaster and the Lancaster Dramatists' Platform present readings of new plays by local playwrights on Saturday afternoon, August 27, 2022 at 1:00 p.m. on the second floor of Tellus360, 24 E. King Street (An Droichead).
After a several-year hiatus from public readings, during which many drafts were read around a table or on Zoom, members of the Lancaster Dramatists' Platform are eager to share their work with an audience. The afternoon will feature pieces by five playwrights: David Nice, John Reshetar, Tyler Joseph Rossi, Rachel Luann Strayer, and Bruce Walsh. The plays will be performed as readings by local actors.
Originally formed in 2005, the Lancaster Dramatists' Platform (aka LDP or the Platform) builds community through story, inviting writers of different experience levels, backgrounds, and identities to take part in each other's process. The Platform exists to support and encourage Central Pennsylvania playwrights by providing a friendly, structured environment for them to develop their craft, platforming their work through public readings, and connecting them to the national playwriting community. Learn more about LDP at www.lancasterdramatists.org.
Creative Works of Lancaster, a non-profit providing nomadic theatrical encounters in and around the City of Lancaster, PA, has been the Platform's fiscal sponsor since 2010, and the two groups have collaborated extensively. Creative Works' mission is to nurture and promote creative opportunities throughout the community in order to provide exquisite moments of surprise and delight in an ever-challenging world. Over the last dozen years, LDP playwrights have participated as writers for many Creative Works events, and Creative Works has done full productions of several Platform members' plays. Learn more about Creative Works at www.creativelancaster.org.
Creative Works utilizes a Pay What You Decide (PWYD) ticketing model with no fixed ticket prices. We will never turn away a potential audience member due to financial limitations, and you never need to risk feeling like your experience did not match what you paid. Simply reserve your ticket now and pay what you think the experience was worth after the performance.