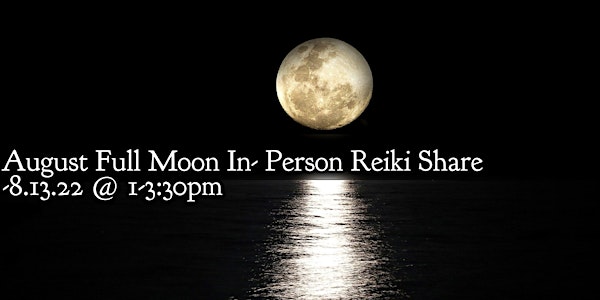 August Full Moon In Person Reiki Share
In person Reiki Shares are back! Groups of 3 sharing Reiki with the full moon. Please do not come if you have any symptoms, masks optional.
When and where
Location
Classroom @ Tekla C. Ayers, Luz de la Luna 1300 Plaza Court North Suite 202 Lafayette, CO 80026
About this event
After a 2 year break, we have re-started Reiki shares (this will be number 42!) Please reserve your spot here- and please let me know 24 hours in advance if you cannot come to make sure I invite someone on the waiting list.
The Reiki Share is a powerful time of community and healing for all. An opportunity to come together with other people who practice Reiki 1 or beyond, to meet monthly to check in, be part of a positive community, and break into small groups of 3 to do Reiki trades. Each person will receive around 15 minutes of Reiki (though it magically feels like 30 or more minutes!) We are excited to welcome local Reiki practitioners and teachers- anyone who loves and appreciates Reiki and wants to share, experience, and learn from each other. Whether you are a beginner or have been practicing for years, this space is for everyone. We will gather before and after the shares to ground and reflect in community. A welcoming and brave place for sharing and receiving the beautiful gift of Reiki. If you are not certified in Reiki but are interested, you are welcome to join!
COVID details: Please do NOT come if you have any symptoms... and masks are optional.
Please make any payments for the share to this beautiful human, Kim, whose family needs all the support they can receive. Please read her story and donate what you can. https://www.gofundme.com/f/help-kimandfamily Thank you.