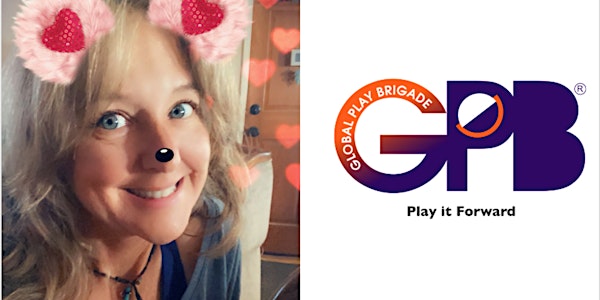 August Emotional Support - Laugh.Live.Love! with Katy Beee
If you like to laugh, live and love (again) - join this event Якщо вам подобається сміятися, жити та любити (знов) – приєднуйтесь до цієї
Refund Policy
Contact the organizer to request a refund.
Eventbrite's fee is nonrefundable.
About this event
You are invited to an online experience with Katy Beee who will create a safe space for all of us to see the silver lining in the dark skies and smile again. Katy will connect us to each other and our emotions to provide emotional support.
Who is Katy?
She is a professional using the visual and immersive capabilities of images and movement to connect people and connect people to their emotions. Katy Beee and others have run similar events via Global Play Brigade (globalplaybrigade.org).
For example, they helped people in strict lockdowns in Shanghai due to the Corona pandemic or people with post-traumatic stress syndrome to cope with the situation and experience togetherness with fellow human beings in need of emotional support.
Another example is her support of military veterans suffering trauma through the Compassionate Clowns initiative.
Come join us as individuals or families with children regardless of the language that you speak or are able to understand. You are not alone.
This event is sponsored by Purpose Alliance to support Ukrainian refugees, their hosts and all people suffering from the current situation in any country. Purpose Alliance is a global community of purpose-driven individuals of all kinds (innovators, entrepreneurs, investors, etc.) who contribute together to make a massive impact and create a better world.
We believe that everyone can make a positive impact.
UA
Про цю подію
Запрошуємо вас на онлайн-зустріч із Кеті Бі, яка створить для всіх нас безпечний простір, де ми зможемо побачити промінь надії на темному небі та знову посміхнутися. Кеті зв'яже нас один з одним та з нашими емоціями, щоб забезпечити емоційну підтримку.
Хто така Кеті?
Вона професіонал, який використовує візуальні та іммерсивні можливості зображень та рухів, щоб поєднувати людей та пов'язувати їх з їхніми емоціями. Кеті Бі та інші проводили такі заходи через Global Play Brigade (globalplaybrigade.org).
Наприклад, вони допомогли людям, які перебувають у суворому карантині в Шанхаї через пандемію коронавірусу, або людям із синдромом посттравматичного стресу впоратися з ситуацією та випробувати єднання з іншими людьми, які потребують емоційної підтримки.
Іншим прикладом є її підтримка ветеранів війни, які отримали травму, в рамках ініціативи «Споморливі клоуни».
Приєднуйтесь до нас індивідуально або сім'ями з дітьми, незалежно від того, якою мовою ви говорите або розумієте. Ти не самотній.
Цей захід спонсорується Purpose Alliance для підтримки українських біженців, їх приймаючих і всіх людей, які страждають від ситуації, що склалася в будь-якій країні. Purpose Alliance — це глобальна спільнота цілеспрямованих людей різних напрямків діяльності (новаторів, підприємців, інвесторів тощо), які разом роблять величезний внесок у створення кращого світу.
Ми віримо, що кожен може мати позитивний вплив.
Зареєструйтесь тут.
RU
Мы приглашаем Вас на онлайновую сессию с Кэти Биии, которая создаст безопасное и комфортное пространство для всех нас, чтобы мы смогли увидеть свет в темном небе и снова улыбнуться. Кэти соединит нас друг с другом, с нашими эмоциями, и окажет эмоциональную поддержку.
Кто такая Кэти?
Кэти - профессионал, использующий визуальные и иммерсивные возможности изображений и движения, чтобы объединить людей друг с другом и связать их со своими эмоциями. Кэти Биии и другие проводили подобные мероприятия через организацию Global Play Brigade (globalplaybrigade.org).
Например, они помогли людям, находящимся в строгой изоляции в Шанхае во время пандемии коронавируса, или людям с посттравматическим синдромом справиться с ситуацией и испытать единение с другими людьми, нуждающимися в эмоциональной поддержке.
Другой пример - поддержка ветеранов войны, переживающих травму, через инициативу «Клоуны Сострадания».
Присоединяйтесь к нам, как индивидуально, так и семьями с детьми, независимо от того, на каком языке Вы говорите или способны понимать. Вы не одиноки.
Это мероприятие спонсируется Purpose Alliance для поддержки украинских беженцев, принимающих их хозяев, а также всех людей, проживающих в любой стране и страдающих от нынешней ситуации. Purpose Alliance - это глобальное сообщество целеустремленных людей всех видов (инноваторов, предпринимателей, инвесторов и т.д.), которые объединяют усилия, чтобы оказать масштабное влияние и вместе создать лучший мир.
Мы верим, что каждый может оказать положительное влияние.
Зарегистрироваться можно здесь.
DE
Sie sind herzlich zu dieser Online-Veranstaltung mit Katy Beee eingeladen, die einen sicheren Raum für uns alle schaffen wird, damit wir den Silberstreif am dunklen Himmel sehen und wieder lächeln können. Katy wird uns miteinander und mit unseren Gefühlen verbinden, um uns emotional zu unterstützen.
Wer ist Katy?
Sie ist eine erfahrene Expertin, die die visuellen und immersiven Möglichkeiten von Bildern und Bewegung nutzt, um Beteiligte zu verbinden und sie mit ihren eigenen Gefühlen in Kontakt zu bringen. Katy Beee und andere haben ähnliche Veranstaltungen über Global Play Brigade (globalplaybrigade.org) durchgeführt.
So halfen sie beispielsweise Betroffenen, die aufgrund der Corona-Pandemie in Shanghai unter strenger Abriegelung standen, oder Menschen mit posttraumatischem Stresssyndrom, ihre Situation zu bewältigen und Verbundenheit mit Mitmenschen zu erleben, die emotionale Unterstützung benötigen.
Ein weiteres Beispiel ist ihre Unterstützung von Militärveteranen, die unter Traumata leiden, durch die Initiative "Compassionate Clowns".
Nehmen Sie als Einzelpersonen oder Familien mit Kindern teil, unabhängig davon, welche Sprache Sie sprechen oder verstehen können. Sie sind nicht allein.
Diese Veranstaltung wird von der Purpose Alliance gesponsert, um ukrainische Flüchtlinge, ihre Gastgeber und alle Beteiligten zu unterstützen, die unter der aktuellen Situation in einem betroffenen Land leiden. Die Purpose Alliance ist eine globale Community von purpose-orientierten Menschen aller Art (Innovatoren, Unternehmer, Investoren usw.), die gemeinsam etwas bewirken und eine bessere Welt schaffen wollen.
Wir glauben, dass jeder einen positiven Einfluss ausüben kann.