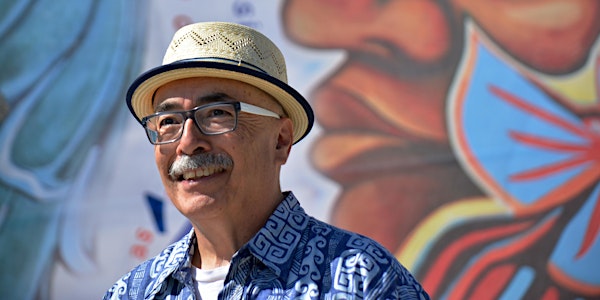 August 7th - Juan Felipe Herrera
When and where
Date and time
Sunday, August 7, 2016 · 5 - 8pm EDT
Location
Hill-Stead Museum's Sunken Garden 35 Mountain Road Farmington, CT 06032
Description
Sunday, August 7
Juan Felipe Herrera, Current United States Poet Laureate
& Peg Boyers
Juan Felipe Herrera is the 21st Poet Laureate of the United State (2015-2016) and is the first Latino to hold the position. From 2012-2014, Herrera served as California State Poet Laureate. Herrera's many collections of poetry include Notes on the Assemblage; Senegal Taxi; Half of the World in Light: New and Selected Poems, a recipient of the PEN/Beyond Margins Award and the National Book Critics Circle Award; and 187 Reasons Mexicanos Can't Cross The Border: Undocuments 1971-2007. He is also the author of Crashboomlove: A Novel in Verse, which received the Americas Award. His books of prose for children include: SkateFate, Calling The Doves, which won the Ezra Jack Keats Award; Upside Down Boy, which was adapted into a musical for young audiences in New York City; and Cinnamon Girl: Letters Found Inside a Cereal Box. Herrera is also a performance artist and activist on behalf of migrant and indigenous communities and at-risk youth.
Poet Peg Boyers was born in Venezuela but lived her childhood and adolescent years in Italy, Spain, Cuba, Nigeria, Indonesia and Libya before settling in the United States. Descended from an Irishman and a Cuban whose Catalan origins were very likely originally Jewish, she insists with Whitman, that identity is multitudinous. Her three books of poetry, HARD BREAD(2002), HONEY WITH TOBACCO (2007), and TO FORGET VENICE (2014) are written from the perspective of a very complicated, layered consciousness. She teaches poetry workshops at Skidmore College, the New York State Summer Writers Institute and Columbia University and edits, with her husband, the journal, SALMAGUNDI.
Music
The Latin Heartbeat Ensemble's commitment to sustaining its cultural music has been the driving force behind this talented ensemble of dedicated musicians. This group has taken pride in being recognized as a preservation band, and the cultural responsibility that comes with it. Now in its seventh year, this group has gained popularity for interpreting the style of music that popularized the Salsa scene in the 60's and 70's. They have had the honor of participating in major events at some of New England's premier venues, such as: Foxwoods Casino's B.B. King Lounge and The MGM Grand; the Connecticut Salsa Festival – 5 years in a row by popular demand; the Boston Salsa Congress; and the Providence Rhode Island WaterFire Festival, where they performed before an audience of over 5,000 people. The Latin Heartbeat Orchestra was also invited to participate and represent the State of Connecticut at the 2006 National Puerto Rican Day Parade in New York City!
Latino Poets and Authors Community Conversation
August 7, 2:30 pm - 4:00 pm
The public is welcome to this panel discussion, moderated by Dr. Ernesto Varela, among local Latino poets and authors including Cindy Rodriguez, Jose B. Gonzalez, Marianela Medrano and Peg Boyers. The writers will discuss cultural identity and the inspiration behind their work, perform some of their favorite pieces and then offer a book signing.
Festival Schedule: Gates open at 2:30 pm; Latino Poets and Authors Community Conversation at 2:30 pm, Prelude conversation with headlining poet at 5:00 pm; opening poet at 6:00 pm; music begins at 6:30 pm; headliningpoet begins at 7:15 pm.
Admission: $12 advance on-line purchase, $15 at the gate, ages 18 and under free. Parking is free. Tickets will soon be available at hillstead.org.
Seating: Bring a lawn chair or blanket for seating in and around the garden, or join Hill-Stead's Live Poets Society to receive premier reserved seating. To join Live Poets Society, contact Kirsten Fuchs at 860-677-4787, x181, or visit www.hillstead.org.
Food: Al fresco dining is allowed on the grounds. Festival attendees are welcome to bring their own picnic suppers or purchase food, wine and other beverages on site from gourmet food vendors.
The Sunken Garden Poetry Festival is a unique outdoor arts event located on the grounds of this National Historic Landmark in the heart of Farmington. Beginning on June 22, the festival presents the first of five performances, scheduled for three Wednesday and two Sunday evenings throughout the summer. Adding to the humanities-rich content of the festival, Hill-Stead offers poetry writing workshops prior to all performances. The community cherishes this series of readings and music concerts in the informal outdoor setting of the Hill-Stead estate. Visitors can come early to tour the museum's world-class Impressionist art collection, walk the trails or attend the pre-performance Prelude conversations with the headlining poets.
About the organizer
Hill-Stead is the first architectural project of Theodate Pope Riddle (1867-1946), fourth registered female architect in the country, early proponent of historic preservation and caretaker of the family art collection. Designed as a country home for Theodate's parents, Alfred and Ada Pope, the 33,000 square foot, 1901 mansion is considered "perhaps the finest Colonial Revival house and museum in the United States" (National Historic Landmark Report) and houses some of the most important Impressionist paintings in the world, including works by Mary Cassatt, Edgar Degas, Édouard Manet, Claude Monet, and James McNeill Whistler.  A print collection spanning 400 years and including pieces by Albrecht Dürer, Giovanni Battista Piranesi, Jean-François Millet and Japanese woodblock artists Hokusai, Hiroshige and Utamaro rounds out the collection. Established in 1946 as a cultural resource for the public in perpetuity, the museum is one of the nation's few remaining representations of early-20th-century Country Place Estates.
Each year Hill-Stead Museum utilizes its historic home, art collections, and 152-acre estate to offer over an array of programs in art, architecture, gardens, and natural science.  In keeping with the Pope family's tradition of bringing literary, musical, and educational opportunities to the community, the museum presents concerts, lectures, workshops, family festivals, and the nationally acclaimed Sunken Garden Poetry Festival. With its in situ furnishings and collection, the museum offers a unique glimpse into the lifestyle of a well-to-do family at the turn of the 20th century and becomes a well-rounded cultural experience, more than just a day at a museum.