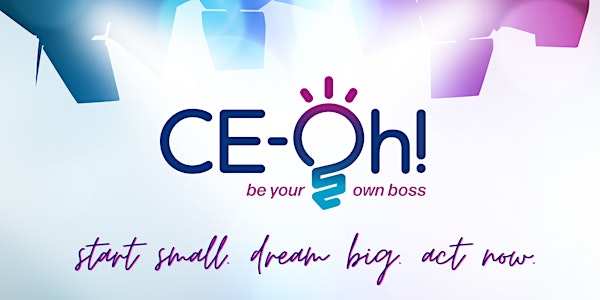 August 30th SCORE CE-Oh! Community Kickoff Event
CE-Oh! is designed to teach core business concepts and help participants build essential skills to develop an entrepreneurial mindset!
About this event
REGISTER NOW for the virtual SCORE NCFL, CE-Oh! September Community Kickoff event, Tuesday, August 30th from 6:00 - 8:00PM EST.
Be inspired by entrepreneurs who volunteered their time as mentors and guest speakers in previous CE-Oh! cohorts and hear tips and lessons they wished someone shared with them when starting their entrepreneurial journey.
During this event, we will introduce you to regional and local SCORE NCFL mentors and leadership and CE-Oh! team members will share details about CE-Oh!, answer your questions, and provide eligibility and enrollment support.
CE-Oh! Program Overview
CE-Oh! is a virtual, 10-week business and entrepreneurship training program that combines online learning with live, facilitator-led sessions at NO COST to you (normally $2,500 per person).
For the September 2022 cohort, the North Central Florida SCORE Chapter is once again collaborating with the Tech Quest Apprenticeship Program, a Department of Labor grant awarded to Clark University, which underwrites CE-Oh!, to bring this training program to individuals who want to learn the fundamentals of launching a business.
The CE-Oh! program consists of (1) online e-Learning modules (self-study), (2) live facilitator-led online training sessions to review and reinforce the e-Learning content, (3) Guest Speakers that convey real-world experiences, success, failures, and advice through the lens of the learning content, and (4) weekly mentor meetings with teams.
At the beginning of the program, participants will be grouped into teams and assigned a Team Mentor. Under the supervision and guidance of their Team Mentor for a minimum of one hour per week, teams will apply the content covered by the Training Facilitator as they develop a simulated business model canvas and an investor pitch deck designed to obtain startup or business development funding.
In the final week of the program, teams will present their simulated business model canvas and pitch deck to an audience of investors, bankers, business leaders, and/or other seasoned professionals that will provide invaluable feedback and coaching. After the teams are evaluated, the top winners will receive cash prizes and donated professional services.
Mentors and teams engage in friendly "coopetition", where everyone learns, builds professional networks, and has a great time in an uplifting program for the entire community.
This blended learning curriculum is designed for unemployed and underemployed individuals looking for ways to build their portfolio of skills and gain economic traction. Whether a person wants to start their own business, enter the workforce, become an apprentice, or take college courses, CE-Oh! offer timeless skills for the modern worker.
Click here or scan the provided QR code to register into the program:
What You Can Expect:
In the CE-Oh! program, participants can expect to:
acquire the knowledge and tools needed to start their own business and learn what it takes to generate value, and make good decisions
be better positioned for employment and ready to work having gained foundational business, financial, and technology literacies that are transferable to nearly every profession
understand the principles of entrepreneurship that can be applied in existing organization as a intrapreneur
**Participants who successfully complete the 10-week program will be provided a voucher to sit for the Entrepreneurship and Small Business Certification through Pearson Certiport.
Key Program Dates
August 30th SCORE CE-Oh! Community Kickoff Event: Tuesday, August 30th 2022
Day 1 – Orientation: Tuesday, September 13, 2022
Graduation: Thursday, November 17, 2022
Questions? Send an email to ceoh@pcgus.com and we will be in touch with you!