Description
August 2018: Azure Data Lake: What, Why, and How
Meeting Date: Tuesday, August 7, 2018
5:30 pm: Dinner and mingling with fellow CBIG members
6:00 pm: Introductions and Spotlight Sponsor presentation from SentryOne
6:15 pm: Main Presentation with Melissa Coates
Topic: Azure Data Lake: What, Why, and How
Session Description: We will explore the capabilities of Azure Data Lake (ADL), its use cases, as well as when to implement ADL as part of your data architecture. Options for integration of the data lake with SQL Server, Azure SQL DW, Azure SQL DB, and Azure Blob Storage will be discussed, as well as the roles of U-SQL and PolyBase in a multi-platform system. You will leave this session with an understanding of the benefits, challenges, and suggestions for getting started with Azure Data Lake technologies.
Presenter: Melissa Coates is a Solution Architect with BlueGranite in Charlotte, NC. She specializes in delivering modern data warehousing, data lake, and business intelligence solutions using cloud and hybrid and technologies. Formerly a CPA, Melissa is ridiculously proud to be an IT geek and downright giddy to be a Microsoft Data Platform MVP. When Melissa steps away from the keyboard, you can probably find her hanging out with her dog, paddle boarding, or playing in the garden. Melissa blogs at sqlchick.com.
Meeting Location: Microsoft Office, 8055 Microsoft Way, Charlotte, NC 28273. We're in the Multipurpose Room (MPR) in the left building - the 2nd door, farthest from the entrance.
---
Thanks to our sponsors for the continued support.
Gold CBIG Sponsors: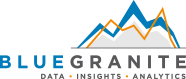 Silver CBIG Sponsors: