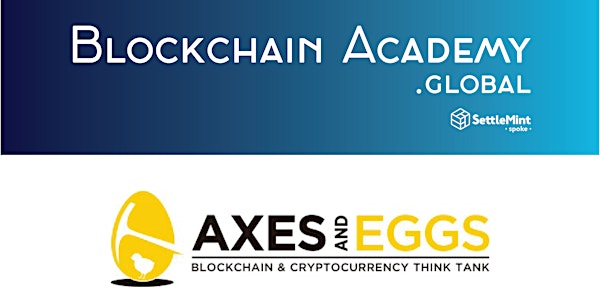 August 19, 2018 - Executive Blockchain Seminar - Dubai
When and where
Location
In5 Tech Dubai Knowledge Park opposite Cordoba residence POBOX 73030 Dubai, Dubai 337-1500 United Arab Emirates
Description
Seminar Synopsis
Since the Bitcoin Blockchain launch in August of 2008 by Satoshi Nakamoto, Blockchain has emerged as an economic force majeure, disrupting the fundamentals of how people interact and perceive money and so called "cryptocurrencies". Often overlooked is Blockchain's decentralized ledger technology applications beyond cryptocurrencies.

In this seminar you will learn what distributed ledger technology (DLT) is, how DLTs are impacting global business operations and insights into the future of distributed ledger technologies.

Lastly this course will cover use cases of Blockchain technologies that are currently under development or fully operational.


Prerequisites
Attendees should have a strong interest in FinTech, digital transformation and the evolution of digital currencies. No extensive experience is not required.


What You Will Learn?
What is Blockchain?

Promising Blockchain 2.0 projects

Gaining insights into how Blockchains will be used in the future and what this means for your organization

Learning about the practical benefits of what blockchain technology offers

Discovering new and innovative solutions being developed on these platforms

Exploring the risks and opportunities of existing and emerging solutions

Understanding how other sectors are using Blockchain

Blockchain 3.0 applications beyond currency and financial markets

Private Blockchains

Smart Contracts and Internet of Things (IoT)

The Future of Decentralization - Self Governing Systems


Cost of the seminar:
80 USD + VAT


Language of the seminar:
English


Trainers:

Samson Williams
Partner
Axes And Eggs
Blockchain & Cryptocurrency Think Tank
Washington, DC
Email: samson@axesandeggs.com
Samson is a classically trained anthropologist, finance and public health expert. Samson's focus is helping you be aware of and understand the latest trends in fintech,blockchain, AI, health and digital transformation, so that you can make strategic and profitable decisions for your business. Samson speciality is explaining all the above in plain English to investors, government officials, small children and c-suite executives. Additionally, Samson applies the principles of anthropology to overcome humanity's biggest challenge to health & technology adoption and organizational change – humans.
Ridah El Awad
Commercial Director - MENA
Blockchain Academy.global (SettleMint spoke)
Dubai, UAE
Email: ridah@settlemint.com
Ridah is driven by tomorrow, charismatic and full of energy, presentable and a thought leader when it comes to presenting objectives. He has 15 years if experience and a proven track record in exceeding commercial targets and building strong relationships with key governments and private stakeholders.
He's passionate about entrepreneurship innovation, knowledge transfer, and know-how on the aspect of international representation, strategic partnerships and creativity. Ridah positions a mindset of vertical tasks and horizontal alignments across corporates, vendors, startups, corporates and governments in digital related initiatives, working with accelerators, NOG's, matter experts, startups and government from all over the world.
Planning of the day:
8.30 am: Welcome drinks and snacks
9 am: Start workshop (part 1)
10.45 am: Break
11 am: Workshop (part 2)
11.45 am: Q&A
12.30 pm: end of workshop

Disclaimer:
Blockchain Academy.global / Axes and Eggs reserve the right to use any photograph/video taken at any event sponsored by Blockchain Academy.global / Axes and Eggs, without the expressed written permission of those included within the photograph/video. Blockchain Academy.global / Axes and Eggs may use the photograph/video in publications or other media material produced, used or contracted by Blockchain Academy.global / Axes and Eggs including but not limited to: brochures, invitations, books, newspapers, magazines, television, websites, etc.
To ensure the privacy of individuals, images will not be identified using full names or personal identifying information without written approval from the photographed subject.