Description
Augmented, virtual, and mixed realities are hot topics in education. What are they? How do they work? How can we use them as educators within our learning contexts? How will they shape the future of learning? This workshop will explore the answers to these questions and empower participants to begin to infuse these new technologies into their teaching practice.
In this workshop you will:

Deepen your understanding of mixed, augmented, and virtual realities
Get hands on experience with MR/AR/VR in educational contexts
Learn basic use of current AR tools and software to create augmented learning environments
Day One
What is AR/VR/MR/XR?
AR/VR/MR examples showcase - showing real life use
Demos/Setting up your devices
BreakoutEDU/Scavenger Hunts/Team Activities
Day Two
Design Principles in Augmented Learning
Team Design Challenges
Team Showcase
This session will be suitable to any School Leader, Teacher, or Instructional Coach looking to develop a school culture meeting the expectations and skills needed for contemporary education. Participants will leave with an understanding of AR use in the classroom, and practical tools to embed into their school. The session will provide time for reflection and sharing of experiences from the group.
Saturday & Sunday- 8:30 - 4:00PM
Coffee/Tea and lunch will be provided.
Full hotel, travel and visa information can be found here.
Ticket prices are in USD. Local bank transfer in RMB can be arranged. For more information about this or anything else please contact Christine Chen.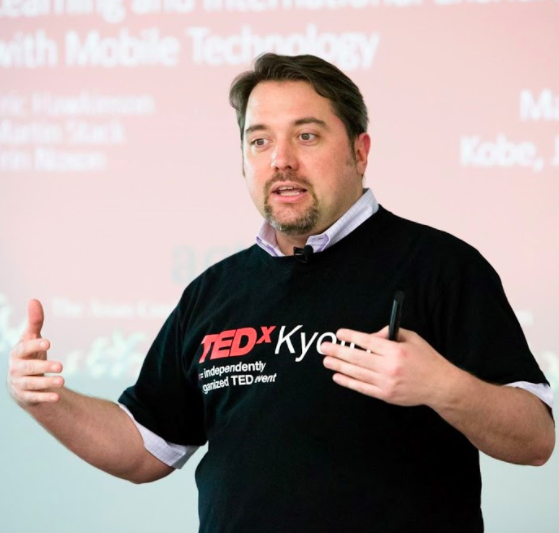 Having a professional background in IT, Prof. Eric Hawkinson is taking everything 'techie' and turning it towards educating students. He now works and lives in northern Kyoto prefecture, Japan and currently focuses on games based learning, electronic informal learning environments, and eTourism.
Eric is a Guest Lecturer at Kyoto University of Foreign Studies and an Associate Professor at 福知山公立大学(The University of Fukuchiyama). He is an educational researcher, and author of several books. Fluent in Japanese, Eric is the host of Laboratory Café a podcast dedicated to technology and contemporary learning practice as well as a prolific Youtube channel exploring everything EdTech.
Eric has been innovating ways to apply augmented reality to a variety of fields including tourism and education. He is also the director of interactive at TEDxKyoto where he has designed a variety of digital and non-digital informal learning environments. Eric's most recent projects involve the use of TED in education and the implementation of augmented reality in learning environments. Find out more about Eric and his projects at http://erichawkinson.com