Actions and Detail Panel
Augmented: Life in the Smart Lane with Brett King
Tue, May 10, 2016, 6:00 PM – 9:00 PM PDT
Description
Following on from the Industrial or Machine Age, the Space Age and the Digital Age, the Augmented Age will be based on four key disruptive themes – Artificial Intelligence, Experience Design, Smart Infrastructure, and HealthTech. Historically the previous 'ages' bought significant disruption and changes, but on a net basis the jobs were created, wealth was enhanced, and the health and security of society improved. What will the Augmented Age bring? Will robots take our jobs, and AI's subsume us as inferior intelligences, or will this usher in a new age of abundance? The Augmented age is about the potential of our future, but more than that, it is about how you will live your life in a world that will change more in the next 20 years than it has in the last 250 years. Are you ready to adapt? Because if history proves anything, you won't have much of a choice.

Agenda
5:00-6:00 PM *Invite Only*: Startup companies meet Brett King
6:00-6:30 PM Check in, food & drinks served
6:30-7:00 PM Introductions from Sam Yen, SAP Chief Design Officer, and Manju Bansal, Vice President of SAP Startup Focus
7:00-8:00 PM Fireside Chat with Brett King

8:00-9:00 PM Brett King Book Signing/Networking
Call for Startups
Interested in personally meeting Brett King and pitching your startup in front of him and another honorary judge?
Submit your solutions here for the chance to pitch & attend the event for free!
Of our submissions, we will select 5 startups to meet & pitch their company ideas to Brett King from 5-6 pm on May 10. If selected, you will be contacted directly.
About the Book: Augmented: Life in the Smart Lane
Augmented: Life in the Smart Lane is about the world that is coming, the changes society will adapt to, and most importantly, it is about the journey that each of us individually will take to arrive to that future. Four major disruptions- Artificial Intelligence, Everywhere Experiences, Health-tech & Gene Editing, and Smart Infrastructure- will usher in the Augmented Age, and change every aspect of our lives, from our daily routines to our relationships.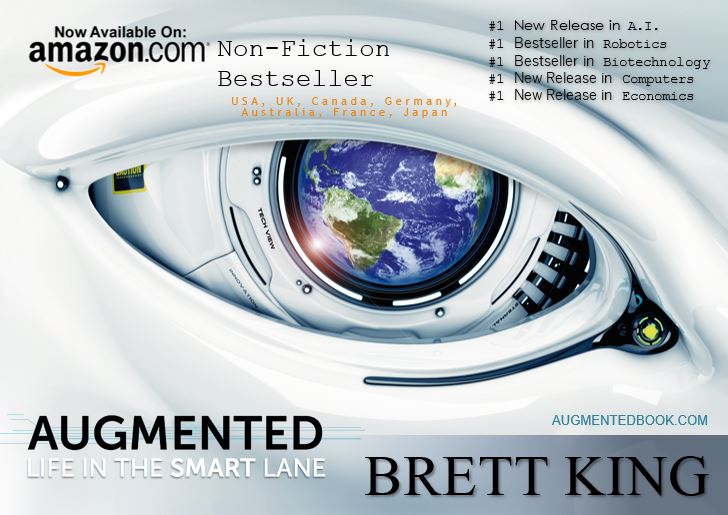 About the Author
Brett King is a four times Amazon bestselling author, a renowned commentator and globally respected speaker on the future of business. He has spoken in over 40 countries, to half a million people, on how technology is disrupting business, changing behavior, and influencing society. He has spoken at TED conferences, given opening keynotes for Wired, Singularity University's Exponential Finance, the Economist, and many more. He was asked to the White House to advise the National Economic Council on the future of banking, and advised regulators from the United States, China, the European Union, and the World Bank.

King hosts the world's leading dedicated radio show on technology's impact in banking and financial services, "Breaking Banks" (72 countries, over a million listeners). He founded Moven, a successful mobile bank start-up with the world's first mobile downloadable bank account, raising over $24 million investment, and now available in the United States, Canada and New Zealand.

Named "King of the Disruptors" by Banking Exchange magazine, and American Banker's "Innovator of the Year" in 2012, voted the world's #1 Financial Services Influencer by The Financial Brand and was nominated by Bank Innovation as one of the top 10 "coolest brands in banking". He was shortlisted for the 2015 Advance Global Australian of the Year Award for being one of the most influential Australians living offshore.

King has been featured on Fast Company, TechCrunch, Wired, Fortune magazine, Fox News, ABC, CNBC, Bloomberg, BBC, Financial Times, the Economist, ABA Journal, Bank Technology News and many more. He contributes regularly as a blogger in Huffington Post.

In his spare time, he is an IFR-rated private pilot, scuba diver and gamer.
Speakers
Sam Yen

SAP

Chief Design Officer, Managing Director, SAP Silicon Valley

Brett King

Augmented: Life in the Fast Lane

Author